Ford Fiesta diesel engines axed from range
Mild-hybrid petrol engines take over from diesel power, which accounted for just 2% of Fiesta sales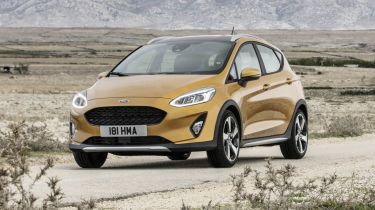 Fiesta is latest supermini to lose diesel engines
Buyers to get more performance for a similar price
Diesels still available from stock
The Ford Fiesta is no longer available with a diesel engine, as Ford has now stopped selling the last remaining 1.5-litre TDCi unit. It follows the introduction of the mild-hybrid EcoBoost 'mHEV' petrol engine, which costs about the same but is much more powerful.
We understand that around 1,500 of the 70,000 Fiestas sold in the UK in 2019 had a diesel engine, equating to just 2% of sales. As Ford champions its electrically assisted petrol engine, it's no surprise that the 84bhp diesel engine has been discontinued. Initially, the Fiesta was also available with a 118bhp diesel, and the lower-powered diesel was the slowest Fiesta on sale, with 0-62mph taking around 12.5 seconds.
The 123bhp mild-hybrid petrol is much sprightlier, managing the sprint three seconds quicker. It's not quite so economical, returning 56.5mpg compared to the diesel's 65.7mpg, but the tiny number of diesel sales shows that most buyers are better suited to a petrol engine.
Prices for the petrol are very similar to the diesel; the entry-level Trend equipped with the mHEV petrol costs £18,110 (£170 more than the TDCi), while a Titanium-spec car with the 153bhp mHEV petrol has the same £20,180 price as the diesel and offers nearly double the power.
If you still want a diesel-powered Fiesta, you'll have to find one in-stock at a dealer because Ford is no longer accepting factory orders for brand-new cars.
What does it mean for car buyers?
The demise of diesel in the UK's best-selling car shows how it has fallen out of favour with buyers. Overall, diesel-powered cars accounted for just 18% of sales in September 2020, and the Fiesta is only the latest supermini to lose its diesel engine. The SEAT Ibiza isn't offered with one either, while the Skoda Fabia hasn't had one for some time. Cars like the Honda Jazz and Toyota Yaris are now hybrid-only.
The diesel engine doesn't make the most of the Fiesta's talents and, considering the mild-hybrid petrol is still quite economical and much quicker, it's no big loss. The EcoBoost petrol engine is the best fit for the Fiesta for most people.
Read our guides to the best small cars and best cars for students.