2020 Hyundai i20 N hot hatch finally revealed
Hyundai i20 N has 201bhp and chassis upgrades to rival Ford Fiesta ST
Faster i20 N to get 18-inch wheels and big spoiler
0-62mph in 6.8 seconds
Set to be cheaper than Fiesta ST
The new Hyundai i20 N hot hatchback has been unveiled after a long development process. Packing a 201bhp 1.6-litre petrol engine, a low weight and a range of mechanical improvements, the i20 N should also be cheaper than its main rivals.
It'll rival the Ford Fiesta ST, Volkswagen Polo GTI and MINI Cooper S, and we expect prices to start from around £20,000, which would undercut the Fiesta ST by around £2,000.
2020 Hyundai i20 N hot hatch engine and performance
While the standard Hyundai i20 hatchback features a sensible mild-hybrid 1.0-litre engine, the i20 N gets a 1.6-litre turbo petrol with just over 200bhp. A six-speed manual gearbox is the only one available and it's been upgraded to cope with the extra power.
We're told the car weighs just 1,190kg (the same as the i20 rally car). Acceleration from 0-62mph is a mere 0.1 seconds off the Fiesta ST - too small a gap to notice the difference - and it'll reach 143mph.
We expect a limited-slip differential to be fitted to help the i20 N in corners, while bigger brakes, new springs and dampers and a stiffer suspension setup should all help to make the car fun to drive. Five driving modes are available - Normal, Eco, Sport, N and N Custom - and these adjust throttle response, engine noise and steering weight.
Styling
The i20 N certainly won't shrink into the background, with rally-inspired styling touches and a smattering of red accents. At the front, LED headlights sit above deep air vents and a sharp front bumper. The tall rear spoiler sits above the rear windscreen, and there's a large exhaust, extra air vents and a new diffuser.
Inside, the Hyundai i20 N gets a pair of 10.25-inch screens lifted wholesale from the standard i20 hatchback, one for the infotainment and one that replaces analogue dials in front of the driver. For the N model, Hyundai will give the screens unique graphics and perhaps a performance information screen, while the interior also gets sportier seats and a special steering wheel with exclusive 'N' buttons. Wireless charging, sat nav, Apple CarPlay and Android Auto will all be included.
The Hyundai i20 N will join a contracting part of the market; the Polo GTI won't be replaced at the end of its lifespan and we're not expecting a Cupra Ibiza or Renaultsport Clio either. The shortening list of rivals isn't down to demand but because many manufacturers are struggling to meet stringent emissions targets, so some of their high-performance models need to be withdrawn. However, because Hyundai already makes plenty of low-emission cars, it has the ability to create a quicker version of the i20, and we're led to believe that Peugeot could introduce an electric GTi version of the Peugeot 208 too.
A fast Hyundai Kona N is also in the works. This'll also use the 2.0-litre petrol engine from the i30 N, and will feature many of the same styling upgrades.
Read more about the new Hyundai i20 hatchback here.
2020 Hyundai i20 hatchback: prices, specs and release date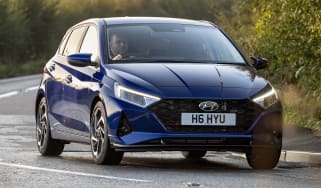 2020 Hyundai i20 hatchback: prices, specs and release date
Ford EcoBoost engines: what are they and should you buy one?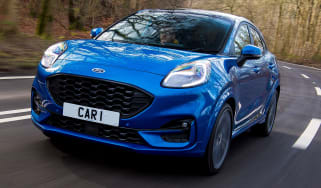 Ford EcoBoost engines: what are they and should you buy one?
Refreshed 2020 Land Rover Discovery breaks cover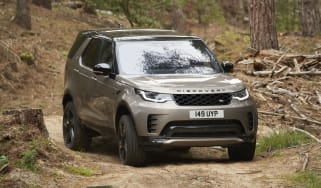 Refreshed 2020 Land Rover Discovery breaks cover
What is ESP on a car?