Hyundai i20 hatchback - Practicality & boot space
The Hyundai i20 has interior space not far off a family hatchback, but the boot is small on most models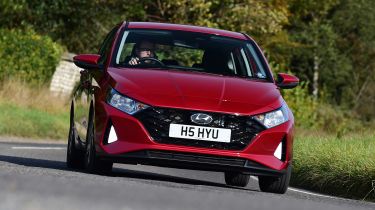 Equipment and practicality have been two feathers in the i20's cap throughout its history, and that remains the case here. It has a decent boot and the interior is large enough for couples, or families with a child at a push.
Hyundai i20 interior space & storage
Most vehicles have grown in recent years, and when you consider that four six-foot tall adults can sit fairly comfortably in the i20, you could argue superminis can't really get much bigger without treading on the toes of family cars.
The impressive rear legroom will also come in very handy for parents with a bulky child seat, making it possible to fit it into the ISOFIX mounting points without having to slide the front seats all the way forwards.
Boot space
Sitting vacant behind the back seats, there's 352 litres of luggage space waiting to be filled up. That's very close to what you get in a Ford Focus (375 litres) or Volkswagen Golf (380 litres), while also very competitive in the supermini crowd. However, this is only applicable to the entry-level engine; once a mild-hybrid system is fitted to it (most trim levels), the i20 offers just 262 litres of boot space. This is because the small battery is mounted under the boot floor, meaning most i20s can't swallow as much luggage as rivals.
The boot is uniformly shaped and there's an adjustable floor that can be raised or lowered. There's quite a lot of space below the floor that could be used for extra storage but at the bottom of this underfloor area is the battery pack and anything you put in there will rest directly on top of it. It may not be a good location for wet shoes or anything than might leak!