New Mercedes EQS SUV unveiled
Mercedes' new flagship electric SUV, based on the EQS saloon, promises up to 410 miles of range
Five or seven seats
Hyperscreen optional
Top model gets 536bhp
The new Mercedes EQS SUV has been revealed. Destined to sit at the very top of Mercedes' EQ electric range, the all-electric model shares many of its components with the EQS saloon.
The EQS SUV is the electric equivalent to the Mercedes GLS, and is pitched directly at the similarly-sized Tesla Model X. In fact, this is the EQS SUV's only real rival as the list of all-electric seven seaters is currently very short, with the Mercedes' smaller EQB is the only other model to offer this combination in the UK - although the forthcoming electric Range Rover could be available with three rows.
New Mercedes EQS SUV: range, charging and performance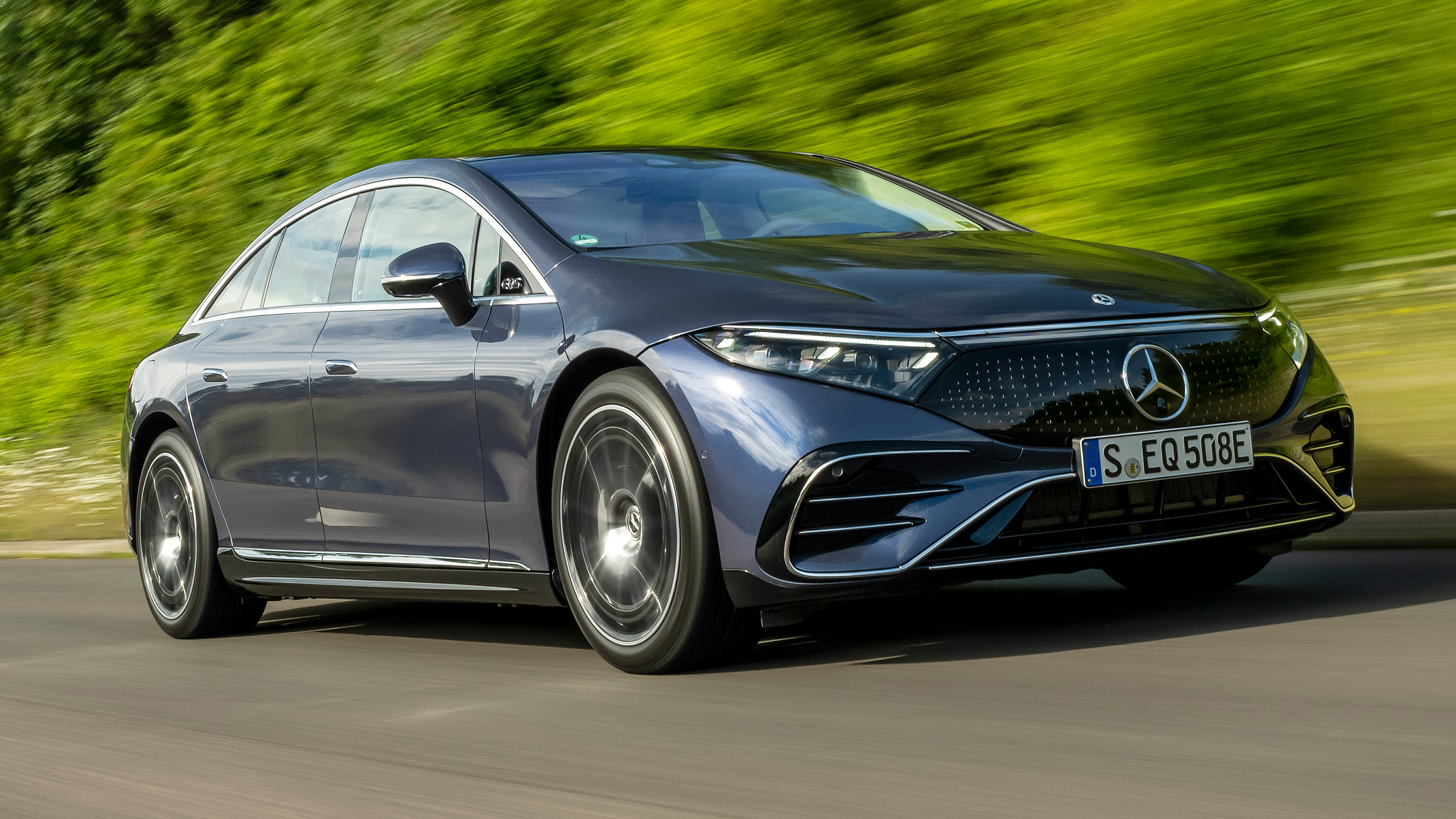 Top 10 longest-range electric cars 2022
Mercedes' next-generation battery technology has already been seen in the EQS and Mercedes EQE, and it promises an impressive range between charges - even with the EQS SUV's less aerodynamic shape. The rear-wheel-drive EQS 450+ model offers the best range, with between 333 and 410 miles claimed.
Above that is a four-wheel-drive version of the 450+, as well as a more powerful EQS 580 that also sends its power to all four wheels. Both of these versions are said to manage at least 315 miles on a charge, with up to 381 miles possible. Of course, all are zero-emission while on the move, meaning the lowest possible company-car tax; the EQS SUV will make a lot of sense to business buyers considering a GLS or BMW X7.
All versions of the EQS SUV come with a large 107.8kW battery and can charge at up to 200kW, meaning that you can top up the battery from 10-80% in half an hour with a powerful, ultra rapid charger. It also means it's possible to add over 150 miles of range in just 15 minutes.
EQS 450+ models come with 355bhp, while top-spec EQS 580 versions get 536bhp. The four-wheel-drive models also come with huge torque figures, although Mercedes hasn't released any other performance statistics yet.
As standard, you get rear-wheel steering with up to 4.5 degrees of movement; 10-degree rear-steering is optional, and takes nearly a metre out of the car's turning circle. That means the EQS SUV is likely to be more manoeuvrable around town than you'd expect from a car that's over five metres long.
Interior and technology
The standard centre console looks impressive enough with its two crisp, large screens, but alternatively EQS SUV buyers can specify Mercedes' Hyperscreen setup, which sees the entire centre console cased in glass, with three screens mounted closely together so it looks like one huge door-to-door display.
The infotainment system adapts to each user, and puts your most-used features on the 'home' page, so you shouldn't have to go hunting through various sub menus too often. It also learns your regular habits - like calling someone the same time each week - and suggests prompts. Personalisation is a big part of the EQS SUV, and its systems adapt to individual users and even people in different seats. If the front passenger says they're cold to the voice control system, only their temperature zone is changed.
Software updates happen over-the-air as on your smartphone, so there's no need to visit a dealership for updates. But you can also pay for extra features once you've bought the car, such as trailer manoeuvring assist, traffic sign assist, augmented reality navigation and Mercedes' Energizing well-being functions, all of which are remotely downloaded straight to the car.
Other highlights include headlights that can assist you by 'painting' warning symbols and lane markings onto the road ahead, an advanced head-up display and smart sat nav.
Seats and boot space
The EQS SUV is available with either five or seven seats. Spec the extra seats - which are powered and can be heated - and the middle seats fold further forwards to allow easy entry to the third row. Those in the front get ambient lighting on their seats, while climate-controlled ventilation and massaging functions are optional.
As a five-seater, the EQS SUV offers between 645 and 880 litres of boot space, depending on the position of the rear seats, which can slide back and forth. If you add the extra row of seats, luggage capacity stands at 565-800 litres, while both configurations offer more than 2,000 litres of space with just the front seats in position. With all seven seats in place the boot capacity shrinks to 195-litres.
Read our guides to the best luxury SUVs and the best 7-seater cars.