Ford Focus Electric 2013 now in production
The Ford Focus Electric is now being made in Germany alongside the standard Focus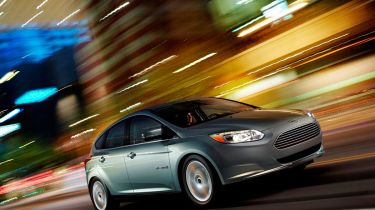 The Ford Focus Electric, the first electric car to be made by Ford in Europe, has begun production in Germany.
The car goes on sale in the UK in the summer and although Ford has not announced a price yet we expect it to be competitive with the £23,490 Nissan Leaf. A Ford spokesperson said "Ford aims to be competitive in every segment it sells cars in."
The price will be supplemented by a £5,000 grant from government for plug-in cars, which the Leaf also gets.
The Ford Focus Electric is built in the same factory as the standard engine-powered Focus, and follows the company's 'One Ford' concept – with the aim of selling cars almost unchanged across the globe.
The car uses an electric motor with lithium-ion batteries producing 143bhp and a range of up to 100 miles on a full charge. Charging takes around 3-4 hours from the built-in charger. A partial charge with a 60-mile range, takes a little less at 2-3 hours.
That means the Focus Electric is slightly outperformed by the Nissan Leaf, which can manage 124 miles on a full charge. It's slightly faster, too, with a top speed of 90mph compared to the Focus' 84mph.
It will also feature a user interface called SmartGauge that tells the driver the range they have left and how much energy they are using with the climate control and audio system turned on. Also included is a clever system that collects battery charge when braking, and a Brake Coach feature which encourages gradual braking to maximise the recouped charge.
Ford is planning more electric vehicles in 2014, including the Ford C-MAX Energi plug-in hybrid and a new Ford Mondeo Hybrid.
There's no road tax or London Congestion Charge to pay with the Ford Focus Electric, while a full charge should only cost a few pounds.
For the full Ford range, visit the CarBuyer Ford reviews page.