Kia VR7 range arrives in UK
New range offers more standard equipment on Kia Picanto, Rio and Cee'd models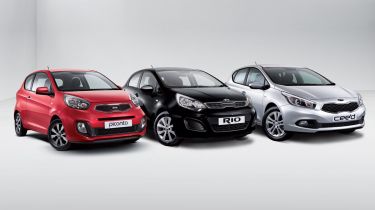 Kia has launched a high-spec, special edition 'VR7' range of its Picanto, Rio and Cee'd models.
All cars in VR7 form share the same basic specification, which adds air-conditioning, a leather-trimmed steering wheel and gearshift, Bluetooth connectivity, and USB ports to the interior. On the outside, VR7 models get alloy wheels, reversing sensors, heated wing mirrors and electric windows.
There are various different extras available as part of the VR7 package in addition to the core specification, and exactly which ones you get depends on the model you buy.
The Kia Picanto hatchback (Kia's smallest model), is available as a three or five-door VR7 model with a 1.0-litre petrol engine. Prices start at £8,795, and adds a number of additional safety features on top of the basic VR7 specification, as well as chrome door handles, upgraded upholstery and a new front grille.
The Korean carmaker's rival to the Ford Fiesta, the Kia Rio hatchback, can be ordered in VR7 spec as the 1.25-litre petrol or the very economical 1.1-litre diesel. As part of the VR7 range, the Rio gets body-colour bumpers, different door handles and mirrors, plus extra safety features. The cheapest of the three-door Rio VR7 costs £10,495, rising to £12,395 for the five-door petrol version.
The final model available as part of the VR7 range is the Kia Cee'd. The Cee'd hatchback and Cee'd Sportswagon estate models get a rear spoiler, upgraded lights and additional safety features. The Cee'd VR7 comes with either a 1.4-litre diesel or 1.4-litre petrol engine, while the Cee'd Sportswagon VR7 is only available with the 1.4-litre petrol engine. The Sportswagon also features extra storage and roof rails.
In addition to the hatchback and estate versions, you can also opt for a sporty three-door Kia Pro_cee'd VR7. It costs £13,495, comes with 16-inch alloy wheels, special edition upholstery, steering wheel mounted audio controls and a rear spoiler.
The VR7 range is available in red, white, black and silver and benefits from Kia's seven-year warranty, which won the Carbuyer Buyer's Award for 2014. The VR7 models represent savings of between £750 and £1,000 when you price up the extras as individual options on the standard cars, and the full range is available to order now.
For more information on the full Kia range, visit the Carbuyer Kia reviews page.