BMW 5 Series now cheaper to run
The BMW 5 Series can now be had with the company's revised 2.0-litre diesel engine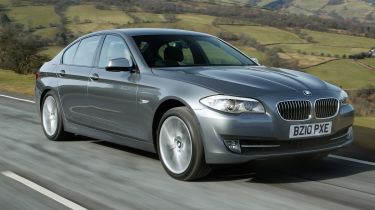 The BMW 5 Series 520d is now available with the same 2.0-litre diesel engine that was fitted to the BMW X3 last month. The new engine means that economy is rises to 69mpg, while CO2 emissions have dropped by 10g/km to 109g/km meaning road tax will cost £20 annually, rather than £30. Those figures are achieved when the car's fitted with BMW's optional eight-speed automatic gearbox.
It means that the BMW 5 Series and 5 Series Touring now out perform their direct rivals – the Audi A6 and the Mercedes E-Class – in terms of fuel economy and emissions. Audi's most frugal A6, the 2.0-litre TDi ultra can manage 64.2mpg and 114g/km of CO2, while the Mercedes E220 CDI will return 58.9mpg and emissions of 125g/km. That means road tax is relatively pricey at £100 annually.
Along with gains in fuel economy and emissions, performance is also said to have improved slightly on the old model's stats of 0-60mph in 8.1 seconds and a top speed of 145mph.
Meanwhile, the all-new seventh-generation BMW 5 Series has already been spotted testing and rumours are abound that it will get small three-cylinder petrol and diesel engines (a historical first for the model) that would give it even better economy, when combined with a high-tech lightweight construction.
Although no one at BMW would confirm to Carbuyer if this was true, the company could use knowledge gained from designing the super-frugal BMW i3 and BMW i8, as well as the latest generation of MINI. They offer economy that ranges from 83.1mpg to a heady 470mpg, in the case of the i3.
For all the latest reviews of the BMW range, including video road tests of the BMW 5 Series, as well as the revolutionary BMW i3 and BMW i8, visit the Carbuyer BMW reviews page.