Sales of petrol, diesel and hybrid cars to be banned from 2035
UK Government brings ban on sale of new petrol and diesel cars forward, and now includes hybrids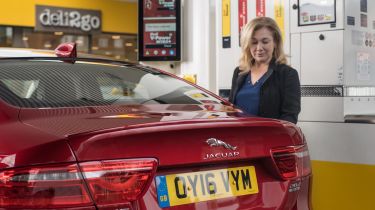 • Hybrids and plug-in hybrids both look set to be outlawed
• Ban announced by Prime Minister and Transport Secretary
• Questions remain about UK's charging infrastructure
The UK Government has brought a ban on the sale of new petrol and diesel cars forward by five years to 2035. While the original ban only covered cars with conventional combustion engines, it has now been broadened to include hybrid and plug-in hybrid vehicles (PHEVs).
If the ban goes ahead, the only cars you'll be able to buy brand new will powered by electricity or hydrogen. An increasing number of electric cars are becoming available but mainstream hydrogen cars are still a long way off. The only two currently on sale in the UK are the Toyota Mirai and Hyundai NEXO but neither of these are available to the general public.
James Batchelor: banning petrol and diesel is not enough
The government added that the ban could come into effect sooner "if a faster transition is feasible".
Prime Minister Boris Johnson announced the ban ahead of planning for the COP26 UN climate conference, which takes place later this year in Glasgow. "There can be no greater responsibility than protecting our planet, and no mission that a 'Global Britain' is prouder to serve. 2020 must be the year we turn the tide on global warming - it will be the year when we choose a cleaner, greener future for all."
Transport Secretary Grant Shapps added, "This government's £1.5bn strategy to make owning an electric vehicle as easy as possible is working - last year alone, a fully electric car was sold every 15 minutes.
"We want to go further than ever before. That's why we are bringing forward our already ambitious target to end the sale of new petrol and diesel cars to tackle climate change and reduce emissions."
The move to include hybrids in the ban is significant, as an electric car comes with inherent limitations. Charging will be inconvenient at best and impossible at worst if you don't have off-street parking, and charging times for electric cars, particularly in domestic settings, remain quite long. There are also concerns about the provenance and ethics of some of the materials used in electric car batteries and whether the National Grid can handle a mass take-up of EVs.
Car manufacturers have invested heavily in hybrids and PHEVs and these cars can emit as little as 50g/km of carbon dioxide. This announcement could disrupt the industry, as carmakers will wonder whether they should continue creating these low-emission vehicles. Electric cars will have to be suitable for every driver come 2035 and prices will need to come down.
The chief executive of the Society of Motor Manufacturers and Traders (SMMT), Mike Hawes, said, "It's extremely concerning that the government has seemingly moved the goalposts for consumers and industry on such a critical issue. Manufacturers are fully invested in a zero emissions future, with some 60 plug-in models now on the market and 34 more coming in 2020. However, with current demand for this still expensive technology still just a fraction of sales, it's clear that accelerating an already very challenging ambition will take more than industry investment. This is about market transformation, yet we still don't have clarity on the future of the plug-in car grant - the most significant driver of EV uptake - which ends in just 60 days' time, while the UK's charging network is still woefully inadequate."
This is echoed by the president of the AA, Edmund King OBE. While drivers "support measures to clean up air quality and reduce CO2 emissions," he thinks the updated targets are "incredibly challenging".
"We will also need a package of grants coupled with a comprehensive charging infrastructure at homes and in towns, cities, motorways and in rural locations."
These plans are part of a wider programme to improve air quality, and £1bn has previously been earmarked for electric vehicle grants. It's estimated poor air quality costs the UK £2.7bn every year in lost productivity, while a 2016 study by the Royal College of Physicians and the Royal College of Paediatrics and Child Health found 40,000 early deaths in the UK are due to air pollution annually.
While local authorities will be allowed to introduce congestion charging zones if other measures fail to tackle the problem of air pollution, the Government will dissuade them from penalising diesel drivers specifically, encouraging them to take equal aim at both petrol and diesel cars.
Scotland to introduce petrol and diesel ban in 2032
Following the 2017 announcement that conventional petrol and diesel cars will be banned in the UK, Scotland has announced it will introduce the same rule but eight years sooner. Nicola Sturgeon, Scotland's First Minister, told the Scottish parliament:
"The transition from petrol and diesel cars and vans to electric and other ultra-low emission vehicles is underway and gathering pace… our aim is for new petrol and diesel cars and vans to be phased out in Scotland by 2032".
Unlike the UK Government's updated proposal, however, new hybrid cars will continue to be sold after 2032.
Will there be a diesel scrappage scheme?
No – at least not on the evidence seen in these plans. The government's clean air strategy lumps petrol and diesel cars as equally guilty when it comes to air pollution.
While there will be consultation on a possible scrappage scheme at a later date, government research suggests the prevalence of diesel cars is so high that any scrappage scheme would run to billions of pounds in order to have any impact. If a diesel scrappage scheme does emerge, it'll almost certainly be highly targeted, taking aim at older diesels in small areas of the country.
What does this mean for car buyers?
This won't affect car buyers for the next few years and we expect that there will be more affordable electric cars by the time this ban is introduced. It's likely that car manufacturers will want to get rid of their petrol and diesel stock before the ban comes into effect, so you could grab a good deal on a new car. That's still 15 years away, though, and a lot will change in that time.
Read our guides to the best electric cars and the cheapest electric cars now on sale.
Updated Peugeot 5008 starts at £29,585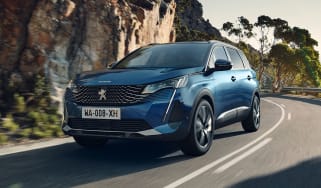 Updated Peugeot 5008 starts at £29,585
Cupra Formentor SUV review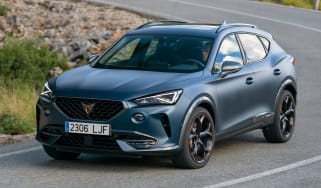 Cupra Formentor SUV review
2020 Volkswagen ID.3 hatchback: base model starts at under £30k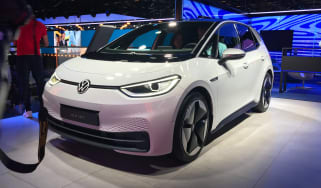 2020 Volkswagen ID.3 hatchback: base model starts at under £30k