Nissan previews forthcoming autonomous technology
Next-generation ProPilot self-driving system expected in Nissan models by 2020
Autonomous technology scheduled to become available in Nissan cars of the near future has been demonstrated on the streets of Tokyo.
The the latest Nissan Leaf, whose forthcoming ProPilot technology enables single-lane autonomous driving is on sale now. However, a demonstration that coincided with the Tokyo Motor Show has revealed the potential of ProPilot's next generation.
The technology, scheduled to appear on Nissan cars by 2020, enables the vehicle to operate on urban roads without any input from the driver once an ultimate destination has been entered into the navigation system.
The ProPilot system was demonstrated in an Infiniti Q50 test car and uses 12 sonar transceivers, 12 cameras, nine radar transceivers, six laser scanners and high-definition mapping to assess traffic conditions and behavior, as well as road signs and surface conditions.
Sophisticated software enables the car to follow its predetermined route without intervention from the driver, even at busy road junctions and intersections. Nissan claims that this advanced technology results in "a human-like driving feel that gives passengers peace of mind".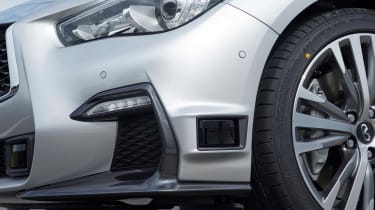 Confident that ProPilot will be ready for customers before long, Nissan's senior vice president in charge of research and advanced engineering, Takao Asami, said: "Our next-generation ProPilot prototype showcases technology that'll be available for real-world use from 2020. Today's demonstration is another example of our successful work toward creating an autonomous driving future for all."
ProPilot technology is expected to debut in the Nissan Leaf electric car and Nissan Qashqai SUV soon, enabling both cars to maintain a set distance from the car in front and automatically steer to remain in lane in corners.
Overtaking and other, more complex manoeuvres, though, remain the responsibility of the driver, who must keep at least one hand on the wheel at all times. If torque sensors detect the wheel is unsupervised, a warning sound will issue, and if ignored, the present ProPilot system will bring the car to a safe halt without leaving whichever lane the car is in.
Full autonomy will follow – but as with cars such as the recently launched Audi A8 saloon driverless operation has yet to be green-lit as legal in all countries and manufacturers won't unlock the technology until it's safe and legal to do so.
However, Nissan's display in Tokyo provides a strong flavour of what we can expect from 'level five' autonomous models within a few years.