Vauxhall Corsa 1.4 SRi NAV review
Mid-range SRi Nav blends sporty looks with decent economy and generous equipment
There can be few cars better suited to the younger driver than the Vauxhall Corsa. It's one of the very easiest cars to drive, it's stylish and well equipped, and Vauxhall frequently offers attractive finance offers for the Corsa 1.4-litre. There are models that appeal to enthusiastic drivers, too – while the Corsa VXR hot hatch is no longer offered, there's a still-nippy Corsa GSi that combines keen handling and a swift turn of speed, with sensible fuel economy and insurance costs.
Perhaps best of all, is a model that offers the best of both worlds. Enter the Vauxhall Corsa 1.4 SRi, a model that gets our vote as the best all-rounder in the Vauxhall Corsa range. From the outside, its appeal is immediate, especially in three-door form which is rather more sleek and coupe-like than the boxier five-door model.
Best small cars and superminis you can buy today
Despite having been around for several years – and effectively being a very thorough update of the older Corsa when introduced in 2014 – Vauxhall's supermini still good fresh today. The latest SRi (now named SRi Nav) has more visual clout than entry level 1.4-litre Energy models, thanks in part to its dark 16-inch alloy wheels and matching exterior trim. Inside, the sporty theme continues with figure-hugging 'sports' seats and dark colours. To the untrained eye, the Vauxhall Corsa SRi Nav could easily pass for a more powerful car.
And that's undoubtedly a part of its appeal: sporty looks, yet a low group nine insurance rating. The mid-level SRi Nav uses a relatively modest 1.4-litre petrol engine with 89bhp at its disposal. That's enough for a 13.2 second 0-62mph time – more than sufficient to keep up with traffic but unlikely to satisfy the demands of more enthusiastic drivers. On the other hand, fuel economy of up to 44.1mpg has its own appeal. You can choose a less powerful 74bhp model, but that only saves about £300.
Those sporty 16-inch alloy wheels contribute an extra helping of cornering grip that lower spec models in the range miss out on, and the SRi Nav really is quite entertaining on a country lane, where standing-start acceleration isn't as important as the ability to carry speed through corners. Its steering is responsive, and there's enough feel to give you confidence and ensure that you always feel in control. The only drawback worth mentioning is that more experienced drivers will find that the chassis isn't as naturally balanced as the Ford Fiesta.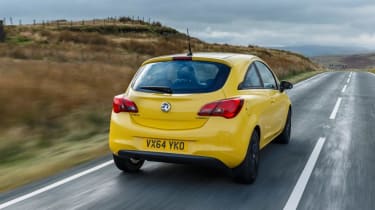 That won't matter too much to many buyers, with the majority more than satisfied with the Corsa's driving dynamics, as well as the generous equipment roster that the SRi Nav can boast. Especially – as its name suggests – a satnav system with a seven-inch colour touchscreen, as well as support for Apple CarPlay and Android Auto. With DAB and Bluetooth music streaming, too, you'll never be short on music behind the wheel, while standard cruise control takes the effort out of motorway cruising.
While the Vauxhall Corsa can't quite challenge the Volkswagen Polo for quality, the Ford Fiesta for driver appeal or the SEAT Ibiza for visual appeal, it's a very capable all-rounder, and the SRi Nav is the trim level that ticks the boxes that are relevant to a wide range of buyers. Well equipped, sensibly priced and supported by a vast dealer network, the Vauxhall Corsa SRi Nav is a sound choice, although it's worth noting it is soon to be replaced with an all-new Corsa model.
For more information on the Vauxhall Corsa, why not read our full guide to the forthcoming all-new Corsa hatchback.
Verdict 3.5/5