Best car videos: Carbuyer's greatest hits of 2018
We've crunched our viewing figures, and these are our best performing car videos of 2018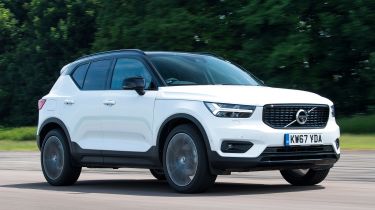 2018 has been a landmark year for Carbuyer's review videos. We've given our verdict on all of the year's most important models, from the electric Jaguar I-Pace SUV to the cutting-edge and affordable Mercedes A-Class hatchback, creating our best ever car videos along the way. And, thanks to your support, the Carbuyer YouTube channel sailed past the 500,000 subscribers mark – an achievement we're especially proud of.
Below we've put together a list of Carbuyer's most watched car videos of 2018. Between these 10, you've spent over seven million minutes glued to your phones, tablets, computer screens and TVs during the last year. That's a lot of car buying advice and verdicts that we hope have helped you choose your perfect new car.
Given the current fashion, it's perhaps little surprise that half of our top video reviews feature SUVs, but it's encouraging to see that two star saloon cars - a clear sign there's still passion for teutonic models like the BMW 5 Series and Mercedes S-Class.
Showing just how important fresh car design is, the Volvo XC40 and Mercedes A-Class were our two most watched reviews in 2018. Both are all-new models that look great and boast the latest infotainment technology, with large displays and slick graphics. They are also loaded with safety equipment that not only helps protect you in a collision, but aims to prevent it from happening in the first place, earning the duo top Euro NCAP crash-test results.
Relaunched 15 years after it first went on sale, our in-depth review of the 2019 Bentley Continental GT also peaked your interest. It certainly looks stunning, and that's before you sit inside and find an interior that blends modern touchscreens with old fashioned craftsmanship including 317,000 stitches for the upholstery.
Volvo XC40 SUV 2018 in-depth review
Several years after launching its full-size XC90 SUV to wide acclaim, Volvo's smallest high-riding model has arrived, and the Volvo XC40 has quickly followed suit in picking up awards. Its youthful design is sure to introduce lots of new customers to the Swedish brand, and clever engineering could well persuade them to become loyal customers.
Batch says: I love the XC40. The styling manages to be contemporary but also has a timeless quality to it like the best Scandinavian furniture. And the fact you can order it with orange carpets is just superb. With a plug-in hybrid version arriving in 2019 there's plenty of choice too.
Mercedes A-Class 2019 in-depth review
For its latest Mercedes A-Class, the German brand has tackled previous issues like a lack of internal space, a firm ride and poor build quality. The new model now boasts the most modern interior in the hatchback class, even if Batch was still able to find some cheap plastics before being interrupted by the latest MBUX infotainment system with its innovative "Hey Mercedes" voice control.
Batch says: The MBUX system is one of the best voice activated infotainment systems around. It's not perfect but it's a promising piece of kit, and I especially like how you can ask it to tell you a joke. The new A-Class is a far nicer car than before with a better interior but it's a shame it has to look a so dull - not helped by a colour palette of just a handful boring colours. Avoid the 1.3 and the manual gearbox.
Peugeot 5008 SUV in-depth review
Now transformed from a dull MPV into a funky SUV, the Peugeot 5008 has an interior that impressed our test team almost as much as the smaller Peugeot 3008 - a previous Carbuyer car of the year. Storage is hit and miss, though, with novel features like hidden underfloor storage in the back winning a praise, but a tiny glovebox causing frustration.
Batch says: I bet if you got your measuring tape out you'd discover the 5008 isn't massively higher off the ground than the old 5008, but the thing is it looks so much and higher and more fashionable. The old 5008 was dull and frumpy and the new one is so much more attractive - and is still practical. It's a clever piece of design.
Skoda Karoq SUV 2018 in-depth review
The Skoda Karoq had a tough job on its hands, replacing our beloved Skoda Yeti with a more conservative SUV that's very much a mini-Kodiaq in its design. Quality impresses, as does practicality, even if the glovebox can't quite hold a grab bag of crisps. At least there's a waste bin for empty wrappers, so the interior stays as neat as its designers intended.
Batch says: If you're a Yeti fan and loved that car's character then you'll be disappointed with the Karoq. But if you're your typical family that wants a well-made and practical small SUV then you'll like it. It doesn't shout about its abilities, it just quietly gets on with the job. Go for Sportline trim for some visual punch.
Mercedes E-Class vs BMW 5 Series vs Jaguar XF
The battle of the executive saloons is a long and storied one. Batch and Ginny debated the advantages and disadvantages of the Mercedes E-Class, BMW 5 Series, Jaguar XF and Volvo S90 in 2016. The BMW proved great to drive, while the Volvo impressed with its style. Jaguar shone on both these fronts, but it was the Mercedes E-Class that stood out for its superior technology and safety.
Batch says: The continued popularity of this video is simple - these are the most popular company cars around and people don't know which one to buy. A lot has changed since this video was filmed - a new Audi A6 has arrived, the 5 Series was replaced and the Jaguar XF has fallen down the pecking order. We'll be filming a newer version of this video in 2019 so keep your eyes peeled.
New 2017 Mazda CX-5 SUV in-depth review
Glance at the facelifted Mazda CX-5 and it looks like a very minor update, but engineers have improved the interior and made it a great place to spend time, with lots of quality touches. It's practical too; there's lots of rear headroom and our Carbuyer suitcases easily fit in the boot. Like the old CX-5, it drives far better than rivals, with a fantastic gearbox.
Batch says: Like all Mazdas the CX-5 doesn't immediately spring to mind which is a shame. It's a shame because like all Mazdas it's a very good car indeed: nicely packaged, cleverly engineered, well made and good looking. It's right at the top of the SUV tree and great to drive too especially with a manual gearbox.
Mercedes GLS SUV 2018 in-depth review
Forget crossovers, the Mercedes GLS is a huge five-metre long SUV that takes on models like the Range Rover. It's blocky outside, and the GLS also feels somewhat dated inside, with lots of switches and the last-generation Comand infotainment system. Its size pays dividends, though, with a clever way of accessing the third row of seats and plenty of space.
Batch says: It was good fun shooting the GLS and I'm a big fan of it. Despite its sheer size and plentiful use of chrome, the GLS actually is one of Merc's more subtle models - it's less showy than an Audi Q7 and not as obvious as a Range Rover. Unless you have shares in Shell the diesel is the best, or if the slightly dated feel of the GLS puts you off there's a new one coming late in 2019.
Bentley Continental GT 2019 in-depth review
With a stunning new design and sumptuous interior, the Bentley Continental GT certainly has a sense of occasion. Batch found its rear seats surprisingly accommodating for a coupe, while its boot's ability to swallow two medium-sized Carbuyer suitcases means it lives up to its GT badge. Despite its weight and luxury, its vast W12 engine with 626bhp also has no trouble picking up the pace.
Batch says: This is the first Continental GT that has tugged on my heart strings. The two previous cars may have been desirable with footballers but they left me feeling cold. This new one is a much more rounded and capable car. The interior is a triumph of class, it looks sensational and because it uses the Porsche Panamera's platform it actually handles pretty well. Faster Speed and smaller-engined models will arrive in time and increase its appeal.
Mercedes S-Class 2019 in-depth review
Step inside the Mercedes S-Class and the quality is still better than anything shy of a Rolls-Royce, with leather and soft-touch plastics everywhere you look. It's also filled with technology, even in the back where most occupants are likely to spend their time. The rear executive package adds reclining rear seats and blinds for the ultimate in relaxation.
Batch says: Despite newer rivals like the 7 Series BMW, Audi A8 and Lexus LS, the big Benz is still the top dog. The Audi may be more techy but there's a lovely simplicity to the S's interior - it also feels more special and shows that more tech doesn't equal more luxury. They may be ten a penny at the taxi ranks at airports but they're popular for a reason - because it's the best in class.
Volvo V60 2019 in-depth review
Continuing the revolution is the next-generation Volvo V60, with less curvaceous looks, but a return to cool and boxy looks. This also means it takes back the mantle of the biggest estate in its class, with a 539-litre boot. It's a theme that continues inside, with lots of rear space and neat touches including a three-pin socket for charging your tech. Engine choice? Batch reckons the D4 diesel is the one to go for, with 187bhp and economy creeping into the 50s during our testing.
Batch says: The V60 was actually one of my top cars I reviewed in 2019. Why? Well it's just so good at it's job. It's well made, naturally, but the V60 returns to that Volvo trademark of having the biggest boot in the class. I also love how Volvo have clearly told their engineers the V60 is a family estate car so don't make it fun to drive and fit it with hard suspension. It's a comfy and plush thing to drive. It's just such a classy, unassuming car is the V60. I love it.
New electric small Volvo SUV planned with XC20 badge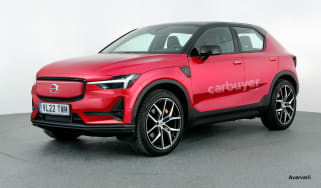 New electric small Volvo SUV planned with XC20 badge
New 2020 Mercedes S-Class starts from £78,705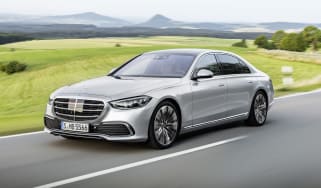 New 2020 Mercedes S-Class starts from £78,705
2020 scrappage schemes: the complete guide
2020 scrappage schemes: the complete guide
Best new car deals 2020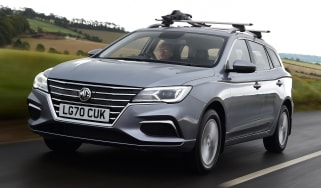 2022 Volvo XC100 SUV to rival BMW X7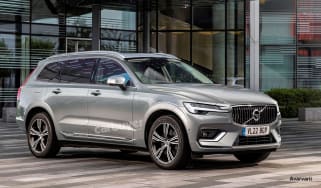 2022 Volvo XC100 SUV to rival BMW X7