Electric Porsche Taycan Sport Turismo spotted winter testing
Spotted with barely any camouflage, the all-electric estate version of the Taycan is set to cost £70,000
The Porsche Taycan Sport Turismo has been spotted in development almost completely undisguised. Like the standard Taycan four-door saloon, this estate version will also be sold as a pure electric car. We expect the Taycan Sport Turismo to be officially revealed later this year, with prices set to start from around £70,000.
Porsche has been testing the Taycan for so long that it seems to have given up using camouflage to disguise the car's features. The bonnet is low and long, like the Porsche 911 sports car, while the body shape is very similar to the Panamera Sport Turismo estate. With the rear end so steeply angled, it's likely that outright practicality isn't the main focus of this model.
Best fast yet practical estate cars
While it's easy to mistake it for a Panamera, the Taycan does have some differences. At the front, the air intakes are closed as it doesn't have an engine to cool down, although these look like they can open if the motor starts heating up. There's a larger kink around the rear wheel arches, which in turn has slightly changed the shape of the small window behind the rear doors. At the rear, the LED tail lights stretch across the bootlid, and those exhausts won't be on the production version; Porsche uses fake pipes on Taycan prototypes to try and throw people off the scent.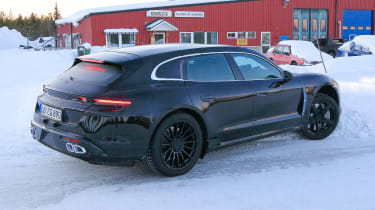 The all-electric Taycan Sport Turismo will offer suitably swift performance. The electric combination will produce around 600bhp, allowing for a 0-62mph time of 3.5 seconds. It'll continue accelerating to double that speed in just 12 seconds and on to a top speed of 155mph. There are likely to be entry-level models with around 400bhp too, as Porsche is aiming to eventually sell 20,000 electric vehicles a year and offering more than one variant will broaden the car's appeal.
A range of 310 miles is promised, but this will decrease if you drive fast or in cold weather. The Taycan will benefit from Porsche's state-of-the-art charging technology, which could drastically reduce the charge times we've been seeing for electric cars so far. As we've reported previously, a nine-minute charge should be enough to add a further 180 miles of range. Wireless charging is also being explored, and updates will happen over-the-air, like in a Tesla Model S. To pinch customers from the American company, rumours suggest Porsche will offer three years' free charging.
The Porsche Taycan Sport Turismo will feature some autonomous technology - many luxury car buyers expect it - but the company says it'll never be fully self-driving. Semi-autonomous driving is expected to be available in slow-moving traffic, cruising on the motorway or when parking.
After the Taycan, an all-electric SUV will be developed; it'll be a similar size to the Porsche Macan and Jaguar I-Pace.
Read our review of the Porsche Panamera, which is available as a hybrid, or browse our guide to the best electric and hybrid sports cars currently on sale.
Best new car deals 2022: this week's top car offers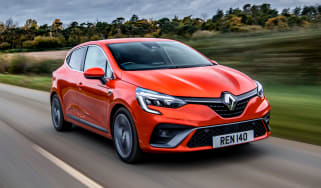 Best new car deals 2022: this week's top car offers
BMW X3 vs Mazda CX-60 vs Volvo XC60 – which should you buy?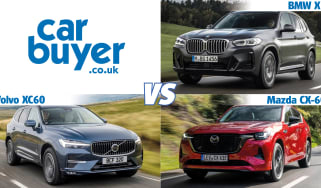 BMW X3 vs Mazda CX-60 vs Volvo XC60 – which should you buy?
New electric MG4 hatch to start at £25,995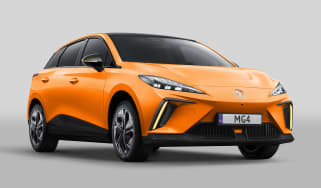 New electric MG4 hatch to start at £25,995