All-new Range Rover Crossover due to launch in 2021
A new Range Rover Crossover will join the firm's line-up this year with petrol, diesel and electrified powertrains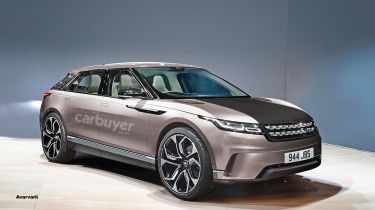 Set to be built in Britain
Fully electric version due
Exclusive images preview how the car might look
A new Range Rover Crossover model will join the brand's portfolio in 2021, and our teaser images suggest how it could look. The new model will be lower and sleeker than the boxy SUVs Land Rover is known for, and may trade some off-road ability in the pursuit of style and luxury.
While the new model will be smaller than a full-size Range Rover SUV, its focus on luxury means the as-yet-unnamed model will carry a high price tag. A starting price of around £70,000 is expected, and a fully electric version would cost noticeably more. Like the Range Rover, this new model could be offered in standard and long-wheelbase guises.
It will use the same MLA platform as the new Range Rover and will be offered with a zero-emission pure-electric powertrain, as well as low-emission plug-in hybrid and mild-hybrid models.
The MLA platform is capable of housing a pair of electric motors, one on the front axle and one on the rear, making it four-wheel drive. It will also get a smaller battery pack than the 100kWh unit slated for the pure-electric Range Rover, but with a similar range of around 300 miles thanks to smaller dimensions and less weight.
Should the car be confirmed for production, it's understood that the new model would be built in the UK at the firm's Castle Bromwich factory. Our exclusive image previews what it could look like, with a swooping roofline and a sharply angled windscreen giving it a more rakish profile, and narrow LED headlights surrounding the traditional Range Rover grille at the front.
The addition of a road-focused crossover to the firm's model range would be a significant shift for Land Rover, representing an onus entirely on luxury and stylish design ahead of off-road ability.
According to Land Rover's Design Director, Gerry McGovern, who spoke to our sister publication Auto Express, the Range Rover Crossover would see the firm move into the luxury car sector of the market, saying: "For me, what we've actually shown is the ability of the brand to stretch and be different. We always have been quite pioneering. Let me just put it this way – if people like Bentley and Rolls-Royce can do an SUV, why can't Land Rover or Range Rover do a luxury car?"
As part of Land Rover's plans to electrify its model range alongside the Crossover, the Evoque and Discovery Sport have gained a plug-in hybrid powertrain comprising of a new 1.5-litre three-cylinder Ingenium petrol engine and a small electric motor. These offer extremely low CO2 figures (for cheap company-car tax) and the promise of nearly 35 miles of electric range.
The new Land Rover Defender also gets the PHEV treatment. It uses the same 'P400e' plug-in hybrid powertrain as the Range Rover PHEV, comprising of a 2.0-litre four-cylinder petrol engine mated to an electric motor that offers around 30 miles of electric-only range.
Do you want to know more about electric and hybrid SUVs? Why not read our picks for the best hybrid SUVs you can buy in 2020.