Best new cars coming in 2021 and beyond
What can you expect to see in showrooms in the next couple of years? Our guide reveals all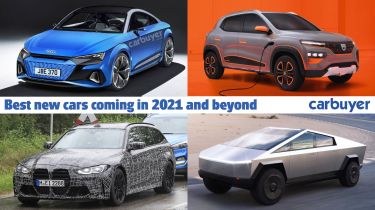 Page 2 - Small SUVs and family SUVs
Small SUVs coming in 2021
BMW X2 facelift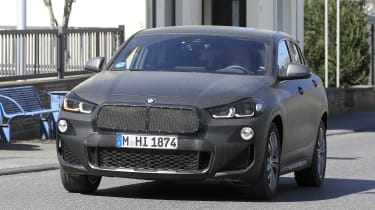 The BMW X2 is set to get a few changes next year. Bigger grilles will feature, alongside a number of other styling tweaks that mirror the facelifted BMW X1. You'll be able to use the iDrive system as a touchscreen for the first time, while a plug-in hybrid will debut this year and will continue in the facelifted car.
Read more about the facelifted BMW X2 here.
DS 4 Crossback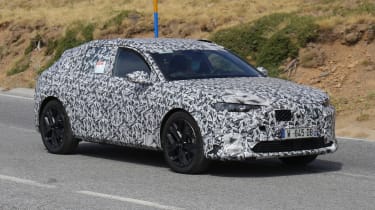 After the electric DS 3 Crossback E-Tense and the plug-in hybrid DS 7 Crossback, DS seems to be working on another SUV to slot between its current models. It'll aim to rival the BMW X1 and Mercedes GLA, and should arrive as a plug-in hybrid. Originally set to be launched in September 2020, it's likely the event will now be pushed back to 2021.
Read more about the new DS 4 here.
Lexus UX 300e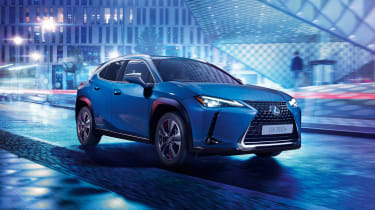 Lexus has had hybrid models in its range for over a decade, and now every one of its cars is available as a hybrid. The brand's first electric car will be a version of the UX, its small SUV, which will return 196 miles of range and have 50kW fast-charging capability. Reservations are open now (customer deliveries start in March 2021) and the UX 300e costs from £40,900 after the plug-in car grant.
Read more about the Lexus UX 300e here.
Renault Arkana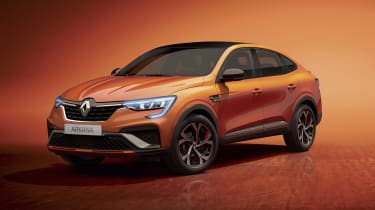 Renault is set to bolster its SUV line-up next year with a new Arkana coupe model. It's based on the Renault Captur and gets swooping fastback styling but still has a large boot. The E-Tech hybrid engine is going to be offered alongside mild-hybrid engines, and we're told up to 80% of journeys around town can be done on electric power.
Read more about the Renault Arkana here.
Vauxhall Mokka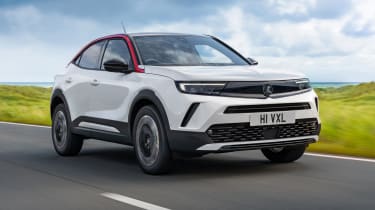 The next Vauxhall Mokka will be offered with petrol and diesel engines but the main focus will be on a new pure electric model. Sitting on the same platform as the Peugeot e-2008, the electric Mokka-e offers 201 miles of range and fast-charging. The interior is dominated by screens; there are few physical buttons.
Read more about the new Vauxhall Mokka here.
Family SUVs coming in 2021
Audi Q4 Sportback e-tron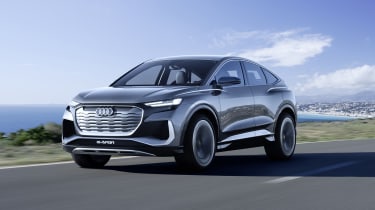 Recently shown in concept form, the Audi Q4 Sportback e-tron will join the forthcoming Q4 e-tron in showrooms next year. It'll rival the Tesla Model Y and Skoda Enyaq, and will cost almost £50,000. You can expect a 310-mile range and a hi-tech interior, while fast-charging will give 80% battery charge in half an hour.
Read more about the new Audi Q4 Sportback e-tron here.
Audi Q5 Sportback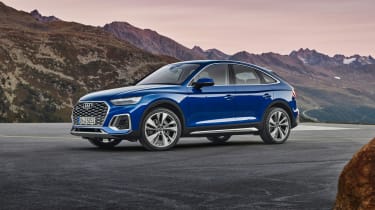 Coupe SUVs are very popular right now and the German brands have released quite a few in the last few years. The latest is the Audi Q5 Sportback, which rivals the BMW X4 and Mercedes GLC Coupe. Besides the rakish coupe look, the interior and powertrains will be shared with the regular Audi Q5 SUV, but the Sportback will have a more athletic focus with sports suspension fitted as standard.
Read more about the new Audi Q5 Sportback here.
Hyundai Tucson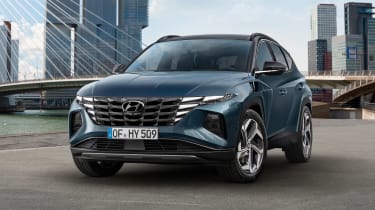 At the LA Motor Show in November 2019, Hyundai revealed a boldly styled family-size SUV called the Vision T. Many dismissed it as a concept, but the production-ready model gets a similarly striking design. When it goes on sale, it'll have a redesigned interior and be available as a plug-in hybrid.
Read more about the new Hyundai Tucson here.
Ioniq 5 (Hyundai 45)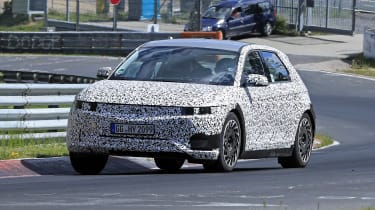 Hyundai is working on a production version of its '45' concept SUV, which is set to head up a new 'Ioniq' sub-brand. The retro-styled SUV is inspired by Hyundai's 1974 Pony concept, but an electric powertrain will ensure it's bang up to date. A range of 300 miles is expected, and 350kW recharging will allow the battery to be topped up to 80% capacity in under 20 minutes.
Read more about the Hyundai 45 here.
Jaguar E-Pace plug-in hybrid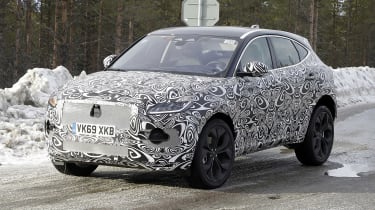 The Land Rover Discovery Sport and Range Rover Evoque are now available as plug-in hybrids, and the same will happen for the Jaguar E-Pace, another JLR-owned model, next year. An update to the E-Pace range will see it sit on a new platform in order to accomodate electrified powertrains.
Nissan Ariya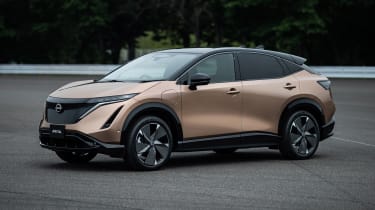 Nissan has launched an electric SUV called the Ariya. It'll be a similar size to the Nissan X-Trail SUV but more of a swooping roofline will mean it's a spacious five-seater instead of a seven-seater. We expect Nissan's next-generation ProPilot driver assistance to be fitted, perhaps giving the car self-driving capability.
Read more about the Nissan Ariya here.
Porsche Macan EV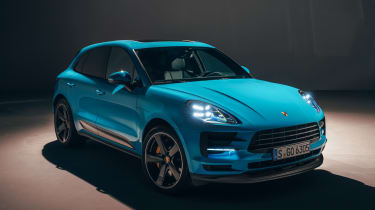 Now that the Porsche Taycan is in showrooms, the company is turning its attention to an all-electric Macan SUV to replace the current generation. Details are scarce at the moment, but we do know that it'll feature ultra-rapid charging capability to reduce the time needed to refill the batteries. The Macan EV will open the floodgates for a range of electrified Porsche models - the company says half its sales will be hybrid or electric by 2022.
Range Rover Crossover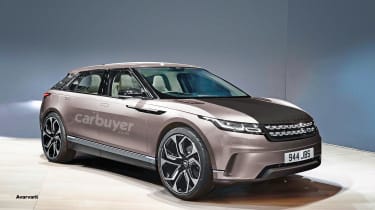 A new Range Rover model called the Crossover will become part of the line-up in 2021. It'll be as opulent as the full-size model but with a lower, sleeker shape. Just like the Range Rover, it'll come with a range of mainly electrified powertrains.
Read more about the new Range Rover Crossover here.
Renault electric SUV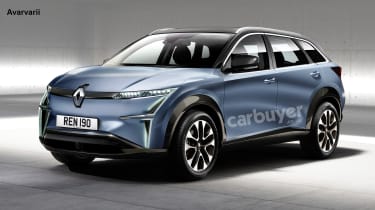 Renault's recent Morphoz concept paves the way for an electric family SUV from the brand. Set to be a similar size to the Renault Kadjar, the new car will offer two- and four-wheel-drive versions and personalisation options aplenty. It'll share its platform with the Nissan Ariya, and 300 miles of range should be possible.
Read more about the new Renault electric SUV here.
Skoda Enyaq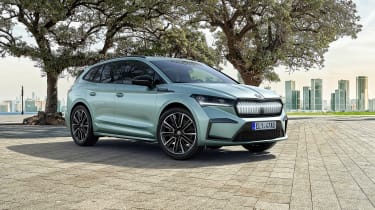 Skoda is set to launch its first electric SUV, called the Enyaq. A range of 316 miles is confirmed for the range-topping version, and all will have a spacious interior. It looks set to be noticeably cheaper than the Volkswagen ID.4, with prices starting from £30,450 after the plug-in car grant. There'll be a vRS performance version, and an Enyaq Coupe with more rakish styling.
Read more about the Skoda Enyaq here, including our prototype drive.
Skoda Karoq facelift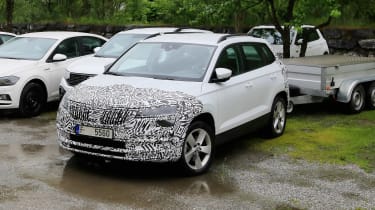 The midsize Skoda Karoq SUV is set to be updated next year with a series of styling tweaks, updated technology and an engine with mild-hybrid assistance similar to those seen in the new Volkswagen Golf. A prototype has already been spotted testing, and while it gives little away, we'd expect the new Karoq to get an updated interior, along with the latest technology and safety features from the new Skoda Octavia.
Read more about the facelifted Skoda Karoq here.
SsangYong Korando E100 electric model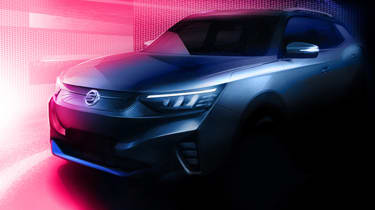 SsangYong's answer to the Nissan Qashqai will be available as an electric model soon. A 61.5kWh battery will power the car (possibly called the Korando E100), and 200 miles on a full charge is the target. A price tag in the region of £30-£35,000 is expected.
Read more about the SsangYong Korando electric model here.
Toyota RAV4 plug-in hybrid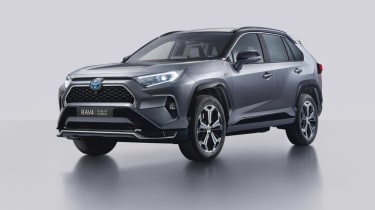 A new plug-in hybrid version of the Toyota RAV4 is launching in spring 2021, promising an impressive 46-mile electric range and the same power output as a Cupra Ateca or Mercedes-AMG GLA 35. The RAV4 PHEV should be a hit with business and private buyers, although it is set to be a bit more expensive than the hybrid version.
Read more about the Toyota RAV4 plug-in hybrid here.
Volkswagen ID.4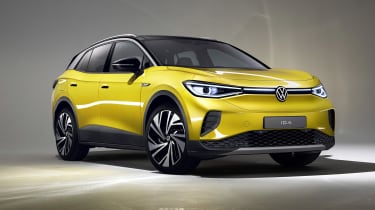 The electric Volkswagen ID.4 SUV will follow the ID.3 hatchback into showrooms next year. After several disguised teaser images were revealed by VW, images of the new car surfaced online, along with several technical details. It'll be capable of between 200-300 miles of range, depending on the size of the battery, and be similar in size to a Volkswagen Tiguan SUV. Fast-charging capability is also expected to feature, meaning topping the battery up to 80% capacity will take around half an hour.
Read more about the Volkswagen ID.4 here.
Volkswagen ID.6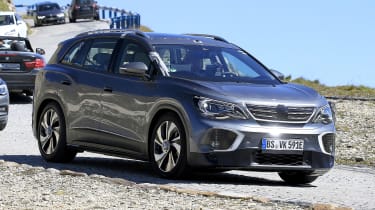 The ID.4 will be joined by a bigger ID.6 electric SUV towards the end of next year, which will have the option of seven seats. It'll have few direct rivals at the time of launch, and will offer bigger motors and batteries than the Volkswagen ID.3 hatchback. Nearly all models are expected to have a motor on each axle, giving four-wheel drive.
Updated Peugeot 5008 starts at £29,585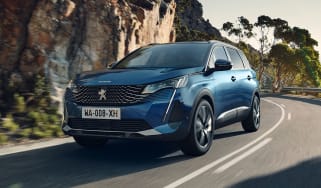 Updated Peugeot 5008 starts at £29,585
Cupra Formentor SUV review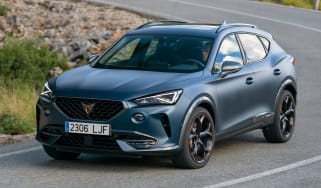 Cupra Formentor SUV review
2020 Volkswagen ID.3 hatchback: base model starts at under £30k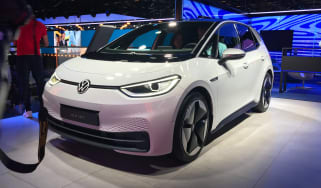 2020 Volkswagen ID.3 hatchback: base model starts at under £30k