Toyota GR Corolla name trademarked for new hot hatch
Range-topping 250bhp Toyota GR Corolla hot hatch is slated to arrive in 2023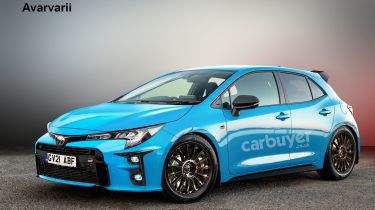 GR Corolla will use the same engine as the GR Yaris
Will be the most powerful three-cylinder engine ever produced
Part of Toyota's plan to inject more excitement into its range
A hot version of the Toyota Corolla has been rumoured, and the firm seems to have confirmed its arrival is imminent. It's put in a trademark request for 'Toyota GR Corolla', ahead of using the nameplate in the next couple of years. We expect the new car to be revealed in two years time, before finally reaching dealerships in 2023.
Our exclusive images suggest how it might look. More aggressive styling will be joined by a powerful 1.6-litre petrol engine, enabling the GR Corolla to compete with established hot hatchbacks like the Ford Focus ST, Volkswagen Golf GTI, Skoda Octavia vRS and Hyundai i30 N. It'll go into showrooms alongside the Toyota GR Yaris and GR C-HR.
Most economical family cars to buy this year
The GR Corolla will use the same engine as the four-wheel-drive GR Yaris: a three-cylinder 1.6-litre engine with at least 250bhp. Japanese-market Yaris versions get 268bhp but we expect UK cars to be detuned by around 15bhp. A six-speed manual gearbox is likely to be the only choice, which may set the Corolla apart in a market that's increasingly favouring automatic gearboxes.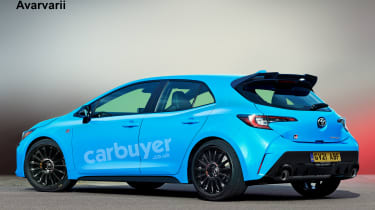 Unlike the GR Yaris, the Toyota GR Corolla is likely to be front-wheel drive to reduce fuel consumption. It'll be designed as an all-round hot hatchback with a focus on everyday usability, instead of a track-bred machine like the Honda Civic Type R and Renault Megane RS Trophy. Multi-link rear suspension will be fitted, so we expect decent handling. If Toyota adds more feel to the steering than the standard Corolla, it should be a hit with enthusiasts.
The Toyota Corolla hatchback is now hybrid-only, so you might be surprised that the hot version won't have a mix of petrol and electric power. The EU sets strict CO2 emissions targets for manufacturers but because Toyota already has so many low-emission hybrid models, there's scope for it to create a couple of hot petrol hatchbacks.
Speaking to our sister site, Auto Express, Toyota's European President Johan van Zyl confirmed that the GR cars will be exciting petrol models. "Is the GR Yaris a volume contributor? No, it's not going to be. But it does help with the positioning of our cars - more fun, excitement? Yes, it helps. And if you add it to the mix and calculate the impact to our CO2 averages, we can accommodate that."
Toyota is still planning to introduce a number of hybrid and electric models by 2025, so there's room for a few more low-volume fast cars. A GR-tuned version of the Toyota C-HR SUV is on the horizon, too.
Read our review of the Toyota Corolla for more information, or see which are the best hot hatchbacks on sale now.