Toyota C-HR to get fast GR version in 2023
Following the GR Yaris and GR Corolla, the C-HR SUV will be the next hot Toyota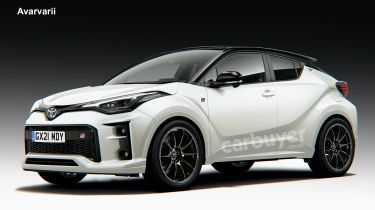 Will use the same engine as the GR Yaris
Plenty of fast SUV rivals in development
Set to go on sale in 2023
The Toyota C-HR will get a range-topping GR model in the next few years, and our exclusive images preview how it could look. It's set to produce around 250bhp to go head-to-head with the Volkswagen T-Roc R, plus the upcoming Ford Puma ST and the Hyundai Kona N.
When the C-HR reaches showrooms, potentially in 2023, it'll be significantly more expensive than the entry-level model. The current C-HR starts at just over £25,500, so we'd expect a price somewhere in the region of £35,000.
The Toyota C-HR SUV is currently only available with hybrid powertrains, but the GR C-HR will change that. Like the GR Yaris and forthcoming GR Corolla, the hot C-HR will use a three-cylinder 1.6-litre petrol engine. In the Yaris, it produces 268bhp, but the engine is likely to be detuned slightly for use in the C-HR. We also expect the GR C-HR to come with front-wheel drive, not the four-wheel drive you get on the GR Yaris.
The C-HR sits on Toyota's TNGA platform, which includes multilink rear suspension; this should be a good base for a performance SUV. Toyota is likely to add new dampers, bigger brakes and lightweight alloy wheels to improve the handling of the standard car.
Toyota wasn't obliged to make the rally-derived GR Yaris but the high cost of development means the engine is set to be used elsewhere. A Gazoo Racing spokesperson told our sister site Auto Express that the engine "can be used in other applications", before adding that it "can be offered in more than one state of tune".
The current Toyota C-HR SUV is expected to be replaced by a new version in 2021, so we don't expect to see the reveal of a hot GR version until a few months after the next-generation of the standard car is launched.
See where the current C-HR ranks on our lists of the best hybrid family cars and the best cars for under £300 per month.
Cheap fun cars: our picks from £1,000 to £10,000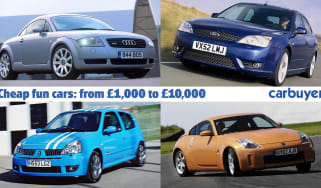 Cheap fun cars: our picks from £1,000 to £10,000
Top 10 best small SUVs 2022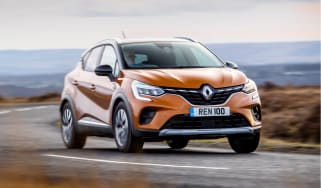 Top 10 best small SUVs 2022