Electric BMW X1 SUV set to arrive in 2023
An electric X1, likely called the BMW iX1, is in the pipeline alongside several other EVs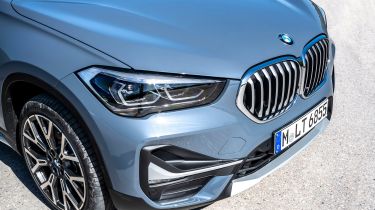 BMW iX1 to be brand's second electric SUV
Likely to cost around £50,000
5 Series and 7 Series to get fully electric powertrains
An electric version of the BMW X1 SUV will arrive in showrooms by 2023. Confirmed in a company statement, the new car is likely to be called the BMW iX1, and will reach showrooms alongside electric versions of the next BMW 5 Series and BMW 7 Series saloons.
In a move that BMW calls the "power of choice", the X1 and 5 Series will be available with an entire range of powertrains, consisting of mild-hybrid petrol and diesel engines, plug-in hybrids and full electric.
As we've seen with the recently revealed BMW iX3 SUV, the iX1 will get blue accents and model-specific styling touches but not a full redesign. When the BMW i3 and BMW i8 were launched, BMW wanted to mark its electrified models out as something new and futuristic, but it's now taking a different approach as electric cars become more mainstream. Because of the bulky battery, you can expect a slightly smaller boot capacity than models with engines.
A facelifted BMW X1 was introduced last year, so we expect BMW to wait until the new model is launched before bringing out the electric iX1. A 2023 release date seems likely, accompanied by a price of around £50,000. It'll be about £15,000 less expensive than the electric BMW X3, and will cost a similar price to the Volvo XC40 Recharge, Tesla Model Y and Ford Mustang Mach-E.
The BMW X1 shares its underpinnings with a range of cars including the BMW 1 Series, BMW 2 Series Active Tourer, MINI Clubman and MINI Countryman. In theory, the same powertrain fitted to the X1 could be made available in all of these models. The iX1 will get a bigger battery and/or electric motor than the MINI Electric, but no details have been confirmed yet. BMW is also working on the i4 and iNEXT electric models.
What does it mean for car buyers?
With a projected 2023 release date, the iX1 seems very far away - but it's only the length of the average PCP or lease deal, so customers ordering a new car now could be driving the iX1 as their next car.
The current BMW X1 is a good-to-drive, practical and upmarket compact SUV, so the iX1 will appeal to buyers who want this and the advantages of going electric. An electric version will come with a hefty price increase over other X1 models, but you'll be able to recoup this with tax exemptions and low recharging costs.
Read about the best electric SUVs on sale now.