Best cars of the decade - the Carbuyer cars of the year 2010-2020
As part of our 10th anniversary celebrations, we take a look back at the winners of the coveted Carbuyer Car Of The Year award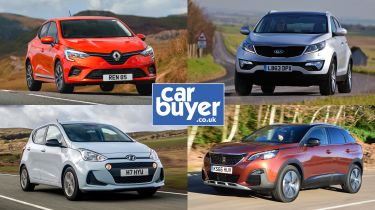 Carbuyer is celebrating its 10th anniversary this year, so we're taking the opportunity to look back at all the cars that have won the coveted Carbuyer Car Of The Year award. These are some of the very best cars of the last decade.
We're proud to focus on mainstream vehicles that people buy in their thousands, which is why you won't find low-volume or super-expensive cars making it onto our Car Of The Year shortlists. We're also approved by the Plain English campaign, so jargon and cliches don't feature - you'll read clear reviews and information that help you find the perfect car.
Our Car Of The Year award celebrates the very best. We take every aspect into account: running costs, performance, reliability, practicality, comfort, technology and safety. Our award-winners range from compact city cars to rugged family SUVs, and all moved the game on while thoroughly impressing us.
Naturally, there's been much innovation in the industry and many improvements made to cars since our annual awards began in 2010 but past winners still represent excellent used buys. You can find great deals on some of the previous winners on our sister site Buyacar.
So without further ado, here are all the previous winners of Carbuyer Car Of The Year.