2012 Carbuyer Car of the Year - Hyundai i30
See why the Hyundai i30 was awarded the 2012 Carbuyer Car Of The Year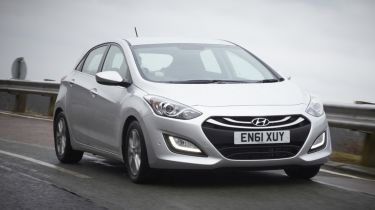 Price when new: £14,200 - £24,200
Price now: £3,000 - £12,000
What we said at the time: "This is a clear sign of how far Korean companies have come in recent years, with their cars now as sought-after as Korean technology products such as TVs and mobile phones. The i30 is a great all-rounder – it's stylish, practical, well built and good to drive. On top of that, it's great value, cheap to run and comes with peace-of-mind as standard thanks to a five-year warranty."
Like the Kia Sportage that won the year before, the Hyundai i30 showed that Korean cars were now on par with their European counterparts for style and quality. Before that, it was likely you'd buy a Hyundai for the same reasons you'd buy a washing machine; quietness, reliability and low price. The i30 still offered all these plus points, and the five-year unlimited-mileage warranty charmed buyers too. Its boot matched the Volkswagen Golf, while there was a more practical estate version if you needed it and, latterly, a stylish coupe model. We can't deny that you'll probably have more fun in a Ford Focus or Mazda3, but the i30 offered more space than either of these cars and had a broad range of other talents.
The 109bhp diesel offers the best economy, although its claimed 78mpg figure (NEDC) is optimistic to say the least. Picking a diesel also gets you cheap road tax, and they offer respectable, if not earth-shattering, performance that'll easily keep pace with traffic. It's a similar story with the petrol engines, although they're not as economical and you'll be paying more in road tax. The entry-level S model gets Bluetooth connectivity, air con and front fog lights, and SE gets alloy wheels, all-round electric windows, parking sensors and cruise control. SE Nav and Premium get a touchscreen with sat nav, giving the interior a more upmarket look, and the latter also comes with leather upholstery, a reversing camera and dual-zone climate control. Earlier cars were badged Classic (S), Active (SE) and Style Nav.
£4,000 is enough to buy an earlier Active model with under 90,000 miles on the clock, while you'll need £10-12,000 for a rare 183bhp Turbo or a barely used SE Nav car.
Check out great deals on used Hyundai i30 models on Buyacar.
Our other winners in 2012: