2013 Carbuyer Car of the Year - Dacia Duster
See why the Dacia Duster was awarded the 2013 Carbuyer Car Of The Year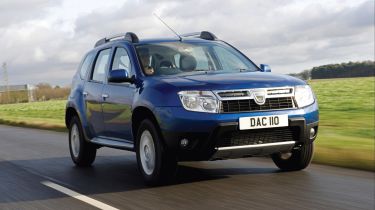 Price when new: £8,995 - £14,995
Price now: £4,000 - £11,500
What we said at the time: "The Dacia Duster is an incredible car for the price, offering the style, space and comfort of cars that usually cost nearly twice as much. A Car of the Year is a model that genuinely shifts the goalposts in its category – the Dacia Duster reinvents the game. It makes all other cars look expensive."
You're probably familiar with the Dacia brand by now but in 2013 it was still quite new to the UK. The Dacia Sandero and Dacia Logan MCV came first and set the tone with rock-bottom pricing and a no-nonsense attitude, but the launch of the Dacia Duster SUV made more people sit up and pay attention. Here was a spacious family SUV to rival the likes of the Nissan Qashqai that started from just £8,995. Of course, the headline price of the cheapest model was achieved because it didn't come with any luxuries but even the top-spec versions with four-wheel drive were much cheaper than rivals. You get decent mechanicals too because Dacia is owned by Renault and benefits from lots of its parts. That includes tried-and-tested engines; they aren't the most efficient but you can't expect to get the very latest technology at this end of the market. A brand-new car with a three-year warranty came for the price of a second-hand rival.
The cheapest trim level, Access, is very basic by modern standards. You lock and unlock the car by twisting the key in the driver's door, there's no air conditioning or split-folding rear seats and you'll have to sing to yourself, as there's no radio - although the wiring was fitted if you want to install an aftermarket radio unit. But with that said, there are electric front windows and a 12V socket, and we quite like the purposeful look of the steel wheels and flat black bumpers. The range rises through Ambiance, Air, Laureate, Prestige and Nav+ (some trim levels are newer than others), and top-spec cars get nearly all the equipment you'd find in more expensive rivals, such as cruise control, and a touchscreen with sat nav and a reversing camera.
The cheapest cars look like they've been used as commercial or farm vehicles, while the most expensive ones overlap with pre-registered examples of the new Dacia Duster, so we'd recommend getting the new car if you're looking to spend £11,000-£12,000 on a Dacia.
Check out great deals on used Dacia Duster models on Buyacar.
Our other winners in 2013: