2014 Carbuyer Car of the Year - Hyundai i10
See why the Hyundai i10 was awarded the 2014 Carbuyer Car Of The Year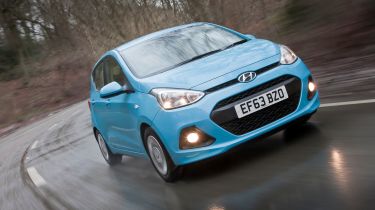 Price when new: £8,435 - £13,750
Price now: £3,500 - £12,000
What we said at the time: "The new Hyundai i10 is a brilliant car, offering a real grown-up feel and plenty of space at an incredibly low price. It's fun to drive and cheap to own, too – the perfect car for cost-conscious car buyers."
We're past the days of city cars being flimsy, cramped and basic; buyers expect to have lots of equipment in even the smallest cars and not pay a fortune for them. The Hyundai i10 might've been one of the cars that allowed customers to dream bigger because it has eye-catching styling, lots of equipment and a surprising amount of space. A 252-litre luggage capacity means you could consider the i10 if you were also looking at a supermini like the Toyota Yaris, while only being available as a five-door means access to the rear seats is easy. Having five seats isn't too common in these cars but the vast majority of i10s do, and adults can comfortably sit in four of those seats. Because the i10 is light, its small non-turbo petrol engines can achieve nearly 50mpg, while the 1.2-litre engine offers perfectly adequate performance - even if you're planning a few motorway trips. With a wheel at each corner and an agile feel, the i10 is even fun to drive.
The 86bhp 1.2-litre engine mated to a manual gearbox is the combination we'd recommend unless you're going to drive mostly around town. It's nearly three seconds quicker from 0-62mph than the 66bhp 1.0-litre, meaning you can happily keep up with the flow of traffic and tackle steep hills with ease, but choosing the auto makes the car very slow. Three main specifications are available: base S cars come with front electric windows, a trip computer and a USB port, while SE is much less spartan with air conditioning, Bluetooth phone connectivity, DAB radio, cruise control and power-adjustable heated door mirrors. Premium spec adds alloy wheels and a smartphone cradle on earlier models; cars produced from 2016 onwards benefit from sat nav and Apple/Android phone mirroring.
Even the cheapest i10s don't have sky-high mileage, and their simple engines should mean there's little to go wrong. If you're buying a used i10 on finance, a newer car may prove to be cheaper thanks to the lower monthly payments of PCP deals versus HP deals. We found 18-month-old SE cars with around 10,000 miles for around £100 per month after a £1,500 deposit.
Read our comparison between this i10 and the latest model, or check out great deals on used Hyundai i10 models on Buyacar. 
Our other winners in 2014: