Used Peugeot 3008 review: 2017 to present (Mk2)
"The Peugeot 3008 is an upmarket and practical family SUV that makes a great second-hand buy"
Pros
Superb interior
Easy to drive
Practical and spacious
Cons
Not the most comfortable SUV
Strange driving position
Fiddly infotainment
The Peugeot 3008 was our Car of the Year in 2017 when it first arrived, and if you're shopping for a family SUV that's a few years old then you can do much worse. It's among the most luxurious cars of its type in terms of interior quality, and while the infotainment is fiddly and the driving position could be better, it's a great all-rounder. It's decent to drive, efficient, practical and well equipped. 
The Peugeot 3008 was totally revamped for its second generation in 2017, changing from being a pseudo-MPV effort into a fully fledged SUV with a fantastic interior, efficient engines and loads of appeal. It was an award-winner when new and it's still one of the best family SUVs around as a new car, so a used model comes highly recommended.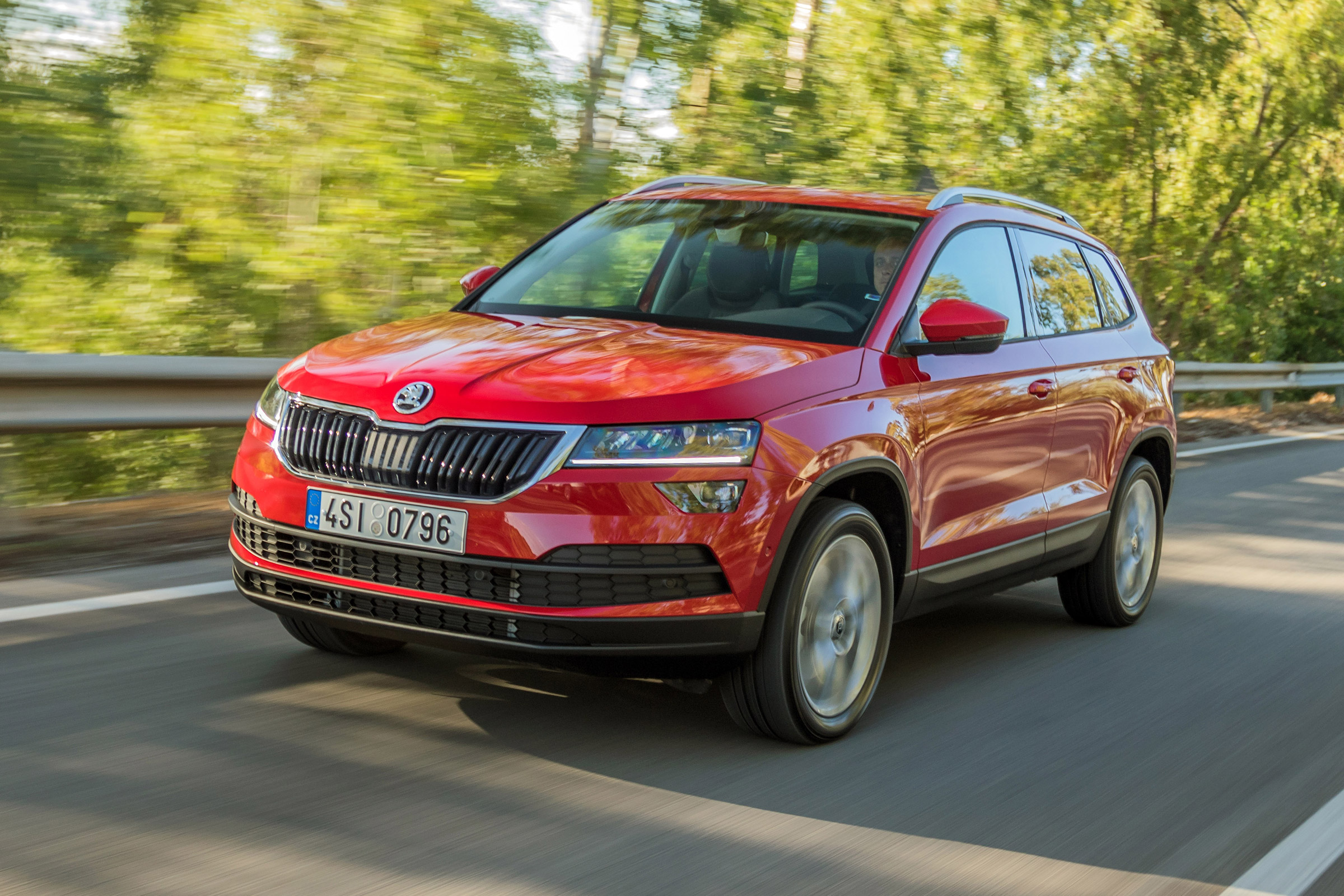 Top 10 best used SUVs 2022
It's about the same size and pierce as a Nissan Qashqai or Skoda Karoq, although there are absolutely loads of rivals to consider. The Ford Kuga, Kia Sportage, Mazda CX-5, Renault Kadjar, Toyota RAV4 and Volkswagen Tiguan are just a handful of alternative options.
There are plenty of engines to choose from including petrol, diesel and hybrid options, and most of them are efficient while also bringing decent performance. There are both manual and automatic versions, and although the 3008 has rugged looks, there's only one four-wheel drive model (the top-spec Hybrid4 version with two electric motors).
What's the history of the Peugeot 3008?
The Peugeot 3008 first appeared in 2010, but the first version's MPV-like looks meant that while it was a worthy family car, it was tough to call it desirable. This second-generation car came out in 2017 and that all changed, because its attractive looks and upmarket interior put it among the most appealing cars of its type.
Originally there were 1.2 or 1.6-litre petrol motors and 1.6 or 2.0-litre diesels, all available in either manual or auto form. Later on, in 2018, a 1.5-litre diesel replaced the 1.6-litre unit.
In 2020 a four-wheel drive model was finally launched, in the form of the Hybrid4, which had a petrol engine and two electric motors (and a punchy 296bhp). Another hybrid model arrived in 2020 as well, with front-wheel drive and less power. Both were plug-ins, so you can charge up the battery at home and drive on electric power alone.
In 2021 the 3008 was facelifted, which meant it got a different look on the outside and some more equipment inside.
Which is the best Peugeot 3008 to choose?
The best engine in the Peugeot 3008 depends on your personal situation - if you rarely drive on the motorway then a 1.2-litre petrol will be a good option because it's reasonably economical and quiet. The 1.6-litre or 2.0-litre diesel engines are better for fuel economy (especially on longer trips) and towing, though.
If you can plug in at home and make the most of the electric driving, then one of the plug-in hybrid versions will be really cheap to run. They're the most expensive to buy, though, so they aren't our recommendation to the majority of buyers. If you're not sure, go for the 1.6-litre diesel, which is the best all-rounder. An auto gearbox suits the car's relaxed character best, and the manual gearbox isn't very pleasant to use.
What are the alternatives? 
The Peugeot 3008 sits in one of the most competitive segments there is. There are family SUVs from nearly every car maker, so the 3008 has loads of rivals. Key ones to think about include the Nissan Qashqai, Ford Kuga, Kia Sportage, Skoda Karoq, SEAT Ateca, Mazda CX-5, Toyota RAV4 and Vauxhall Grandland X. There are plenty more, including more upmarket models such as the Audi Q3 and Mercedes GLA.
Peugeot 3008 Mk2 video review
Running costs, MPG, CO2 emissions and insurance
The Peugeot 3008 is remarkably efficient for an SUV when you look at the official fuel economy figures. All the engines apart from the 1.6-litre petrol delivered impressive miles per gallon, although you need to be careful when comparing economy figures as a change in the way they were measured means that early cars look much more efficient than later ones, despite that not being the case in the real world.
Similarly, plug-in hybrid models have some eye-catching figures for economy, but that is all dependent on you plugging-in every day and using the electric power to maximum potential, which is rare. With the right lifestyle, these models can be extremely efficient and cheap to run, though.
How much do used Peugeot 3008s cost?
The Peugeot 3008 should cost roughly as much as an equivalent SEAT Ateca or Skoda Karoq. Residual values are a bit variable, from around 41 per cent (after three years or 36,000 miles) up to around 50 per cent for the top-spec plug-in hybrid models. This means that in general, the best-value used models are lower-spec diesel versions. 
Check out our sister site BuyaCar for the latest Peugeot 3008 Mk2 prices...
What's it like for fuel economy, emissions and tax?
Early 3008 Mk2s from around 2017 were available with petrol and diesel power only. The 1.2-litre three-cylinder motor was claimed to return around 55mpg, while the 1.6-litre motor returned 49mpg. These engines managed 117g/km and 129g/km of CO2 respectively.
The 1.6-litre diesel engine returned more than 70mpg and emitted 103g/km of CO2, while the 2.0-litre diesel managed 67mpg. However, these figures were all revised over the years.
Have a look at specs for a more recent model and you'll find that the 1.2-litre motor emits 133g/m of CO2 and returns 48mpg, while the 1.6-litre petrol had figures of 43mpg and 148g/km. These more recent figures are closer to what we were able to achieve in test cars in real-world conditions. The diesels are the best for efficiency if you do motorway trips a lot as even the later models have impressive figures. 
The 1.5-litre diesel in later models returns 61mpg and emits 122g/km of CO2, while the 2.0-litre model returns 47mpg and 162g/km of CO2.
The plug-in hybrid models have unusually high figures that rely on ideal conditions. The Hybrid4 model's economy of 235.4mpg and emissions of 30g/km mean it's the most efficient model on paper, followed by the normal Hybrid's 222mpg and 29g/km.
How much will it cost to insure?
Lower-spec 3008 models in Active and Allure trim levels can be as low as group 11 with the 1.2-litre PureTech petrol engine, while the diesel engines are a few groups higher, around 16 and 17. The 1.6-litre petrol model is a bit higher still, and sits with the 2.0-litre diesel in group 23 (or a bit higher if you choose a more expensive GT-Line model). 
The most expensive model to insure is the Hybrid4 plug-in hybrid, which sits in a lofty group 37, although the less powerful and cheaper Hybrid model is in group 27.
Reliability and common problems
The Peugeot 3008 is built using a system of parts that it shares with loads of other models, including Peugeot's own 308 and 508 as well as models such as the Citroen C5 Aircross and Vauxhall Grandland X. This means there are many common parts and engines, so parts availability should be good and getting repairs done won't be an issue with many dealers able to carry out maintenance.
How reliable is the Peugeot 3008?
The 3008 comes with a three-year warranty from the factory, which is pretty much the bare minimum for a new car. Since the 3008 is still on sale, this means there should be plenty for sale second-hand with some warranty remaining, but early models will come without any of this left. It'll be a lot easier to find a Kia Sportage with warranty left, as that had seven years' worth of cover.
Service intervals are every 16,000 miles or each year, whichever is first. That's a bit longer than some of its rivals, which need looking at every 10,000 miles or so. There is a cambelt that will need changing every 10 years or 112,000 miles, which can be a costly job.
Are there any common problems or things to look out for?
There aren't too many common faults on the 3008 to look out for. The panoramic sunroof fitted to certain models is something to avoid, as it can leak significantly, and owners have reported poor DAB radio reception.
If you get into a 3008 and find that the manual gearbox is unpleasant to use and hard to get into gear, this is normal - we found every manual car we tested from new was like this. Similarly, all cars suffer from a fiddly, slightly unresponsive touchscreen infotainment system.
What about recalls?
There are quite a few recalls to check for on the 3008. In 2017 there were three to be aware of, for faulty starter motors, fuel leaks and stalling issues. Then in 2018 there were more recalls for overheating and then oil leaks, followed by two in 2020 for a rear suspension fix and then emissions problems. In 2021 there were a couple more recalls concerning broken tow bars and then faulty timing belts. Make sure all of the relevant recalls have been completed before buying a used 3008.
What do owners think?
The Peugeot 3008 scored highly in our annual Driver Power customer satisfaction surveys, so owners reckon it's a great car to own. It was a top scorer in 2018's poll and then it had only dropped to seventh place by 2019, and then in 2020 it was second place. That shows that owners really value many of its features, although the car was criticised for poor infotainment. In 2021 the car dropped to 50th place, but that was still a pretty good score and the appearance of newer rivals does account for that somewhat.
Engines, performance and drive
The Peugeot 3008 sits somewhere in the middle of the market when it comes to driving. It's a good all-rounder, but it doesn't excel in any one area. For example, a Skoda Karoq is more comfortable and easier to drive, but a Mazda CX-5 is more fun on a twisty road.
The 3008 has a relaxed character; it's not sporty, so it will suit people who just want something that's easy to drive and comfortable enough, but that has enough performance to overtake slower traffic when needed. All the engines are good enough for that and the 3008 is smooth enough, so it fits the bill for loads of buyers.
What is the Peugeot 3008 like to drive?
If you want an SUV that's fun to drive then the 3008 isn't the best option, because it isn't as agile as a BMW X1, Mazda CX-5 or SEAT Ateca. The 3008 has a small steering wheel, which its engineers told us is to make it feel more sporty, but in our experience it simply makes the car feel unsettled.
It also means the driving position is very odd, with the steering wheel right down in your lap and the instrument display above it. It takes some getting used to but is fine after a while. It's a shame that the seats in the 3008 are a little bit too hard and so can feel uncomfortable on long trips, though.
The overall comfort of the 3008 is good, as it deals with bumps and potholes well, although it's slightly less composed than a Skoda Karoq on a road with lots of small bumps and ruts. 
Almost all models are front-wheel-drive only, which means the 3008 is very much meant as a road car rather than an off-roader, but some versions come with something called 'Grip Control' which uses the computers in the car to improve grip off-road. Hybrid4 models are four-wheel drive but the low(ish) ground clearance means it's still not ideal for serious off-roading.
The plug-in models are excellent, with ultra-quiet running with the engine turned off and punchy performance. The only issue with them is that they're the most expensive versions to buy.
Which engine should I choose?
Perhaps the best all-rounder is the 1.2-litre petrol engine, which has three cylinders, but thanks to its turbocharger it has punchy performance and decent fuel economy. It has 128bhp and can accelerate from 0-62mph in around nine and a half seconds. It's quiet and although it's not the smoothest engine, it's enjoyable to use.
The 1.6-litre petrol is more powerful, with 179bhp, but it's no more enjoyable to use than the 1.2-litre motor and so it's not worth the extra money you'll pay. It takes about eight seconds to get from 0-62mph.
The diesel engines are better if you do a lot of miles, simply because of the fuel economy advantage. They're a bit noisy but nothing too bad. The 1.6-litre diesel in earlier cars has 98bhp or 118bhp, and the latter is the best option because both have the same fuel economy. A 148bhp 2.0-litre diesel was available too but the mid-range option has the best balance of power and economy.
In later cars there was a 1.5-litre diesel with 128bhp and this is probably the best version if you are going for a diesel 3008 as it's punchy but quieter than the others. It takes about 11 seconds to go from 0-62mph.
The most powerful models are the hybrids. The lower-power version has 222bhp and the more powerful Hybrid4 has four-wheel drive and 296bhp. This is enough for 0-62mph in 6.1 seconds, which is very quick, but it's not any more fun to drive than the lesser model as the 3008 isn't very sporty. Both of these cars use a 1.6-litre petrol engine along with one or two electric motors respectively.
Interior, comfort and safety
Get inside a second-generation Peugeot 3008 and you won't believe it's from the same car maker as the first-generation model. The interior was totally overhauled for this version and it went from being one of the most dreary models of its type to being among the best interiors of any mainstream car.
The small steering wheel and oddly placed dials mean that the driving position takes some getting used to but the 3008 is the most natural-feeling model to drive of the Peugeot range, because you sit quite high up and the digital dials are well placed.
What's the Peugeot 3008 like inside?
There are two displays in the 3008, one instead of traditional dials and the other on the dashboard - they are 12.3 and 10 inches across respectively. All versions of the car get these and they're really well integrated into a fantastic dashboard that looks interesting, is made using high-quality materials and is well laid-out.
There are no air-con controls, which means it's rather annoying to change the climate settings, but other than that it's a functional, well-designed cabin that looks very smart. Only upmarket models such as the Audi Q3 are able to match it for visual appeal.
The interior really is the best thing about the 3008 and it's a pleasure to sit inside. It feels well built, although only time will tell as to how sturdy it is in the long run. Since all models have a similar layout with the twin screens, we reckon mid-spec models are the best for value for money.
What's on the equipment list?
The 3008 launched with Active, Allure, GT Line and GT trim levels. The entry-level models came with 17-inch alloys, climate control, rear parking sensors, automatic emergency braking, lane departure warning and distance alert. Allure models got front and rear parking sensors, a reversing camera, partial leather inside, blind spot indicators, sat-nav and larger alloy wheels.
GT-Line looked a bit sportier and added LED headlamps, foglamps and indicators as well as some other visual changes. Top-spec GT models came with a full leather interior, massage seats, roof bars, 19-inch alloys, a sunroof, keyless go, adaptive cruise control and an electric tailgate.
Later on, following an update to the car's range, the 3008 came in Active Premium, Allure, Allure Premium and then GT and GT Premium specs. Equipment was similar to before, though Allure trim now got a larger touchscreen, Allure Premium got roof rails and ambient lighting, and GT Premium trim added an upgraded stereo, heated seats and Alcantara trim.
How safe is it?
The Peugeot 3008 has plenty of safety kit as standard, including electronic stability control, Isofix child-seat mounts, a tyre-pressure warning system and autonomous emergency braking. Lane-keeping assist is also included on all models.
This helped in the car's Euro NCAP crash test, where the 3008 scored the maximum five stars. It was able to provide good protection for adults and children in a crash alongside its strong list of active safety equipment.
Practicality and boot space
The Peugeot 3008 is aimed at families and it hits the mark, as there's plenty of room for an average family. There are only five seats in the 3008 but Peugeot does also build the 5008, which is really similar but has seven seats.
The 3008 is about the same size as a SEAT Ateca or Skoda Karoq but those models do have a little bit more room for passengers in the back seats. It's not by a lot, and the Peugeot has a big boot and plenty of in-cabin storage, so overall we rate the 3008 highly for practicality.
How big is the Peugeot 3008? 
The Peugeot 3008 is 4.4m long, 1.8m wide and 1.6m tall, which is pretty much bang-on average for a family SUV. It's about the same as the Nissan Qashqai, which is often considered the archetype for mid-sized SUVs. It's a little big for an average UK single garage but most owners won't bother storing it inside.
How much space is there for passengers?
The 3008's luxurious interior does mean that there's not quite as much space inside as in some of its rivals. This is because the dashboard and centre console are quite bulky, although it does help when it comes to storage spots.
Space in the back is decent and kids will have no trouble sitting comfortably, but taller adults will find that there's more room in the back of a Skoda Karoq. The seats are quite hard, which isn't ideal for longer trips, but the ride is reasonably comfortable so you won't be thrown about over bumpy roads.
The back doors open nice and wide and fitting a child seat is easy thanks to the Isofix points, although the middle seat could be better because there's a big chunk of centre console in the way.
How big is the boot?
The Peugeot 3008 has a 520-litre boot, which means it's better for luggage than many of its rivals'. The Nissan Qashqai, for example, has 504 litres available and the SEAT Ateca has 510 litres. It's a nice, usable shape and is easy to load.
The back seats fold down in a 60:40 pattern and this will open up a total of 1,482 litres. That's not class-leading (the Skoda Karoq has 1,605 litres) but it's pretty good and since the seats fold flat, you can slide longer items in and out.
It's worth remembering that the hybrid models have battery packs under the boot floor and this reduces boot space to 395 litres (or 1,357 litres with the seats down).