Dacia Sandero vs Renault Clio - rivals comparison
Both superminis are worth considering but which one's best?
When it comes to superminis, buyers often find themselves spoilt for choice and, as a result, the hunt for a new or used car can become a little overwhelming. Our guide to the best superminis is a great place to start but here we've compared two of our favourites to see which is best.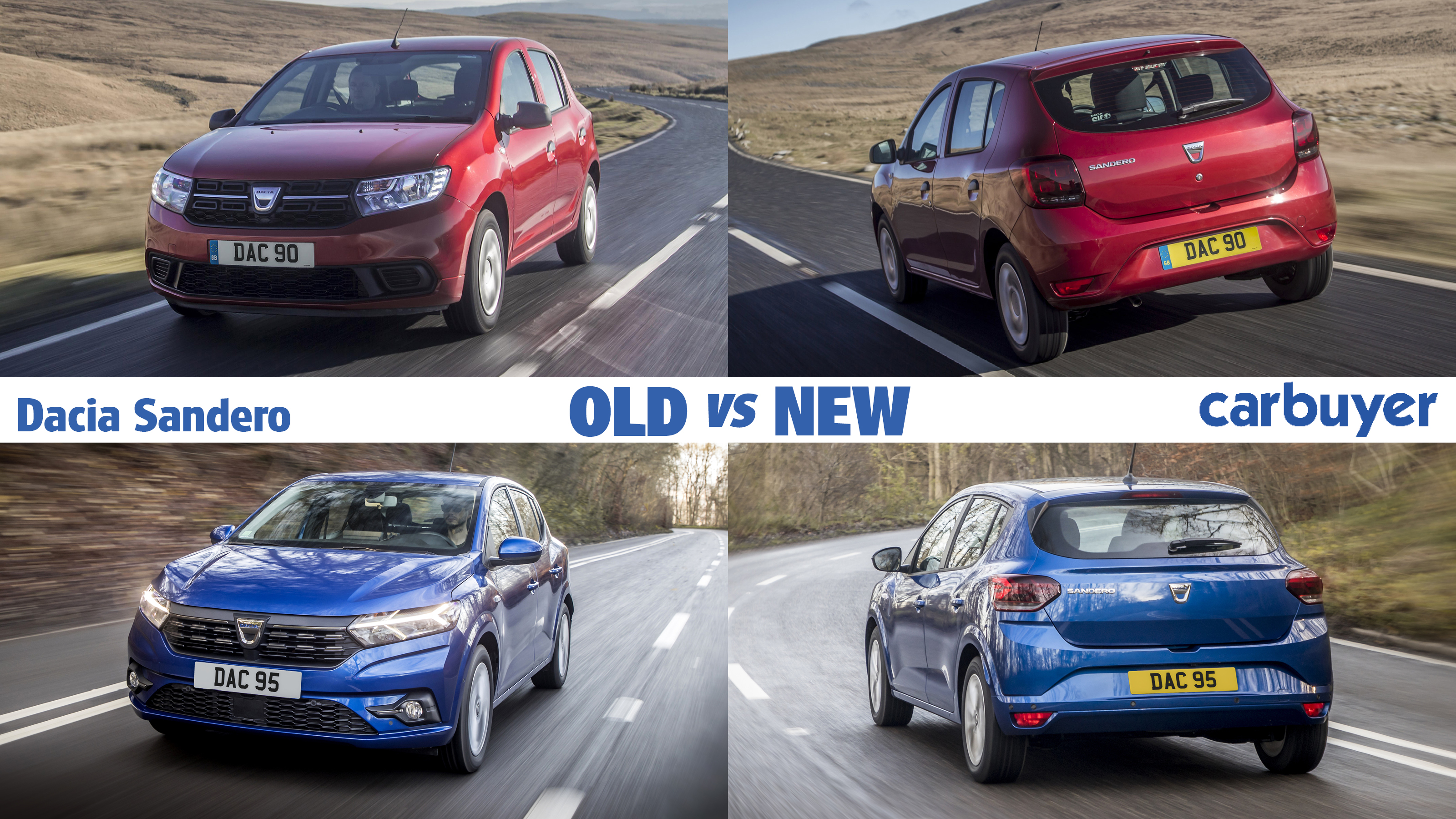 Dacia Sandero: old vs new
The Dacia Sandero made its debut in the UK in 2013 and immediately became Britain's cheapest new car. With a price tag of just £5,995 (the more rugged Stepway variant was well under £10,000 too), it was extremely basic but much more affordable than rivals like the Hyundai i20 and Skoda Fabia. It didn't sacrifice space and came with five doors and a decent sized boot too. The latest version promises some big upgrades, which have been carried over from the Clio, on which the Sandero is based, without causing much of a rise in price. 
The Renault Clio, which is one of the UK's most popular superminis along with the Ford Fiesta and Volkswagen Polo, is back for a fifth generation. Despite looking similar to its predecessor, it incorporates all-new technology under the metal, which makes it more efficient, spacious and desirable. But which car should you pick? Read on for our verdict.
Styling 
We'd forgive you for thinking that the Sandero is a bit bland but the car's styling has come a long way since 2013. This is mostly thanks to a wider stance and new LED headlights with Y-shaped daytime running lights at the front. Even the bonnet has a more intricate design, making the Sandero look a lot more appealing.
According to customer feedback, exterior design was one of the key factors in the last Clio's success, so Renault hasn't broken the mould with the latest Clio. Instead, they've simply added some new details for a more mature look. There's little doubt that the Clio trumps the Sandero in the style department. 
Interior 
The interior is one of the biggest clues that the Sandero is priced under £10,000 but things have improved for the latest model. The entry-level Access trim is still very basic compared with the entry-level Clio but the vast majority of buyers are expected to go for the Sandero in Essential or Comfort form, and we were pleasantly surprised by the improved level of equipment and comfort those two trims now have to offer. 
It may not be as slick in the cabin but the parts the Sandero shares with the Clio, such as the gear lever and heater controls, make it feel much higher quality. You may want to prepare yourself for a noisy ride, though, as there is less soundproofing than you'd find in more expensive superminis like the Clio. 
The latest Clio's interior features an upmarket design, high-quality materials and significantly updated technology over the previous model. The length of the car is ever so slightly shorter than its predecessor but this didn't compromise its roomy cabin and boot space. On higher trim levels, the Clio gets a 9.3-inch portrait central touchscreen along with an entirely digital display. 
Prices and specs 
At the time of writing, you'll need to pay £7,995 for an entry-level Sandero, which means it remains the UK's cheapest car. It's just over £14,000 for the cheapest Clio. Renault is known for offering good finance deals, however, so you may choose to opt for a slightly larger price tag overall in favour of reasonable monthly payments. 
There are three trim levels available on the Sandero and just two possible optional extras: metallic paint and a spare wheel. Kit on the entry-level Access is minimal but you do get electric front windows, LED headlights, and a smartphone holder on the dashboard. If you want a radio and air-conditioning, though, you'll need to go for the mid-range Essential or range-topping Comfort, which are priced from £8,995 and 11,495 respectively. 
Although not quite as basic as the Sandero, the Clio also boasts an easy-to-understand trim range: Play, Iconic, S Edition and top-spec RS Line. There's also an E-TECH hybrid Launch Edition version. Both the standard equipment and safety lists are long and every Clio comes with LED headlights, cruise control and automatic folding door mirrors. 
Both cars come with Apple CarPlay and Android Auto. The Sandero in Comfort trim has an eight-inch infotainment screen, while the S Edition or RS Line Clio variants gain a 9.3-inch touchscreen and a seven-inch digital instrument panel, which can be specced to a 10-inch cluster as an option. 
Practicality 
The Sandero has more space for passengers and their luggage than the previous model, putting it well ahead of some of its rivas. Rear passengers now get 42mm of extra legroom, which is great news for adult passengers or parents fitting a bulky child car seat in the back. There are 60/40 split folding rear seats in the Comfort model and the car has a 328-litre boot, which is almost big enough to rival hatchbacks in the class above. 
Unlike the Sandero, the Clio's rear seats aren't all that spacious. In fact, its large C-pillars and curved roofline can make things feel a little claustrophobic. On petrol versions, the Clio has a 391-litre boot, which shrinks slightly to 366 litres on the diesels. The Clio comes out on top here and beats the Ford Fiesta and Volkswagen Polo on this front too. 
Fuel economy and performance 
Since the Sandero is based on the underpinnings of the Clio, it's no surprise that, although the steering is light, it's not a bad car to drive. There are two petrol options available: a 1.0-litre three-cylinder SCe 65 and a TCe 90 version. Both are linked to a six-speed manual gearbox. The SCe 65 takes a very sluggish 16.7 seconds to get from 0-62mph, while the turbocharged TCe 90 can complete the sprint in a more reasonable 11.7 seconds. 
As you might expect, the Renault Clio is more responsive while retaining a decent level of comfort. There are three different petrol engines available, along with a hybrid E-Tech powertrain. These units range from a three-cylinder 1.0-litre SCe petrol offering 74bhp, a sportier 99bhp TCe version, which gets a turbocharger, and a range-topping 128bhp TCe 130 engine. The least powerful completes the 0-62mph sprint in 16.4 seconds, while the most powerful version covers it in nine seconds flat. Buyers are restricted to a seven-speed dual-clutch automatic gearbox with the TCe 130; we'd recommend opting for the mid-range petrol option and sticking with the five-speed manual. The Clio E-Tech Hybrid, meanwhile, uses a 1.6-litre petrol engine, two electric motors and a 1.2kWh lithium-ion battery. 
Renault believes there's space for a diesel in its supermini lineup and offers an 85bhp version of a 1.5-litre Blue dCi engine. It's only available with the Iconic trim level and comes with a six-speed manual transmission. 
Verdict 
Depending on what's at the top of your wishlist, there are reasons to choose either of these two cars. The Sandero is the obvious option if you want a supermini that majors on practicality and value for money. But if you're looking for better performance, refined handling, a high-quality interior and something more stylish, then the Clio is definitely the way to go. The Clio scooped our small car award for a second year in a row in 2021, so it comes highly recommended. 
Read our guide to the best small cars and superminis.