Dacia Sandero: old vs new
The Dacia Sandero is still the UK's cheapest new car but how does this new model compare to the last one?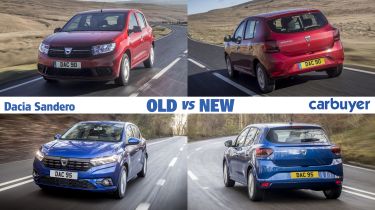 The Dacia Sandero is famed for its status as the least expensive brand-new car you can buy in the UK, and that's led to huge sales success. Very few are actually bought at the headline price of £7,995; for just a few pounds extra a month you can have more equipment, which most buyers will appreciate at some point during the duration of their PCP finance deals, and still pay less than you would for any other car. Indeed, many customers go straight for the top-spec Stepway models.
Despite the bargain price, you're not getting a tiny microcar with a wafer-thin shell and no crash safety. The Sandero is a proper supermini like the Skoda Fabia or Suzuki Swift, and actually quite a big one. It shares a lot of parts with the Renault Clio, so you're getting relatively modern underpinnings too.
The Dacia Sandero is perfect for people who want affordable transport and a three-year warranty, and will appeal to some who had thought their only choice was a used car. But how does the new one (the blue car in our pictures) compare to the old one?
Styling
When the Sandero first came out, it seemed like the rather bland design was part and parcel of the car's budget price. There was nothing wrong with it but it certainly wasn't stylish. The facelift brought in a more distinctive grille and LED daytime running lights to make it look much more modern. Base-spec Access models didn't - and still don't - attempt to hide their status, with dull grey plastic bumpers and flat white paint more akin to a commercial vehicle.
Now there are deep bonnet creases and much more intricate daytime running lights, and the effect is almost transformative. If you were to take the badges off and park the new Sandero next to a Volkswagen Polo or SEAT Ibiza, it would fit right in. Meanwhile, the rugged Stepway model gets even more SUV touches than before, to capitalise on the desirability of crossovers.
Interior
The best way to describe the last Sandero's interior is 'functional'. If you're expecting soft-touch plastics and fancy tech, you're definitely in the wrong place - it's fully clad in scratchy dark grey plastic, which should at least be hard-wearing. But then how often do you actually touch the dashboard? All the controls are in the right place, even if they're all taken from an old Clio, and high-spec facelift versions do get a touchscreen with Apple CarPlay and Android Auto.
With an automatic handbrake, a screen between the dials and a big touchscreen slapped on the top of the dash, the new Dacia Sandero gets a thoroughly modern look - at least on higher-spec versions. All models get a phone holder, and Essential upwards gets a USB connection so you can enjoy a selection of your own apps on the move.
Prices and specs
When the Dacia Sandero first came to UK shores, the Access trim made headlines because of how basic it was by modern standards. The kit list didn't even include radio or remote central locking, so most buyers went at least to the Essential trim, which wasn't very much more expensive and offered air con, Bluetooth and electric front windows. Top-spec Comfort even got rear parking sensors and sat nav.
There might not be a radio in the new Sandero Access either but you do get the aforementioned phone holder and LED headlights. The Sandero now sits on the same platform as the latest Clio, rather than the one used on a Clio a decade ago, so the top-spec Sandero now gets luxuries like keyless entry, auto wipers and a rear-view camera. And yet it still costs £5,000 less than a base-spec Ford Fiesta, which goes some way to show why the Sandero has become so popular.
Engines
The engine range hasn't really changed from one generation to the next - there's a gutless entry-level petrol engine, a much better turbocharged one and a version with an LPG conversion straight from the factory - which is Dacia's answer to an expensive hybrid model. LPG is much cheaper than petrol, and the Sandero promises a much longer range with both tanks full than just the petrol one. An 89bhp diesel was also available for a while.
Unless you're trying to really cut costs or you don't leave town, the naturally aspirated SCe petrol engine is worth avoiding. Now producing just 64bhp (10bhp down on the previous model), it's one of the slowest-accelerating new cars - 0-62mph takes 16.7 seconds. The 89bhp turbo petrol is just as economical, at 53mpg, but five seconds faster, making it much easier to keep up with traffic.
Safety
Buying an older Sandero meant you had to compromise on a good safety score because its dated underpinnings meant it couldn't accommodate the latest safety features - and the car's low price was a prohibitive factor too. With the new one sitting on the same platform as the latest Clio, it means the Sandero has autonomous emergency braking, six airbags and a system that automatically calls the emergency services if you have a crash.
Verdict
The Sandero's position in the market may be the same, but there's no real comparison between the old and the new one. Better in every way and just as affordable, the new Sandero will appeal to existing Dacia customers and new buyers alike. At the time of writing, the Comfort spec is available for under £150 a month with less than £2,000 as a deposit - around £60 a month less per month than a similarly specced Ford Fiesta.
Read our guides to the best cheap-to-run cars and best new cars for under £10,000.