Apple CarPlay: compatible cars, how it works and how to get it
What is the Apple CarPlay app? How does it work? Can CarPlay be wireless? We answer these questions and more
Scroll through a selection of car brochures and it'll become very obvious that the word 'connectivity' has become an important one for manufacturers. This is where Apple CarPlay and rival systems such as Android Auto and MirrorLink comes into play, allowing you access to your phone's apps safely while you're driving.
Apple CarPlay is compatible with the majority of iPhone models; as long as you have an iPhone 5 or newer (including the iPhone SE), it'll sync with a car equipped with the technology. It displays a simplified version of certain apps from your phone via the infotainment touchscreen in your dash - allowing you to operate them as you would using your phone screen. Using these apps on your car's screen is both safer than fiddling with your phone on the move and keeps you on the right side of the law.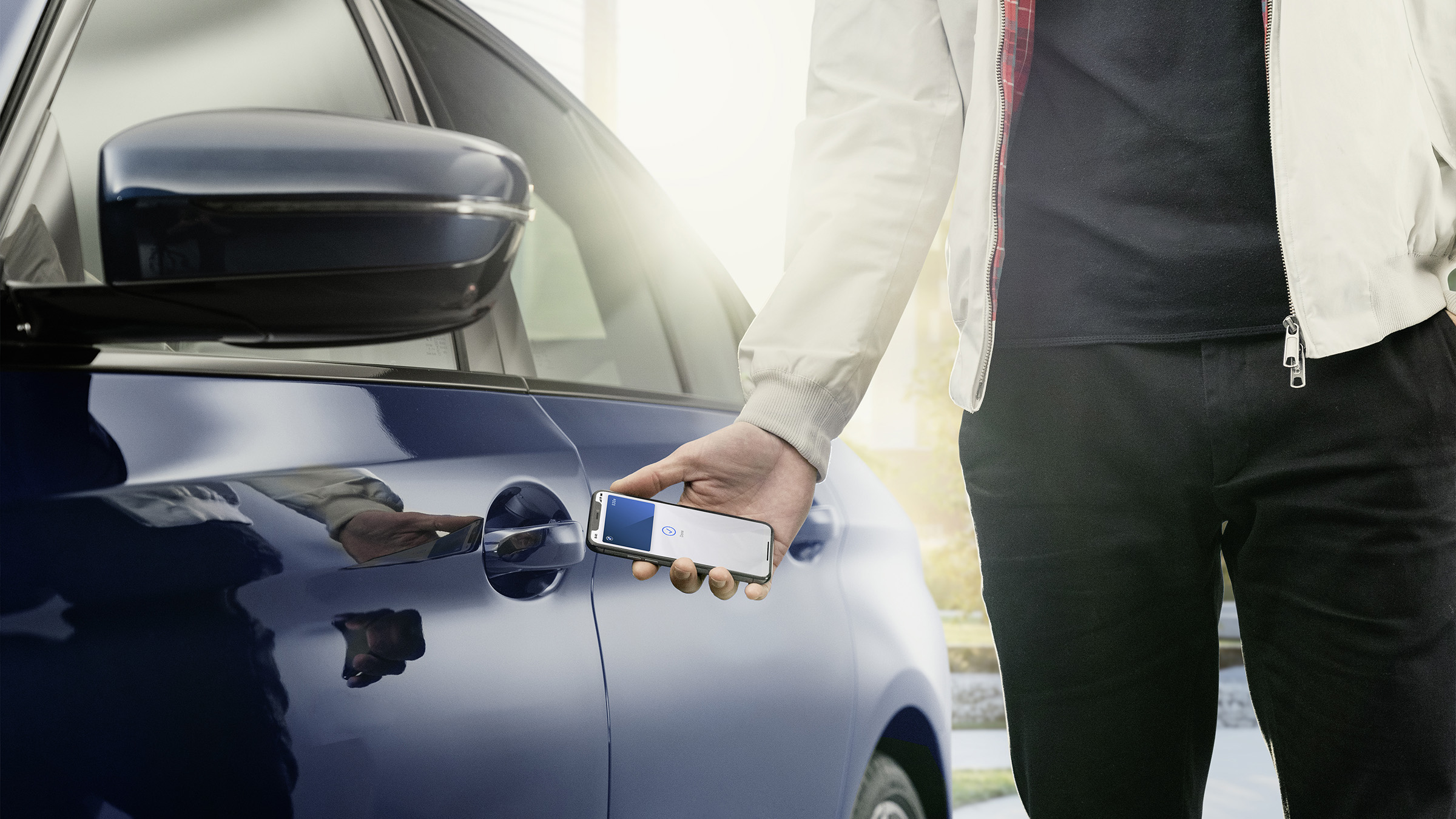 New BMW Digital Key will let drivers use their iPhone as a key
You won't find Apple CarPlay on every new car on sale but it's becoming more and more common. You can also buy replacement radio units that are CarPlay compatible for older cars.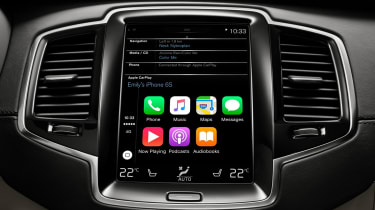 What's Apple CarPlay all about?
Apple CarPlay is becoming commonplace on both affordable and high-spec cars - you can use it whether you have a Dacia Sandero or a Ferrari Portofino. Essentially, it replicates your iPhone's screen on the car's infotainment screen and allows you access to navigation apps such as Waze or Google Maps, and music services including Spotify and Apple Music. Also, Carplay gives you the option to listen to iMessage and WhatsApp messages - all operated by the touchscreen. Apple's voice-activated assistant, Siri, can also compose text messages for you if you ask it to.
In most cases, you can use Apple CarPlay instead of the car's in-built infotainment system; many people prefer to use it because of their familiarity with Apple's iOS operating system. Apple's slick interface is often easier to use than some manufacturers' systems.
Unsurprisingly, you can use it as an actual telephone to talk to people, as well as accessing your music and using the navigation function of mapping apps. You can also access your text messages, which are read out for you. Not all apps are compatible, so you won't be able to play Pokémon Go on the move (nor should you – it'd be very dangerous), but Apple's app templates mean more apps are being introduced.
Apple CarPlay iOS 14 update
Apple regularly updates CarPlay, and the latest 'iOS 14' update includes a couple of useful new features. The system now supports third-party parking, EV charging and food delivery apps, so you can easily find available car parks or electric car chargepoints. For cars with a portrait touchscreen, like the Volvo XC40 and the top-spec Renault Clio, the menu bar can now be moved to the bottom of the screen for a more natural layout. Siri, Apple's voice assistant, can now send an estimated time of arrival to one of your contacts if you wish. There's also a new wallpaper option to personalise your screen, and the introduction of Chinese and Japanese keyboards.
The last update, iOS 13, was even more thorough. It included a new 'dashboard' effect, which allows you to split the screen into two or more different functions. The navigation information can be side-by-side with the song you're listening to, instead of having to switch between apps. Apple's Calendar app was added to the home screen to give you details of upcoming meetings and appointments - although you can't add events to the calendar while driving, as this would be too complex and a potentially dangerous distraction. Siri also gained improved functionality with third-party apps, so you can ask it to play music through Spotify or find points-of-interest through Google Maps.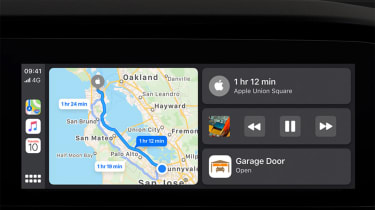 How does Apple CarPlay work?
First, you need to connect your iPhone to your car using its USB charging cable, or via Bluetooth if your car has wireless CarPlay functionality. Regardless of which connection option you pick, connecting to CarPlay will make your car's infotainment screen look like a zoomed-in version of your iPhone screen. It's important to note that you need version 7.1 or later of Apple's iOS operating system on your phone for this to work.
You can use CarPlay in a few different ways. Firstly, you can make use of the Siri voice control function to select your music or read your messages out to you. You can then dictate your reply without taking your hands off the wheel.
If your car has a touchscreen, you can use that to control your phone's functions as well as the vehicle's built-in infotainment system, but with the familiarity of the iOS operating system and Apple's large icons on the screen.
You can also use steering wheel or dashboard-mounted controls (if your car has them) to select particular programmes and features as you would ordinarily.
Wireless Apple CarPlay
While a relatively new addition, a wide array of new cars are now available with wireless CarPlay, including all versions of the new Volkswagen Golf. BMW now offers wireless CarPlay connectivity in a number of their models, including the 1 Series, 3 Series and new 5 Series - although this may be packaged as a costly optional extra.
Other manufacturers that also offer wireless CarPlay include Audi, with the tech being added to the A6, A4 and new A3 hatchback models among others. MINI and Mercedes have recently rolled out the functionality to new and facelifted models in their respective ranges.
Wireless CarPlay adapters are available for cars where you'd have to plug your phone in. These range in price, with many coming in at under £50. You plug the adapter into your car's USB slot, rather than the phone cable and some are quite small to keep your interior tidy.
Should I get Apple CarPlay?
Once the screen comes up, you're able to use the various apps just like you would on your iPhone, but as the display is bigger and clearer, it's much safer than fumbling about with your phone while on the move.
Also, you can use the car's touchscreen or steering-wheel-mounted controls to work everything you need to, allowing you to use your phone just as you would normally. As a result, we'd recommend getting and using CarPlay if you like the sound of it - especially as it's offered for free on a lot of cars.
Which cars have Apple CarPlay?
Many new cars are now Apple CarPlay compatible as standard, so we can't list all of them individually here. We still recommend that you check that the model you're interested in has it; there are still a few cars that aren't available with it at all and for some, it depends on the exact trim level. Be aware that some cars, even expensive ones from upmarket brands, have Apple CarPlay as an option, and the amount manufacturers charge for it varies wildly.
What is Apple's IronHeart technology?
Bloomberg reports that Apple is looking to increase its presence within a car by extending CarPlay to control far more elements than just the media and navigation. Internally called 'IronHeart' by Apple, the new system would also take care of climate control, audio settings, seat adjustment and the driver's dials. The idea is to eliminate the need to exit CarPlay to access settings on the infotainment screen but Apple is reportedly also keen on it in order to get more data from consumers.
It would need cooperation from car manufacturers, however, who are quite keen on your data themselves. But back when Apple CarPlay was a new system, there was a lot of resistance to it until manufacturers realised that buyers wanted the CarPlay system and that they might be choosing cars based on whether it was included or not. We'll update this page if anything changes.
Check out our guide to the best free driving apps and the best paid and free sat-nav apps for your phone.