Apple CarPlay: compatible cars, how it works and how to get it
What is the Apple CarPlay app? How does it work? Can CarPlay be wireless? We answer these questions and more
Apple CarPlay is the firm's rival system to Android Auto and MirrorLink, which allow you access to your iPhone's apps safely while you're driving. An update coming to Apple CarPlay in 2023 will bring even more in-car integration beyond the car's infotainment screen. This will allow drivers to control more of the car's functions, such as climate control, through the Apple interface.
Apple CarPlay is compatible with the majority of iPhone models; as long as you have an iPhone 5 or newer (including the iPhone SE), it'll sync with a car equipped with the technology. It displays a simplified version of certain apps from your phone via the infotainment touchscreen in your dash - allowing you to operate them as you would using your phone screen. Using these apps on your car's screen is both safer than fiddling with your phone on the move and keeps you on the right side of the law.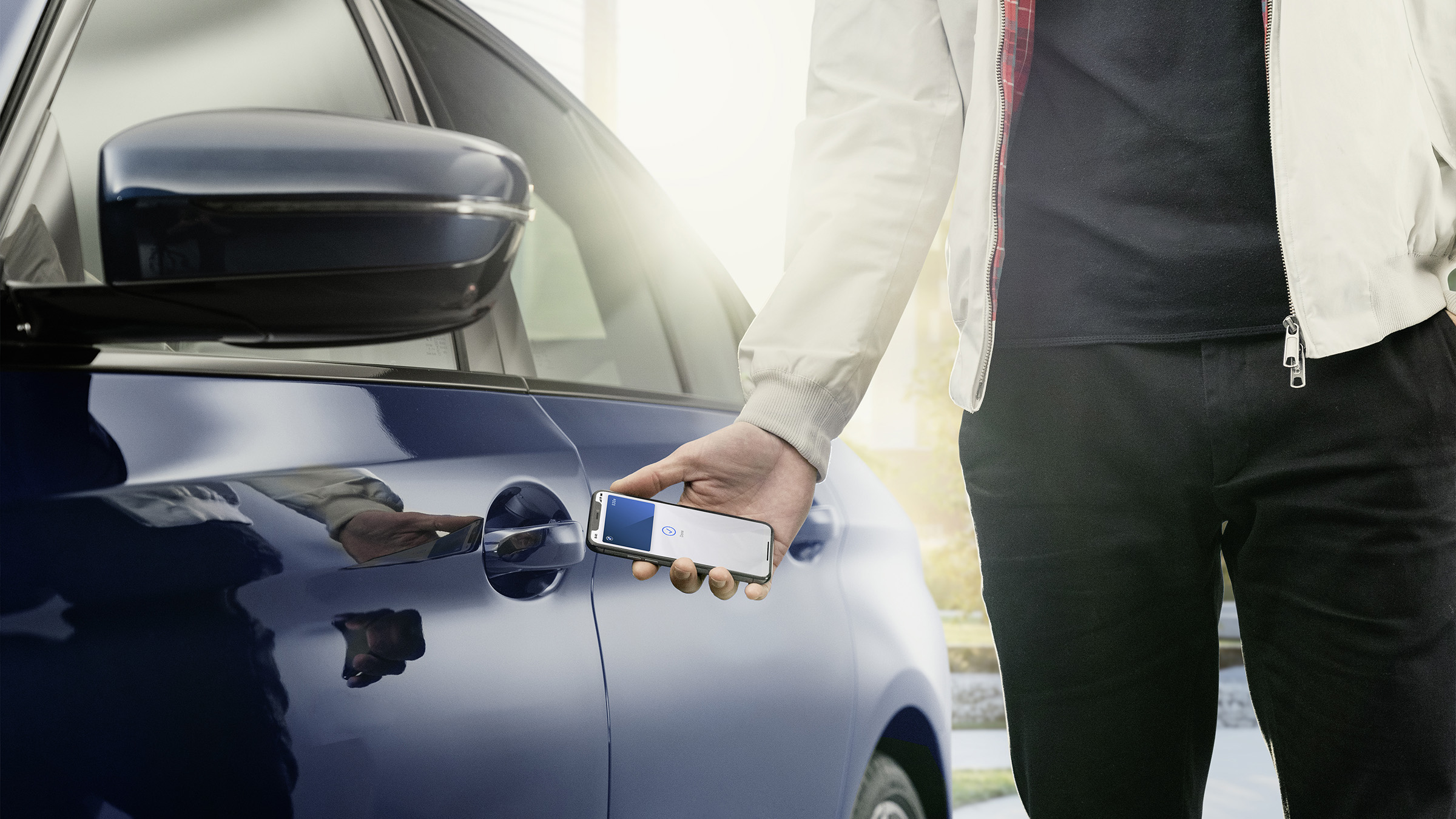 New BMW Digital Key will let drivers use their iPhone as a key
You won't find Apple CarPlay on every new car on sale but it's becoming more and more common. You can also buy replacement radio units that are CarPlay compatible for older cars.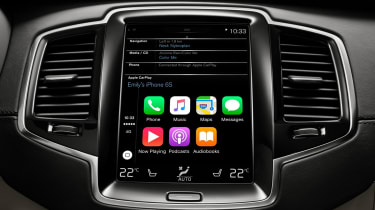 What is Apple CarPlay?
Apple CarPlay is becoming commonplace on both affordable and high-spec cars - you can use it whether you have a Dacia Sandero or a Ferrari Portofino. Essentially, it replicates your iPhone's screen on the car's infotainment screen and allows you access to navigation apps such as Waze or Google Maps, and music services including Spotify and Apple Music. Also, Carplay gives you the option to listen to iMessage and WhatsApp messages - all operated by the touchscreen. Apple's voice-activated assistant, Siri, can also compose text messages for you if you ask it to.
In most cases, you can use Apple CarPlay instead of the car's in-built infotainment system; many people prefer to use it because of their familiarity with Apple's iOS operating system. Apple's slick interface is often easier to use than some manufacturers' systems.
Unsurprisingly, you can use it as an actual telephone to talk to people, as well as accessing your music and using the navigation function of mapping apps. You can also access your text messages, which are read out for you. Not all apps are compatible, so you won't be able to play games on the move (nor should you – it'd be very dangerous), but Apple's app templates are encouraging more developers to create their own Apple CarPlay compatible apps.
Apple CarPlay iOS 15 update
One major benefit to Apple CarPlay over some manufacturers' own infotainment systems is that it can be regularly updated to add new, innovative features.
Apple CarPlay iOS 15 brought the ability to unlock and start some car models with your iPhone. It's also possible to lend other iPhone users a virtual key, making it easier for you to lend your car to friends and family even if you're not around to pass them the key fob. To stop you getting locked out of the car, the technology can also detect if you've left your phone inside, preventing you from locking it. Not all cars are compatible with this feature, but many recent cars are, with BMW one of the first manufacturers to integrate the functionality.
iOS 15 also brought 'Focus Mode' which makes sure only the most important notifications are displayed on your car's infotainment screen and stops unwanted distractions. 'Drive Focus' can be set to activate when you connect your iPhone to the car's infotainment system automatically, or it can be toggled manually.
Apple's default navigation app 'Apple Maps' was also updated to show maps in 3D which helps to give a little more context when following a route. Details such as turning lanes, bike lanes and pedestrian crossings can be set to display in major cities such as London, but the mammoth task of implementing this feature means it's yet to be extended to smaller cities.
Another recent addition is the ability to have Apple's voice assistant Siri read your text messages aloud automatically as soon as your receive them, so you don't have to distract yourself by using the touchscreen. This feature is known as 'Siri Announce Messages' and can be toggled on in settings.
The previous iOS 14 update included a couple of useful new features. Third-party parking, EV charging and food delivery apps became supported, making it easier to find available car parks or electric car charge points. For cars with a portrait touchscreen, such as the Volvo XC40 and the top-spec Renault Clio, the menu bar can now be moved to the bottom of the screen for a more natural layout. It also became possible to ask Siri to send an estimated time of arrival to one of your contacts. It also brought a new wallpaper option to personalise your screen and the introduction of Chinese and Japanese keyboards.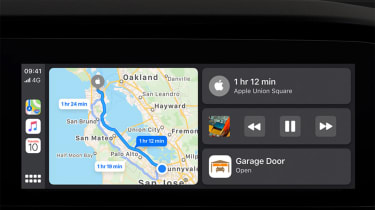 How does Apple CarPlay work?
First, you need to connect your iPhone to your car using its USB charging cable, or via Bluetooth if your car has wireless CarPlay functionality. Regardless of which connection option you pick, connecting to CarPlay will make your car's infotainment screen look like a zoomed-in version of your iPhone screen. It's important to note that you need version 7.1 or later of Apple's iOS operating system on your phone for this to work.
You can use CarPlay in a few different ways. Firstly, you can make use of the Siri voice control function to select your music or read your messages out to you. You can then dictate your reply without taking your hands off the wheel.
If your car has a touchscreen, you can use that to control your phone's functions as well as the vehicle's built-in infotainment system, but with the familiarity of the iOS operating system and Apple's large icons on the screen.
You can also use steering wheel or dashboard-mounted controls (if your car has them) to select particular programmes and features as you would ordinarily.
Wireless Apple CarPlay
While a relatively new addition, a wide array of new cars are now available with wireless CarPlay, including all versions of the new Volkswagen Golf. BMW now offers wireless CarPlay connectivity in a number of their models, including the 1 Series, 3 Series and new 5 Series - although this may be packaged as a costly optional extra.
Other manufacturers that also offer wireless CarPlay include Audi, with the tech being added to the A6, A4 and new A3 hatchback models among others. MINI and Mercedes also rolled out the functionality to new and facelifted models in their respective ranges.
Wireless CarPlay adapters are available for cars where you'd have to plug your phone in. These range in price, with many coming in at under £50. You plug the adapter into your car's USB slot, rather than the phone cable and some are quite small to keep your interior tidy.
Should I get Apple CarPlay?
Once the screen comes up, you're able to use the various apps just like you would on your iPhone, but as the display is bigger and clearer, it's much safer than fumbling about with your phone while on the move.
In many cases you can also use the car's touchscreen or steering wheel-mounted controls to work everything you need to, allowing you to use your phone just as you would normally. As a result, we'd recommend getting and using CarPlay if you like the sound of it - especially as it's offered for free on a lot of cars.
Which cars have Apple CarPlay?
Many new cars are now Apple CarPlay compatible as standard, so we can't list all of them individually here. We still recommend that you check that the model you're interested in has it; there are still a few cars that aren't available with it at all and for some, it depends on the exact trim level. Be aware that some cars, even expensive ones from upmarket brands, have Apple CarPlay as an option, and the amount manufacturers charge for it varies wildly. 
It's also worth bearing in mind that some of the Apple CarPlay functionality depends on the hardware your car comes with – if it doesn't have the tech to unlock with an iPhone, for example, even a software update won't change this.
Check out our guide to the best free driving apps and the best paid and free sat-nav apps for your phone.