Used Nissan Leaf buying guide: 2011-2017 (Mk1)
The Nissan Leaf was the first mainstream electric car, and families can save money by picking up an affordable used example
When Nissan committed resources to launching the world's first mainstream electric car, it was a brave decision. Equally brave were the Nissan Leaf's first customers, because not only was the lifespan of its batteries relatively unknown, there were also few public charging points. From a full charge, you could also expect to go only around a quarter of the distance of a brimmed petrol car, limiting the Leaf to mostly urban driving.
Fast-forward to today and Nissan's quirky EV is seen as a pioneer, giving many motorists their first taste of electric motoring – a revolution which now looks to be on the brink of taking off. Increasing awareness of pollution and recent emissions scandals have made motorists think twice about the car they choose and the reliability of the Leaf has allayed many fears about the reliability of an electric family car.
With an all-new Nissan Leaf now on sale, used examples of the first-generation car are plentiful and enticingly affordable. We'd advise moving quickly though, because interest in electric cars is increasing, and as people realise how much a Leaf could save them, they might not stay cheap for long.
Nissan Leaf history
First launched in March 2011, the original Leaf was manufactured in Japan and only came in one trim level. One giveaway is their light interior colour and all came with sat nav, climate control and 16-inch alloy wheels, with the only options being metallic paint and a solar panel in the rear spoiler.
From March 2013, the British-built Leaf arrived, with some small improvements and three trim levels. The interior was now a more practical black colour and there was also a slight increase in the capacity of the battery pack, along with the ability to use a fast-charger to replenish the batteries more quickly.
In September 2015, versions of the Leaf with a higher-capacity 30kWh battery arrived, available in the top trim levels and extending its potential range to 155 miles.
Which is the best Nissan Leaf for me?
If you find a particularly cheap Nissan Leaf, it's likely to be a FLEX version, which requires you to pay monthly to lease the battery. Factor this into the price you pay, or ask the seller if you can 'buy out' the battery as part of the deal. Leafs with the battery pack included will be easier to sell in future.
Basic Visia models designed for the fleet market are the least desirable; they can be spotted by their steel wheels and missing infotainment screen. The latter makes it tricky to access some of the Leaf's features, and even more importantly, the Visia misses out on features like fast charging and a more efficient heater, making it less easy to live with.
The mid-range Acenta trim has alloy wheels, sat nav and the range-improving heater, along with a fast-charging point. The top Tekna grade adds luxuries like leather seats, LED headlights, 17-inch alloy wheels and even a Bose stereo upgrade. Try to find a car with the 7kW charging upgrade, as this allows much faster charging times at public posts. It cost around £1,000 when new, but adds little to the used value.
Running costs, maintenance and parts
Leafs need servicing annually or after 18,000 miles, whichever comes first. It's worth noting most independent garages won't have the training or equipment to maintain or repair a Leaf, but Nissan dealerships are reasonable. Minor Leaf services cost around £100, while even a major service is £150, requiring the brake fluid and pollen filter to be replaced. Nissan servicing also means the car is eligible for RAC breakdown cover.
Regenerative braking from the electric motor means the brake pads are lightly used and can often last for 50,000 miles. The instant power delivery of the motor can cause tyres to wear, however, and it's important to stick with the recommended tyres for the Leaf to ensure it can achieve the range you expect. We also suggest shopping around for insurance, as some firms offer better rates for EVs than others and FLEX cars tend to be cheaper to cover.
Parts are affordable, with a set of front brake pads costing just over £100, a front set of wipers £36 and a Type 2 charging cable £200.
What to look out for
When buying a Leaf, it's important to check that all the charging cables are included with the sale and undamaged, because not only are they essential to recharge the car, they're also costly to replace. The same goes for the SD memory card, which the infotainment system relies on to function correctly. These are tailored to individual cars and can also cost hundreds of pounds to replace.
Earlier models came with a light cream interior, which shows dirt and doesn't age very well, so it's useful to check the car in person and ensure it has been well looked after.
Other than this, the Leaf has a good reputation for being a reliable car, with less to go mechanically wrong than a conventional petrol or diesel vehicle. They even make popular taxis and reports of Leafs with over 150,000 miles on the clock aren't uncommon.
Recalls
The Leaf has been the subject of three recalls, the first of which was in 2015, to replace a steering column clip fitted to cars built between 2013 and 2014. Later in 2015, a second recall was launched for Leafs built from September 2013 to January 2014 to check their start buttons. The last minor recall came in July 2017, to check the headlamp aiming of cars manufactured from February to March 2017.
Alternatives
There are only a handful of EVs on the used market and they vary in suitability for families. The BMW i3 is very accomplished, with the option of a range-extender model that uses a small petrol engine to boost range. But the i3 is more expensive than the Leaf and less practical.
The Renault ZOE is one of the best alternatives, with a reasonable number available, but the main drawback is that the majority of batteries are leased instead of owned outright. This means the battery pack is guaranteed by Renault, but also that owners are saddled with monthly payments, which are likely to put off future buyers.
Sitting as a near-identical trio, the Mitsubishi i-MiEV, Citroen C-Zero and Peugeot iOn appear old-fashioned and impractical compared to the Leaf, while other EVs like the Kia Soul EV and Volkswagen e-Golf are hard to find and Tesla models are very expensive.
Verdict
A used electric car won't be for everyone, but for those with a short and predictable commute, the Leaf's low purchase prices, keen finance deals and cheap running costs could stack up to big savings.
Potential concerns about the reliability of battery packs have been unfounded, with many reports of early and high-mileage Leafs still retaining a good proportion of their capacity. Early examples now cost far less than a new city car, and even low-mileage examples from dealerships represent a good saving. With little money required for charging, free road tax and cheap maintenance, the Leaf should be an excellent buy that's also good to drive.
Nissan Leaf hatchback: old vs new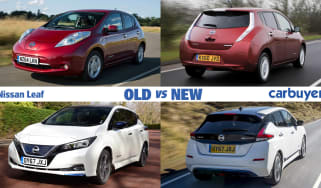 Nissan Leaf hatchback: old vs new
Nissan Leaf named Britain's best-known electric car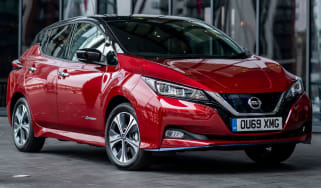 Nissan Leaf named Britain's best-known electric car
Updated Peugeot 5008 starts at £29,585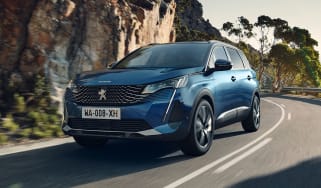 Updated Peugeot 5008 starts at £29,585
Cupra Formentor SUV review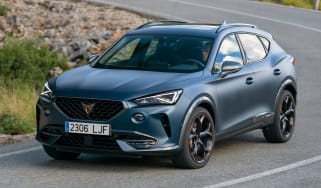 Cupra Formentor SUV review
2020 Volkswagen ID.3 hatchback: base model starts at under £30k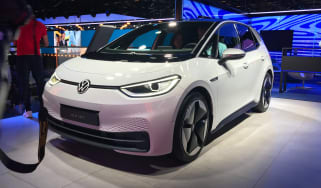 2020 Volkswagen ID.3 hatchback: base model starts at under £30k