What to do if your keys are locked in the car
We explain what you should do if your keys are stuck in the car or ignition and if children or pets are trapped inside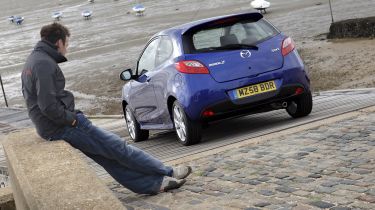 It's that sinking feeling. A moment of distraction while loading shopping, tending to a child or checking your phone, and then you realise the keys are locked inside the car or stuck in the ignition. The latest models have locking systems designed to make this less likely, but it can still feel like a nightmare if it does.
That's especially the case if your child or pet becomes trapped inside a locked car, particularly in warm weather, when frustration can quickly turn to panic. But don't worry, follow these tips and you'll soon get back inside. The AA recovery service alone receives around seven callouts to locked cars every day, so you aren't alone.
Carbuyer's most reliable cars on sale now
Keep the spare key handy
It's easy to forget in the heat of the moment that the easiest solution may be to get hold of the car's spare key. You could keep this in your bag or if it's at home, try calling a relative or friend to pick it up for you and come to the rescue. If they don't have access to the spare key, and your locked car is parked somewhere safe, ask if they can pick you up so you can retrieve it. Of course, this may take time and you'll possibly owe someone a big favour and some fuel money, but it's a cheap and convenient solution. Get hold of the spare key and you'll simply be able to unlock the car and get back to normal. If you ever take your car away on holiday, we'd recommend taking the spare key and keeping it somewhere convenient and secure - like a hotel room safe.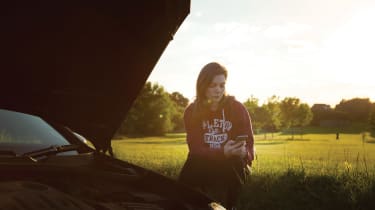 Download your car's companion app
It may be possible to unlock the car remotely if it was built within the last few years and came with 'connected' services similar to OnStar in Vauxhall models or BMW's Remote Services. These allow you to set up a companion app that shows you where the car is located, information like how much fuel it has, and most importantly, let you lock and unlock the car from your smartphone. If you share the car and you don't have the app yourself, it may be that the person you share the car with can even open it for you using their smartphone, no matter where they are in the world (so long as they have access to a data connection).
Call out a recovery service
If you're further afield, or simply don't have access to a spare key, the best course of action is to call out a recovery service. If you're already a member of a provider like the AA or RAC, they will be your first port of call. If the car is nearly new, it may also have come with complimentary roadside assistance for several years from the date you bought it, with information usually inside the handbook pouch. While speaking to the recovery service, it is important to check if the cost of retrieving the keys is covered by your policy or if it will incur an extra charge.
The RAC states that its roadside mechanics will attempt to unlock the car, but if they can't for any reason, they will arrange for a locksmith to attend, for which you will be responsible for covering any costs. If a locksmith isn't available, the car is taken to a nearby garage, where you'll also be responsible for the cost of work. The RAC also offers a 'Key Replace' product that covers you for up to £1,500 for the cost of replacing keys and locks.
As well as offering roadside assistance to its members, the AA also offers AA Key Assist, a service that will replace lost or stolen car keys at your work, home or in a car park, as an extra.
You should also call out roadside recovery if your keys become stuck in the ignition while you are away from home. If this happens on your driveway, it may be worth contacting the dealership or your local garage first to see if they can recover the car directly to their workshop for repairs.
If you decide to call a locksmith, the Master Locksmiths Association website provides a list of qualified and vetted locksmiths in your area.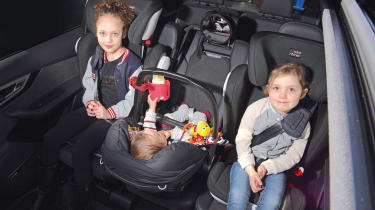 Should you ever call the emergency services when you are locked out of your car?
Being locked out of your car isn't typically an emergency, so it's down to the owner, roadside recovery, locksmith or a garage to resolve. However, this can change if a child, vulnerable person or pet is trapped in the car in hot or cold weather and there are fears for their safety.
A car parked in the sun can become dangerously hot within an hour, reaching temperatures of more than 40 degrees celsius, while black interior trim can become hot enough to fry an egg. If the sun is warming the car, try and cover the windows with blankets, foil or whatever's to hand to help keep the sun off the interior and any trapped occupants while waiting for help to arrive.
If roadside recovery experts or a locksmith cannot access the vehicle quickly enough and fears for a trapped child, occupant or pet grow, the police may have to use force (like smashing a window) to gain access.
It may also be necessary for emergency services to intervene if a locked car is blocking traffic or emergency access, or if it is stranded in a hazardous spot like a beach or tidal slipway.
Should I try to get the keys out of a car myself?
No. Search results for locking your keys in the car will return articles and even videos with suggestions for gaining entry into your own car, but we don't recommend attempting this. Prying open windows or doors is an activity best left to the experts, and could damage paintwork, create dents or even break the glass. This could not only leave you with a much bigger repair bill, but potentially void the manufacturer's warranty. It's also likely to set off the car alarm, adding another frustration to the situation.
Cupra Formentor SUV review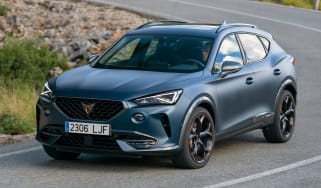 Cupra Formentor SUV review
2020 Volkswagen ID.3 hatchback: base model starts at under £30k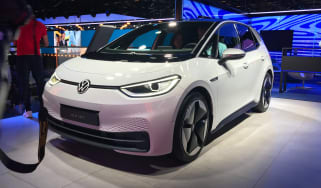 2020 Volkswagen ID.3 hatchback: base model starts at under £30k
Audi Q8 gains plug-in hybrid versions with 28-mile electric range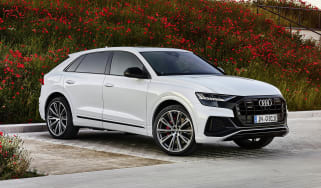 Audi Q8 gains plug-in hybrid versions with 28-mile electric range