What to do if your keys are locked in the car
We explain what to do if your keys are stuck in your car or ignition, or if children or pets are trapped inside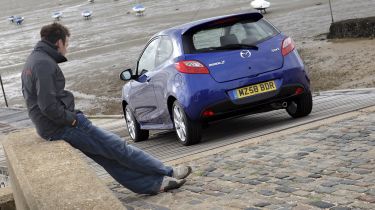 Many of us have experienced that feeling: the sinking sensation, moments after you realise that you have locked your keys in your car. While some modern cars have systems to stop you from doing this, not all of us have these models and systems can fail. If you're in that situation, read on to find out what to do if your keys are locked in the car.
The most important thing to remember is to remain calm. While your natural instinct may be to panic - especially if your child or pet is trapped in the car - keeping a level head will help you make rational decisions and get things sorted much quicker. Remember that you're not alone – the AA recovery service alone receives around seven callouts to locked cars every day. It's even happened to Carbuyer staff; nobody is immune.
Find the spare key
Remember that your car will most likely have a spare key. If you're really prepared then you might have this in your bag, or perhaps it's in a drawer at home, or with a friend or relative. If the situation is not an emergency, there is always the option of booking a taxi home to get it. You could also call someone and get them to retrieve it for you and bring it to where you are.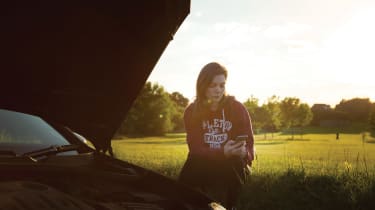 You'll be out of pocket, have wasted some time or may owe someone a favour, but this is the simplest solution by far. It's not the most helpful if you're in a situation where you can't get to the spare key, though. Not to worry, there are other options.
Download your car's companion app
Several car brands allow you to download an app for your smartphone which can take the place of your physical key. Examples of this include BMW's 'Remote Services', Vauxhall's 'Connected Services' and the 'Mercedes me' app. This is a great feature if you frequently find yourself losing things but your smartphone seldom leaves your side. If your car has the capability, it's always worth downloading the associated phone app in advance; this can be done via your phone's app store. These 'companion' apps will give you access to information like where the car is located and how much fuel or charge it has. Most importantly, though, is the ability to lock or unlock the car from your smartphone.
If you share the car with a partner or friend and you don't have the app yourself, it may be that the person you share the car with can open it for you using their smartphone, no matter where they are in the world – so long as they have access to a data connection. 
Call out a recovery service
If you're reading this and you're currently locked out of your car, and you have no access to the spare key, then you can try calling out a recovery service. You'll have to wait for them to arrive, but they receive calls like this every day so will be more than capable of helping you.
If you're already a member of a provider like the AA or RAC, they will be your first port of call. If the car is nearly new, it may also have come with complimentary roadside assistance, with information usually inside the handbook pouch. Of course, if this is locked inside the car with your keys, the relevant numbers and details can usually be found online. While speaking to the recovery service, it is important to check if the cost of retrieving the keys is covered by your policy or if it will incur an extra charge.
The RAC states that its roadside mechanics will attempt to unlock the car, but if they can't for any reason, they will arrange for a locksmith to attend, for which you will be responsible for any costs. If a locksmith isn't available, the car is taken to a nearby garage, where you'll also be responsible for the cost of work. The RAC also offers a 'Key Replace' product that covers you for the cost of replacing keys and locks up to the value of £1,500.
As well as offering roadside assistance to its members, the AA also offers AA Key Assist, a service that will replace lost or stolen car keys at your work, home or in a car park, as an extra. At the time of writing, AA Gold members get this service for free; however, make sure to double check your plan's included benefits to avoid incurring an extra cost.
You should also call out roadside recovery if your keys become stuck in the ignition while you are away from home. If this happens on your driveway, it may be worth contacting the dealership or your local garage first to see if they can recover the car directly to their workshop for repairs. You could also call a recovery service but be sure that 'home start' is included on your policy as if not, you may be charged a fee.
If you decide to call a locksmith, the Master Locksmiths Association website provides a list of qualified and vetted locksmiths in your area. According to their website, a callout can cost from £75 - although this can vary wildly depending on date, time and how remote your location is.
Should you ever call the emergency services when you are locked out of your car?
Being locked out of your car isn't typically an emergency, so it's down to the owner, roadside recovery, locksmith or a garage to resolve. However, this can change if a child, vulnerable person or pet is trapped in the car in hot or cold weather and there are fears for their safety.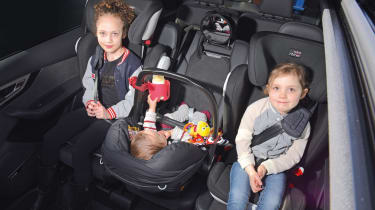 A car parked in the sun can become dangerously hot within an hour, reaching temperatures of more than 40 degrees celsius, while black interior trim in direct sunlight can become hot enough to fry an egg. If you fear the car is heating up, try and cover the windows with blankets, foil or whatever's to hand to help keep the sun off the interior and any trapped occupants while waiting for help to arrive.
If roadside recovery experts or a locksmith cannot access the vehicle quickly enough and fears for a trapped child, occupant or pet grow, the police may have to use force (like smashing a window) to gain access.
It may also be necessary for emergency services to intervene if a locked car is blocking traffic or emergency access, or if it is stranded in a hazardous spot like a beach or tidal slipway.
Should I try to get the keys out of a car myself?
The short answer is no. Search results for locking your keys in the car will return articles and even videos with suggestions for gaining entry into your own car, but we don't recommend attempting this as it tends to create more problems than it solves.
Prying open windows or doors is an activity best left to the experts, and could damage paintwork, create dents or even break the glass. This could not only leave you with a much bigger repair bill, but potentially void the manufacturer warranty. It's also likely to set off the car alarm, adding extra stress and frustration to the situation.
Another thing to be wary of is accepting a stranger's help, as they could damage your car and you'll be left with the bill. 
Is your 3D number plate legal? Check out our guide to 3D and 4D numberplates