Top 3 used electric cars for £8,000
"Dear Carbuyer, I need an electric car that won't cost the earth, that's also easy to live with. What does £8,000 buy?"
Electric cars are becoming increasingly popular in the UK as a greater number of models arrive in showrooms. With improving battery tech and an ever-growing network of roadside chargers in the UK, EVs are now firmly established as a viable alternative to petrol and diesel powered cars.
Why should you pick one in the first place? The most obvious point is the zero emissions. As electric vehicles emit neither CO2 or NOX, they receive a 0g/km emissions rating, with the benefit of free road tax and compliance with all current low emissions zones. Most electric cars are also as fast as their conventionally powered equivalents, thanks to the immediate power delivery provided by electric motors.
One obvious downside of owning an electric car is range anxiety. With this in mind, all of our choices are capable of around 90 miles or more of range on a single charge - more than enough for most drivers' daily commuting needs. Between a home charger and the increasing number of charging points located in cities and motorway service stations, it's getting easier to find somewhere to charge an electric car as time goes on.
While some naysayers have speculated about the long-term reliability of electric cars, all of our used picks here are over three years old or more, having covered a decent amount of miles in their lives, proving that a used one can make a sensible buy.
For a budget of £8,000, you have an excellent choice of used electric cars. All are capable of city driving and the occasional long-distance trip. They're all well equipped and as practical as conventionally powered rivals. While this sector of the used market is still one of the smallest in the UK due to modest sales of electric cars when they were first launched, there is a decent volume amount of cars starting to filter through.
Listed below are Carbuyer's top picks for used electric cars; each offers a decent amount of range and practicality for your money.
Top 3 used electric cars for £8,000
Smart ForTwo ED: The stylish choice
For: Tiny dimensions, cute looks inside and outAgainst: Small range, slow charging
While the Smart ForTwo Electric Drive doesn't have range on its side – 90 miles is all that's claimed – its size is perfect for congested cities and the styling is appealing, too.
You're looking at an electric version of the Mk2 car for a budget of £8,000, and we came across a 14-plate example with just 26,000 miles on the clock for £7,967.
It must be stressed that this is an urban runaround and nothing more. With its low range and slow charging, you'd struggle to take one far out of the city.
While the Smart is small, its cabin has a really funky design. As the name implies this car is strictly for two, although the space for those two occupants is decent. The cabin is well built but some of the plastics are a bit scratchy.
You sit high in the Smart and the seat doesn't adjust for height, which makes it feel as if you're sitting on it rather than in it. Instant torque and low weight mean the ForTwo is zippy away from the lights, but thanks to its short wheelbase it doesn't tackle speed bumps too well, and it understeers if you try to take corners quickly.
Renault ZOE: The conventional choice
For: Plenty for sale, decent to drive, long rangeAgainst: Dull exterior and interior design
If you need a bigger car, the ZOE is worth considering. It has more space inside and the 338-litre boot is reasonable for a car of this size. We found a 66-plate Dynamique Nav model with 12,000 miles (and a £250 wallbox contribution) for £8,000.
The ZOE drives like a conventional supermini and is comfortable, if rather dull. Its 22kWh battery is enough to give an official range of 149 miles, but make sure you budget for monthly payments on the battery, or find a car whose original owner opted to buy, not lease, it.
Space inside the ZOE rivals any conventional supermini's, and four adults won't find it too much of a squeeze. Plenty of the car's cabin is borrowed from the previous-generation Clio, and you can't help noticing the huge swathes of rather drab plastics.
The ZOE may feel less fun than the Smart but the trade-off is far better refinement. It's smaller than the Leaf, though, which is the most grown-up of this trio. In our Driver Power 2019 satisfaction survey, the ZOE came 45th out of 100 cars. Owners liked its drivetrain, but criticised the comfort and practicality.
Nissan Leaf: The proven choice
For: Proven and popular, spacious, well equippedAgainst: Dull design, high mileage for this money
The Leaf is the best-selling electric car in history and this is partly because it's an early EV that's even larger than the ZOE. However, £8,000 doesn't go terribly far on the second-hand market. We found a 63-plate Mk1 Acenta with 73,000 miles and the 24kWh battery pack, giving 124 miles on a charge, for £7,995.
Acenta grade comes with plenty of equipment and is our favourite but if you want more range you'll have to find a later 30kWh car, which can go 155 miles.
The interior of the Leaf is hard-wearing and a design of its time but it looks good considering that this is the oldest car here; only the low-resolution LCD displays really betray its age. This is the largest car of the three, too, so space for adults is decent.
Ignore the near-silent running and seamless power delivery, and the Leaf is conventional – if inert – to drive. Wind noise is nicely suppressed, and the Leaf cruises well at speed. This generation of the car didn't feature in 2019 Driver Power but Nissan came a reasonable 11th out of 30 manufacturers.
London Congestion Charge exempt cars 2020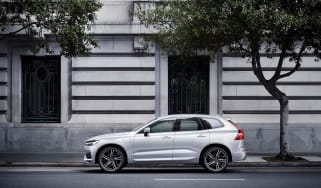 London Congestion Charge exempt cars 2020
Euro NCAP: how safe is my car?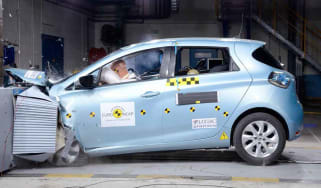 Euro NCAP: how safe is my car?
New 2020 Kia Stonic SUV: prices and specs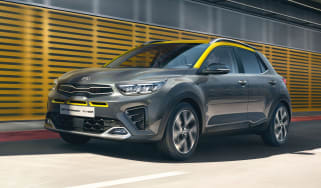 New 2020 Kia Stonic SUV: prices and specs
Updated Peugeot 5008 starts at £29,585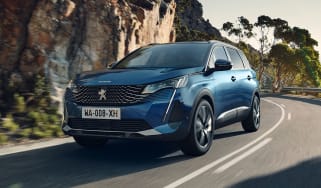 Updated Peugeot 5008 starts at £29,585
Cupra Formentor SUV review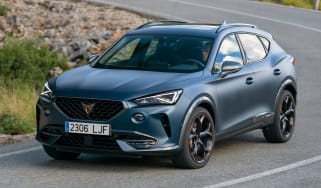 Cupra Formentor SUV review