Best road tax-free cars 2023
Only new electric and hydrogen-powered cars are free from annual road tax today, but a range of used cars and classic cars are also exempt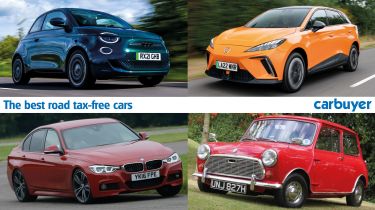 Car ownership isn't cheap. Once you've paid for the car, you need to factor in insurance prices, VED (Vehicle Excise Duty) road tax, fuel bills and annual maintenance costs, such as servicing and MoTs. Some cars are eligible for free road tax – these include new electric and hydrogen vehicles, some older less polluting petrol and diesel cars, and classic cars over 40 years old which are tax exempt.
It's worth noting that the VED road tax system is set to change in 2025, however, with zero tailpipe emissions vehicles no longer eligible for free road tax. From April 1, 2025, they will incur the standard annual rate, which is currently £165 a year.
More fuel-efficient engines have reduced emissions, but the rising cost of fuel has largely nullified any savings that more efficient engines have offered. However, buying a new, used, or classic car that is VED exempt is one way to save money.
We have listed our best electric cars and cheapest electric cars separately for buyers looking at a new alternative fuel car, and we've also included some highlights in our list below.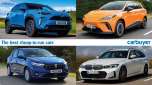 Top 10 best cheap-to-run cars 2023
First-year rates vary for both petrol and diesel cars and are usually rolled into the on-the-road price of the car but, from the second year onwards, most cars are liable for a flat fee.
Owners of hybrids (including plug-in hybrid and mild-hybrid cars) no longer escape road tax, instead paying a slightly discounted rate after the first year. If your car has a list price of over £40,000 (including any options and before any discounts), you'll pay an extra surcharge for the first five years for all petrol, diesel and hybrid models. Only zero-emission cars are currently exempt.
Best road-tax-free new cars
MG4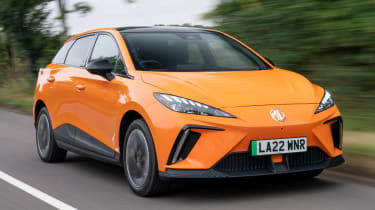 We think the MG4 is a bit of a gamechanger for the electric car market – as one of the cheapest EVs you can buy, it's likely to be many people's first foray into owning an electric car. Not only is it affordable, but it's also fairly well-equipped, has a decent electric range and offers a somewhat sporty drive.
Entry-level versions get a 168bhp electric motor with a 51kWh battery which gives a range of around 218 miles on a charge, beating many similarly-priced electric superminis. A Long Range version is also available if you want to make longer trips – this version gets a 200bhp motor paired with a 64kWh battery capable of up to 281 miles depending on the trim. 150kW rapid charging comes as standard, so a 0-80% charge will take you just over half-an-hour. The MG4 boasts Apple CarPlay and Android Auto as standard, plus adaptive cruise control, LED headlights and plenty of safety kit as standard, so it really is great value. Opt for the Trophy version and you get luxuries such as a 360-degree camera, wireless charging and heated front seats.
Fiat 500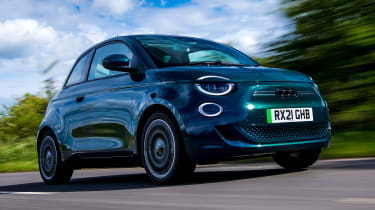 Although Fiat sells the electric 500 alongside the older petrol-powered model, the latest and greatest 500 has zero emissions, meaning it's road-tax free. City cars are well suited to electric power as they do lots of short, frequent trips around town – electric motors don't need to warm up and recuperate energy when you slow down. The 500 is capable of up to 199 miles of electric range from the largest 42kWh battery.
Partnership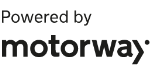 Need to sell your car?
Find your best offer from over 5,000+ dealers. It's that easy.
The Fiat 500 has long been a desirable car thanks to its cutesy looks and retro appeal, and the electric version makes it even moreso. The latest 500's interior feels much more grown up than in the petrol-powered version, with Apple CarPlay and Android Auto on a 10.25-inch infotainment screen – refinement is also much improved by the quieter electric drivetrain. There's even a stylish cabrio version of the 500, making it one of the only electric convertibles on the market.
Kia Niro EV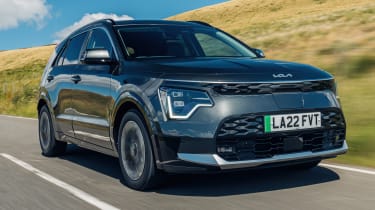 The Kia Niro – our 2023 Car of the Year – is offered with various power plants: there's a conventional hybrid version, a plug-in hybrid and the fully electric Niro EV. Only the latter offers the benefit of road-tax-free motoring, however. The Niro EV is the most expensive of the three, but will be the cheapest to run. It uses a 64.8kWh battery capable of 285 miles on a charge.
There are other benefits to the electric Niro, too, such as the fact it has the largest boot of the lineup at 475 litres, making it more practical than the hybrids, and it's also the quickest – it's capable of a 0-62mph time of 7.8 seconds. The Niro EV is also well-equipped, with a more spacious, higher-quality interior than the previous model and infotainment taken from the more expensive Kia EV6.
Tesla Model 3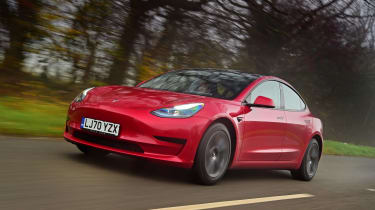 Low running costs, along with a long driving range and Tesla's Supercharger network of charge points, have attracted buyers to one of the newest brands in the industry. Company-car buyers have boosted Tesla sales, because a 0% BIK band makes it a surprisingly cheap model for those business drivers. Added to this is one of the longest ranges of electric cars on the market, with 350 miles achievable on a single charge.
That's especially true of the eponymous Performance model, with its supercar-beating 3.2-second 0-62mph time. The Model 3 is the electric car that others need to beat.
Porsche Taycan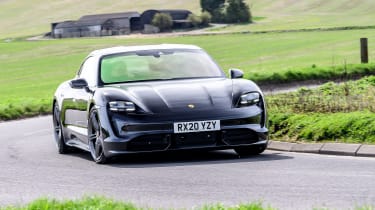 The Taycan has pioneered a new direction for the sports car brand, with an electrified drivetrain that can compete for speed and effortless power with the rest of the Porsche range. There's a range of up to 300 miles, depending on the battery size, and it can propel owners from 0-62mph in as little as 2.8 seconds, a turn of speed far in excess of what any owner is ever likely to need.
The Taycan feels like a Porsche sports car, even with its heavy batteries, and instantly makes the Porsche Panamera feel a little old fashioned. The Taycan can be bought with the head and the heart, because it costs the same as a Panamera but costs considerably less to run. Even the top-spec Turbo S is road tax-free, while a full charge should cost much less than a tank of petrol. Electric cars are good for business users with very low Benefit-in-Kind tax, and that includes the Taycan.
Best road-tax-free used cars
Before April 2017, you could buy selected new petrol and diesel cars and not have to pay VED. Previously, the amount you paid was based on your car's carbon dioxide emissions, so the cars producing the most CO2 incurred the highest tax bills for their owners. Cars that officially emitted less than 100g/km were exempt from VED. It's worth remembering that cars of this age were subjected to the NEDC emissions test cycle, which produced fuel economy figures that are incredibly difficult to achieve in the real world.
Vauxhall Astra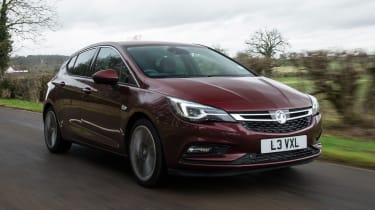 The Vauxhall Astra has been a common sight on British roads for the last two decades, and can be had with either a petrol or a diesel engine offering zero road tax on the used market. Diesel models with less 100g/km CO2 emissions will be much more common petrol, and they also achieve the best fuel economy. 
Vauxhall achieved its low emissions figures in part by making weight reductions to this generation, while ensuring it also had the safety features required at the time. Its main competitor was the equivalent Ford Focus, also had a zero road tax equivalent with a diesel engine.
See the latest prices for used Vauxhall Astra models on our sister site Buyacar.
Skoda Octavia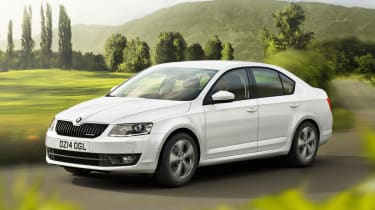 The Skoda Octavia hatchback and its estate sibling frequently feature in our top 10 lists because they're such competent, good-value cars. The Octavia Estate gets the nod here, partly thanks to the fact that its vast 610-litre boot doesn't affect emissions or economy at all compared to the hatchback. The Octavia Estate also has an incredibly spacious interior and isn't half bad to drive, either.
Those seeking to escape road tax should look at either the 104bhp 1.6-litre diesel engine or the 108bhp GreenLine model – also a diesel, as these emit 99 and 90g/km of CO2 respectively, making them tax-free if registered by the end of March 2017.
See the latest prices for used Skoda Octavia models on our sister site Buyacar.
BMW 3 Series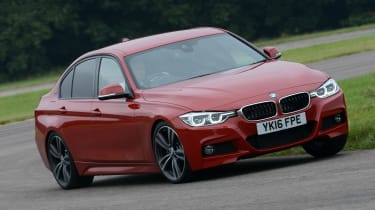 The BMW 3 Series wraps up many of the ideal characteristics of a medium-sized car; it's big enough for a family, with a large enough boot, and a comfortable drive. As if that wasn't enough, they can be enjoyable to drive when the mood takes you. It is the plug-in hybrid BMW 330e that has made our list with a claimed 148.7 mpg, although that figure will vary depending on how often you charge up the battery. You'll need to look for a model registered prior to 31 March 2017 to be eligible for zero road tax.
Buyers should note that the 330e has many of the same features as a regular 3 Series, but if boot space is a priority then double-check the 330e offers enough room. The battery pack takes up space and reduces the boot capacity by 20%.
See the latest prices for used BMW 3 Series models on our sister site Buyacar.
Skoda Citigo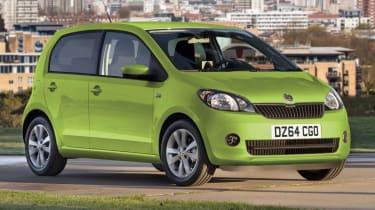 The petrol Skoda Citigo is – like the mechanically identical SEAT Mii and Volkswagen up! – an inexpensive, small city car that feels more grown-up and spacious than its size (and price) would suggest. Keep an eye out for models with the GreenTech package, as this enables the Citigo to escape road tax whether you choose the 59 or 74bhp version of the 1.0-litre petrol engine, as long as they were first registered under the old system.
Avoid the sparsely equipped S model and spend the extra on an SE, as this comes with air-conditioning, electric front windows and remote central locking – small extras, but ones you're likely to appreciate. The Skoda Citigo became electric-only in its later years, with a range of over 160 miles. As a result, it's gone full circle; Skoda's smallest car is once again free to tax if you choose the Citigo-e iV.
See the latest prices for used Skoda Citigo models on our sister site Buyacar.
Ford Fiesta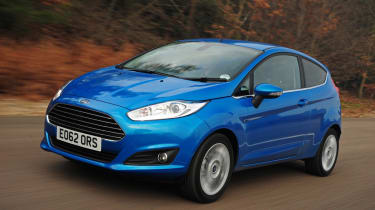 To find a Fiesta that's exempt from road tax, you'll have to choose the previous generation model as our Car of the Year 2019 came into dealerships after the VED rates changed. However, you'll still be getting a brilliant car - they're great to drive, most versions are well-equipped and it's backed up by Ford's vast servicing network and affordable parts. Choose the 1.5 TDCi diesel engine and you'll scrape under the 100g/km threshold.
See the latest prices for used Ford Fiesta models on our sister site Buyacar.
Best road-tax-free classic cars
Another way to escape paying road tax is to choose a classic car that has reached 'historic' status. Once a car becomes 40 years old, it's free to tax, congestion charge-exempt and MoT-exempt, although you do need to keep the car in a roadworthy condition. Below, we've selected a few 1982 cars that will become road tax-exempt this year.
Ford Capri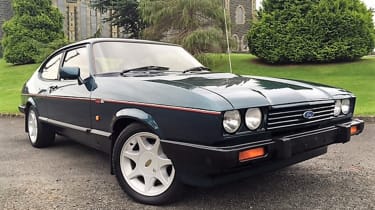 You could choose from a number of Ford Escorts and Cortinas that are now tax-exempt, but the Ford Capri is the one that adorned many bedroom walls in the early 1980s. Envisaged as Europe's Mustang, it's a little more exotic and eye-catching than the Escort, especially if you pick a Mk3 model with the twin headlamps. Many have succumbed to rust or the Capri's infamous reliability issues, so prices are rising quickly for the survivors.
Mercedes SL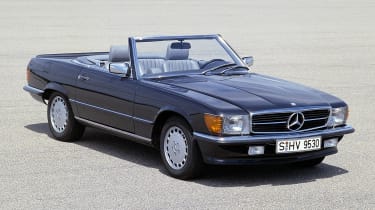 There are few more stylish ways to travel than in a 1982 Mercedes SL – and from 2022 you won't need to pay any road tax. Its classic lines are instantly recognisable, and you'll feel like a movie star behind the wheel. There are quite a few available for sale, with some in great condition, and you only need to commit the price of a new family hatchback to buy one.
Mercedes W123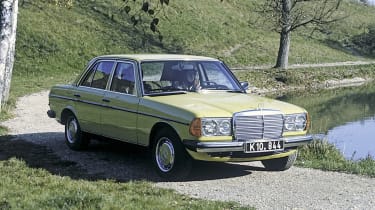 If you need something more spacious than an SL, a W123-series Mercedes should fit the bill perfectly. For a Mercedes of this vintage, high-mileage is no problem at all; the W123 saloon was often used as a taxi in Germany for its ability to rack up hundreds of thousands of miles with only minor maintenance. It's luxurious, too, with a full leather interior on most versions. Prices aren't too high, either, unless you want a fully restored one.
Mini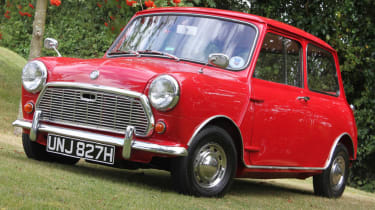 The original Mini is perhaps the iconic car of the 20th Century, and pre-1982 examples are now road tax-exempt. There are plenty to choose from in various states of repair, but a top-condition Mk1 or Mk2 Mini now commands a high price. It's no longer the machine for the masses that Sir Alec Issigonis intended, although Spanish-built Authi and Italian Innocenti versions tend to be cheaper if you can find them. That's also the case with the Traveller estate, the Mini van and Clubman versions with the square front end.
Land Rover Series III
If you're drawn to the off-road appeal of the classic Land Rover, a Series III is now free from road tax. There are County, station wagon, soft top and pickup models available, and all share the go-anywhere capability that Land Rover still trades on today. Make sure to check the car's welding if you want to avoid big repair bills in the near future.
Visit out car tax page for more, including advice on company car tax and the best company cars...