Best large vans
Large panel vans are a necessity for many tradespeople and businesses; here are the best to buy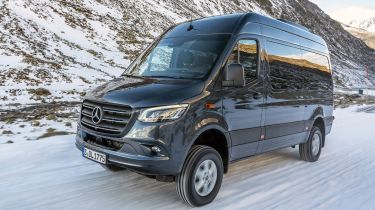 Few vehicles are more versatile than a large van; if you need much more carrying capacity it might be worth looking at a lorry instead. Unlike an HGV, large vans are still classed as light commercial vehicles and, as long as they weigh under 3.5 tonnes fully laden, you can drive them with a normal car licence.
The best large panel vans come with a choice of lengths and heights, and many also come with single and twin-wheel rear axle versions. There are even jacked-up four-wheel drive models for going off road. Some of the large vans for sale can also be converted to suit your needs; there are a number of companies offering campervan conversions and suchlike.
The latest vans come with plenty of the tech that was previously reserved for cars. Lots of safety kit, including lane-departure warning, blind-spot monitoring and adaptive cruise control, means that driving these machines is no longer as daunting as it used to be. They're still rather dull to drive and most still use diesel power for economy and pulling power, even if electric large vans are becoming more common.
Read on to see our top picks for the best large vans for sale or hire in 2020, or head to our sister site Buyacar to explore great deals on nearly new and used commercial vehicles.
Mercedes Sprinter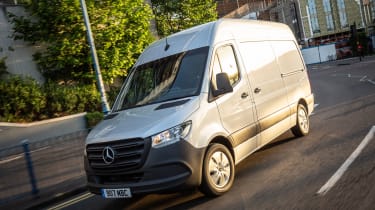 The Mercedes Sprinter is renowned for bombing down the motorway but its reliability and toughness is why it tends to be favoured by high-mileage fleets. The latest model gets the same impressive MBUX infotainment system as the Mercedes A-Class, and its suite of connectivity tech means operators can easily keep an eye on where the van is. High-spec versions are incredibly plush and, with a range of heights and lengths on offer, it's easy to see why the Sprinter is such a popular choice for camper conversions. An electric eSprinter is coming soon, while there's also now a front-wheel drive model for improved economy.
Volkswagen Crafter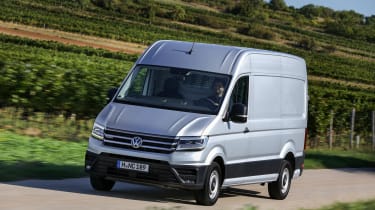 Like the latest Volkswagen Transporter, the full-size Crafter comes with plenty of the same tech you'd find in the company's passenger cars - adaptive cruise, lane assist and self-parking trailer assistance are all available. It feels as upmarket as the Volkswagen Golf, too, and is even relatively car-like to drive. The handling is surprisingly good, the high driving position inspires confidence and there's the option of a sprung driver's seat (like in a lorry) for long-distance comfort. Like the Sprinter, there are high-top van, crew cab and tipper variants, plus the Volkswagen Grand California mega motorhome.
MAN TGE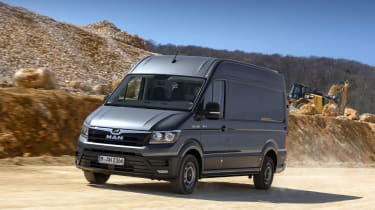 You might be thinking the MAN TGE looks a little familiar, and that's because behind the badges it shares much with the VW Crafter - MAN is part of the VW Group empire. It's aimed at fleets that also need lorries (MAN is predominantly a truck producer), and strangely the TGE is the smallest model it offers. You get all the same safety tech and all the versions and variations of bodywork as the Crafter.
Ford Transit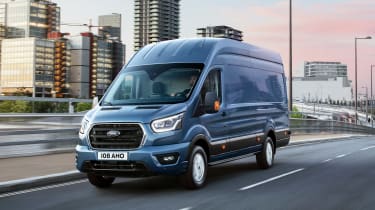 The Ford Transit is still one of the default large panel vans, and after decades of development it's not hard to see why. It can carry up to 2.1 tonnes, has several different body types and the chassis cab model is a popular choice for Luton van, camper and tipper conversions. The current model has Ford's SYNC 3 system from its car range, and the diesel engines now get mild-hybrid technology to reduce emissions and fuel consumption. Electric and plug-in hybrid models are both due in the near future.
Renault Master/Nissan NV400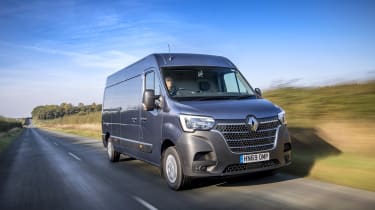 Renault's tie-in with Nissan means the Master and NV400 are almost identical, besides the badges. The Nissan does get a five-year warranty compared to the Renault's three-year cover, but both apply up to 100,000 miles. Whichever badge you choose, you've then got to decide between four wheelbase lengths, three roof heights, front or rear-wheel drive and how many seats you want (up to seven). The Renault also gives buyers the option of a Master ZE electric version. Other vans are slightly more car-like, but the Master and NV400 are still good choices as hard workers.
Read our guide to the best pickup trucks available.
Speed awareness course: how much does it cost, how long does it take and how do you do one online?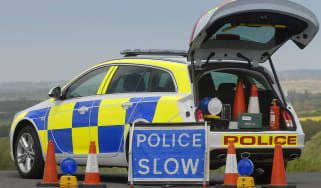 Speed awareness course: how much does it cost, how long does it take and how do you do one online?
Best new car deals 2022: this week's top car offers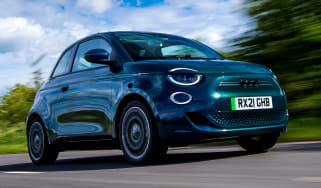 Best new car deals 2022: this week's top car offers
New car delivery times: how long will you have to wait?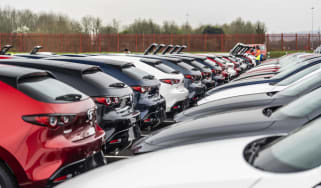 New car delivery times: how long will you have to wait?