Top 3 used small SUVs for £10,000
"Dear Carbuyer, I want a small SUV that's easy to get in and out of. What would you recommend for £10,000?"
The boom in SUV sales over the past decade has led to the introduction of several smaller models. Often billed as 'small crossovers', these cars offer the same high-riding experience and commanding driving position as larger models but for less money.
The Nissan Juke is often credited as kick-starting the entire small SUV class. The first generation model was cheap to buy and run, and its funky design meant it looked like nothing else on sale at the time, helping to make it a huge hit with buyers.
Since then, nearly all manufacturers have jumped on the small SUV bandwagon, with the likes of the Renault Captur, Ford Puma, Peugeot 2008 and Citroen C3 Aircross joining the Juke.
Most small SUVs and crossovers share their platforms with superminis. An example of this is the Ford Puma, which uses the same underpinnings as the Ford Fiesta. This means it offers a similar driving experience but with a more commanding view of the road.
Small SUVs also feature a taller body with more headroom for front seat passengers and, thanks to a higher ride height, it's easier to get in and out of them. Space for rear passengers is likely to be improved over a supermini as well, with added practicality thanks to a larger boot.
Running and servicing costs will be broadly similar to those of a small hatchback, as will the price. This makes them affordable and means they sell in sufficient numbers that there are plenty available on the used market.
Our reader is looking for a small SUV suitable for someone with mobility issues. Our choices are all available within their £10,000 budget, and all offer reasonable running costs, good practicality and an excellent level of standard equipment.
The practical choice: Honda HR-V
For: Bold design, spacious cabin, large bootAgainst: Dated sat-nav, not particularly fun to drive
Launched in 2014 after a near decade-long hiatus, the Mk2 Honda HR-V offered eye-catching styling and plenty of space, although it lacked some rivals' sharp handling.Used prices have remained fairly stable, with even high-mileage examples commanding upwards of £9,000.
The HR-V isn't as fun to drive as the CX-3, nor is it as comfortable as the 2008, but it's still worth considering for its looks and practicality. We found a 2017 model, with 86,000 miles on the clock, advertised for £9,300.
The HR-V's interior is well built and neatly designed, with gloss-black plastics and a soft leather steering wheel. It also has the largest boot of this trio, boasting a 470-litre capacitywith the rear seats up, or 1,533 litres with them folded down.
Honda's crossover has light steering that doesn't deliver much feedback, while the optional CVT gearbox allows the engine to rev harshly under acceleration. However, it has quite a refined ride; the HR-V's suspension system irons out bumps well at all speeds, while wind and road noise is well suppressed.
The high-quality choice: Mazda CX-3
For: High quality, excellent engine range, fun handlingAgainst: Steep used prices, cramped rear seats
The Mazda CX-3 is based on the same platform as the Mazda2 supermini, but it's a little wider, longer and taller. It's also one of the better-driving cars in its class, offering a slick manual gearbox and a nimble chassis.
Yet it seems that the industry praise has had an effect on residual values. It's by far the most expensive crossover of these three, with a £10,000 budget only stretching to early, high-mileage examples. We spotted a 2016 example that had covered 42,000 miles, for £9,600.
One area in which the CX-3 struggles is practicality. It's lowerslung than its rivals, so it looks sportier and has a decent driving position. However, the rear seats are more cramped,and the boot space is only 350 litres with the bench in place.
We praised the CX-3 for its sharp driving dynamics when it was launched – and its platform still stands up to scrutiny today. It's planted, agile, well damped, and comes with either a 1.8-litre diesel or 2.0-litre petrol engine, which both offer an impressive blend of performance and economy.
The best-value choice: Peugeot 2008
For: Affordable used prices, cheap to run, classy interiorAgainst: Awkward driving position, so-so styling
When it was introduced in 2013, the first-generation 2008 was a fairly conventional addition to the booming compact-crossover market, sacrificing style and driving dynamics in favour of comfort and practicality.
Now that Peugeot has launched a trendy successor, prices for the Mk1 have dropped. There are lots to choose from, and many are low-mileage cars registered within the last couple of years, making it the best-value option. A 14,000-mile 2019 example was available for £9,500.
Inside, the 2008 feels fairly upmarket, with soft-touch plastics and metal accents on the dashboard. The seats are comfy, too, yet the low steering wheel blocks the view of the gauges for some drivers. Its 360-litre boot is a touch larger than the CX-3's.
The 2008 isn't anywhere near as engaging to drive as the Mazda. Peugeot instead focused on comfort, offering soft dampers and a range of refined engines. The 2008 is a veryeasy car to drive both around town and at motorway speeds, although it has a tendency to fidget over bumpy B-roads.
Carbuyer's choice, as picked by deputy editor Ben Hodges - Mazda CX-3
Every one of our picks is a thoroughly competent small SUV, but if I was forced to choose, I'd have the Mazda CX-3. It's the best of the three to drive and it can be had with a wider choice of engines.
Regardless of whether you opt for the petrol or diesel engine, the CX-3 is an excellent performer in the real world, with ample power for use in town and enough performance for longer journeys. The handling is composed and the ride quality is good. Another plus is the interior, which is smart, well-equipped and solidly built. Add in decent residuals and Mazda's famed reputation for reliability, and it's not hard to see why the CX-3 is worthy of top billing.
To read more about the best new small SUVs, why not read our list of the best models you can buy today.
New 2020 Kia Stonic SUV: prices and specs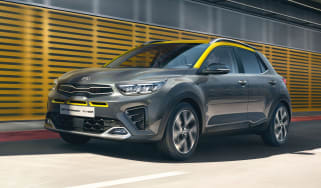 New 2020 Kia Stonic SUV: prices and specs
Updated Peugeot 5008 starts at £29,585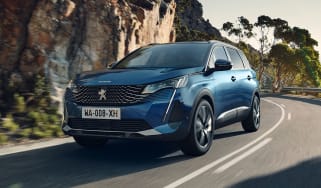 Updated Peugeot 5008 starts at £29,585
Cupra Formentor SUV review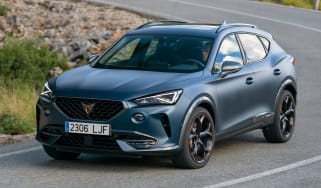 Cupra Formentor SUV review