Top 3 used luxury SUVs for £45,000
"Dear Carbuyer, I've got a budget of £45,000 for a nearly new, large luxury SUV. What do you recommend?"
In 2020, the large luxury SUV is one of the most desirable types of car. Sales of premium SUVs easily exceed those of luxury saloon models like the Mercedes S-Class and BMW 7 Series.
While the original Range Rover is credited with kick-starting the luxury SUV genre over four decades ago, more recent models like the Porsche Cayenne and BMW X5 have quickly become firmly established bestsellers. This success hasn't gone unnoticed by luxury car makers who'd previously said they wouldn't make an SUV, with the Lamborghini Urus, Rolls-Royce Cullinan and Aston Martin DBX all arriving in showrooms recently.
Best luxury SUVs to buy in 2020
Every large luxury SUV comes with a long list of standard equipment and a wealth of features including leather upholstery, dual-zone climate control and a premium stereo system. They will also boast cutting-edge technology, with large infotainment screens, touch-sensitive controls and the latest safety technology.
Practicality is almost always excellent, with enough space in the rear seats for three adults and a large boot capable of accommodating plenty of luggage. Comfort is also a top priority, with a luxurious interior helping to cocoon occupants from the noise of the outside world on the move. Most cars of this type also feature air suspension, meaning they will offer a cushioned ride on rougher surfaces.
Nearly all luxury SUVs share their engines and gearboxes with other models in their respective manufacturers line-up, giving you a decent selection to choose from. Most are capable of decent efficiency, with their four-wheel-drive systems meaning they are capable of light off-roading as well.
Our reader wants a nearly new, large luxury SUV for a budget of £45,000. All our picks offer plush and spacious interiors brimming with the latest technology.
The techy choice: Audi Q7
For: blend of comfort and handling, strong V8 dieselAgainst: some may miss the lack of physical buttons
The Audi Q7 is a halfway house between the comfortable Volvo XC90 and the dynamic BMW X5, offering what some buyers may consider to be the best of both worlds. a £45,000 budget grants you access to most of the Q7 range, and if you're willing to completely empty your pockets you can have a nearly new, entry-level diesel.
However, we'd suggest spending a little less on a slightly older but better-equipped car. We found a 2019 S line, with around 7,500 miles on the clock, for £40,000.
As with most cars in this class, the Q7 comes with a quite staggering array of tech. There's a digital binnacle plus twin touchscreens on the dash – one for the media and nav, and one for the climate controls. A 770-litre boot trumps every rival here as well.
Based on the same MLB platform as the Bentley Bentayga, the Q7's ride is pleasingly supple. There's a good selection of engines, kicking off with a 228bhp 3.0-litre V6 diesel, progressing through a 335bhp 3.0 V6 petrol and topping out at the 429bhp 4.0 V8 diesel fitted to the barnstorming SQ7.
The driver's choice: BMW X5
For: good driving dynamics, excellent interior qualityAgainst: limited engine choice, not the most practical
The BMW X5 conforms to the SUV class stereotype; it's brawny and imposing while, as with many BMWs, it prioritises handling. It's loaded with driver-focused tech such as four-wheel steering and a rear-biased four- wheel-drive set-up with torque-splitting differentials.
It's also well within budget. you can have a nearly new, mid-range xDrive30d from around £38,000, while the swift M50d will set you back another £2,000. We found a tidy 2019 xDrive30d, with just 2,000 miles, for £40,000.
There are two 12.3-inch screens in the X5; one is a digital dash and the other handles media and nav. They're intuitive, but the infotainment does without Android Auto. Boot space trails that of the Volvo and Audi, at 650 litres with five seats in place.
The X5 is the best driver's car here, especially if you opt for the rapid M50d with its 394bhp 3.0-litre straight-six diesel and sturdy steel-sprung chassis. Lesser models such as the xDrive30d and xDrive40i come with air suspension, which provides a better blend of sharp handling and ride comfort.
The comfy choice: Volvo XC90
For: understated cabin, comfortable, strong safety techAgainst: busy touchscreen, noisy petrol engines
Volvo's XC90 takes a different approach to the premium SUV formula from the X5 and Q7. Instead of focusing on the 'sports' aspect of the class initials, the XC90 offers a more refined and comfortable drive, with a blend of Scandinavian design and cutting-edge safety technology.
There are plenty of low-mileage, well-specced 2019 models floating around the market at this budget. We also found a nearly new, entry-level model from 2020, with only 11 miles on the clock, priced at £40,995.
The cabin of the XC90 is comfortable and well equipped, and while the 12.3-inch portrait infotainment system is a little frustrating to use, it gives the dash a modern look. Boot space strikes the middle ground, at 680 litres with the rear seats folded.
All XC90 engines are 2.0-litre four-cylinders, but they have plenty of power to get the big SUV moving. Most 2020 cars are fitted with a 232bhp diesel, but if you're willing to opt for a slightly older model, you can have the flagship T8 plug-in hybrid petrol, with 395bhp and a claimed 80.7mpg.
Carbuyer's choice, as picked by deputy editor Ben Hodges - Audi Q7
All three of our picks are very capable family SUVs but if it were my money, I'd buy the Q7. It has a slight practicality edge over the other two, including the large boot, and a plushly equipped and cavernous interior.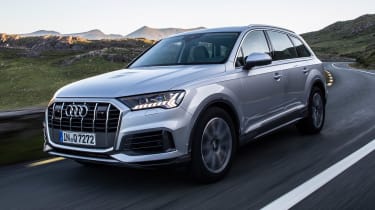 The Q7 has a futuristic-looking dashboard that's smartly laid out and easy to use. While it falls in the middle of our picks for the overall driving experience, a range of V6 and V8 diesel engines on offer means it will never be short of performance. Regardless of which engine you pick, both combine with the automatic gearbox to make the Q7 a very refined and comfortable long-distance family cruiser.
Want to know more about the best used luxury cars you can buy today? Why not read our top 10 picks here.
Best tow cars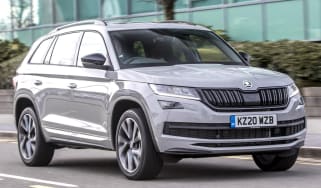 2020 scrappage schemes: the complete guide
2020 scrappage schemes: the complete guide
Best new car deals 2020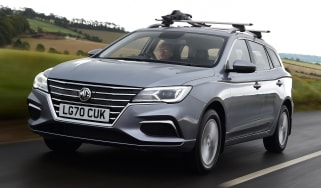 2022 Volvo XC100 SUV to rival BMW X7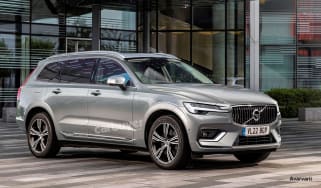 2022 Volvo XC100 SUV to rival BMW X7