Top 3 used petrol sports saloons for £20,000
"Dear Carbuyer, I've stopped commuting and want to replace my diesel with a sporty petrol saloon. What's the best choice for £20k?"
The sports saloon: a quick way to get curtains rustling and neighbours jealous when you park one on your drive. While buyers traditionally opt for a frugal diesel when buying an executive saloon, various manufacturers also offer a performance version that turns a sensible commuter vehicle into a practical sports car. This makes them a very attractive compromise between the head and the heart.
Fast saloon cars need to do it all. They must have luxurious interiors and all the latest tech and safety equipment. A good sports saloon should be comfortable on long journeys, have enough space for all the family and, if all that wasn't enough, possess enough performance to rival a sports car and thrill each time you step behind the wheel.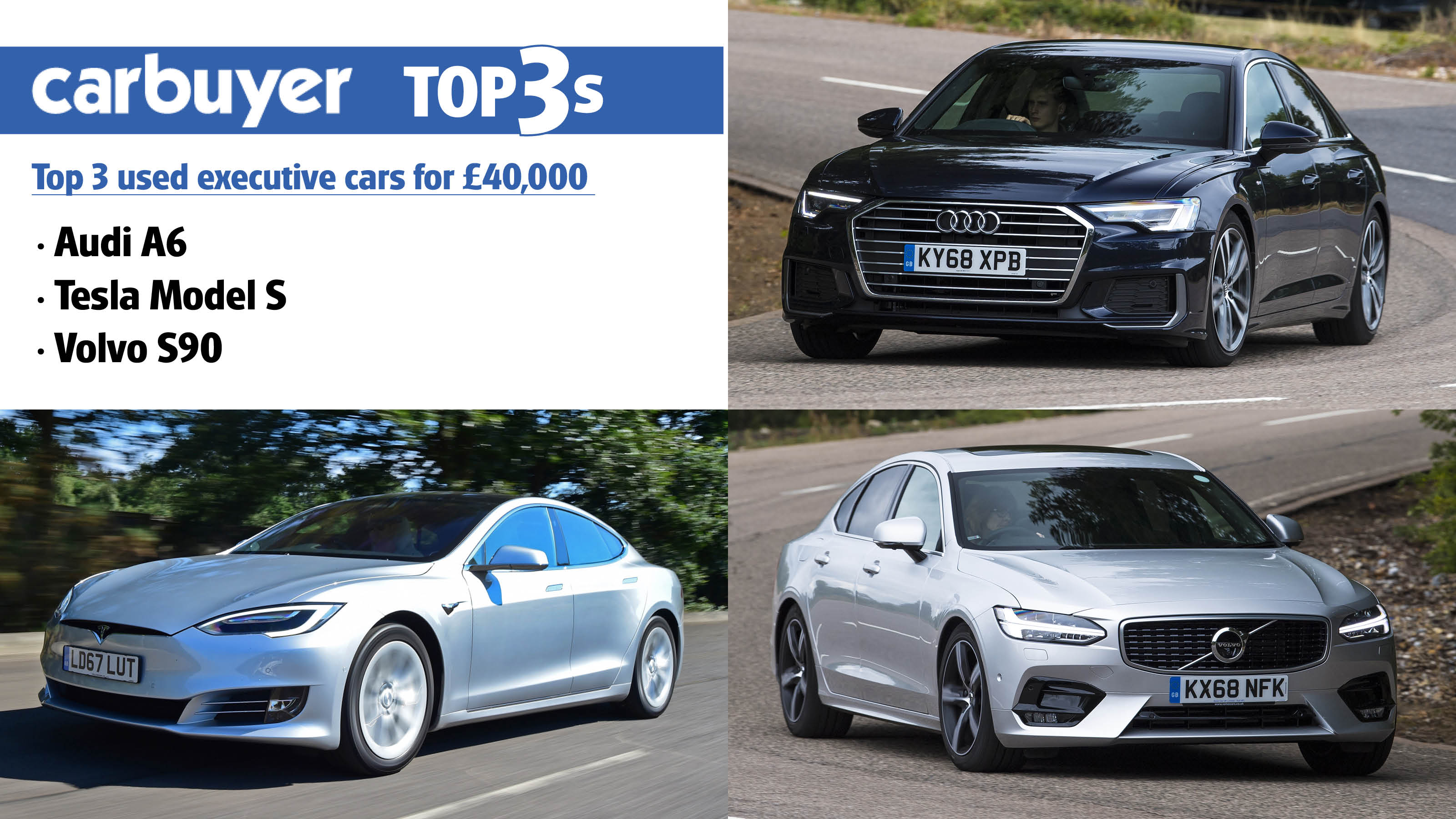 Top 3 used executive cars for £40,000
Mercedes, BMW, Jaguar and Audi are some of the biggest brands in this part of the market, so you may expect the cars to be out of reach for most people. Thanks to depreciation, however, you can pick up used bargains for around £20k. Bear in mind that running costs remain relatively high thanks to big, thirsty engines and hefty VED (road tax) bills.
We've chosen three examples that tick all of the required boxes but go about it in very different ways. You can't go wrong with either of these three but read on to see our top pick. 
The solid choice: Audi S4
For: Best-made cabin and infotainment, brisk, grippy
Against: Lacks the character and finesse of rivals
The latest Audi S4 has now switched to diesel power only, but looking at used examples, £20,000 gets you the 3.0-litre V6 petrol version, complete with 349bhp and a 0-62mph time of 4.7 seconds. Despite being the fastest-accelerating car here, the S4 is also an extremely good cruiser, while the subtle bodykit and upgraded interior also appeal. 
That interior is the plushest here, too, while the S4 also has the best infotainment, featuring Audi's brilliant Virtual Cockpit. The only real downside is the Audi lacks the handling finesse of the Jag and Alfa, although it's still remarkably assured. Your £20,000 gets a 17-plate S4 with 75,000 miles.
The supercharged choice: Jaguar XE-S
For: Handsome, sharp to drive, good driving position
Against: Tight rear seats, unintuitive infotainment
Having a supercharged engine makes the Jaguar XE S unique in this company, and the 380bhp 3.0-litre V6 propels the big cat from 0-62mph in 5.1 seconds. As well as quick, the XE's engine is also characterful, and the handling is suitably impressive. While it lacks the rear-wheel-drive purity of some of its rivals, the Jaguar is more involving than the four-wheel-drive Audi, and having the extra traction helps when trying to use all the engine's power.
Inside, the cabin feels a little dated but build quality is decent. Jaguar's infotainment system plays second fiddle to the Audi, and the rear seats are tight, even for a small saloon. A 2017 25,000-mile car is within reach.
The stylish choice: Alfa Romeo Giulia Veloce
For: Sharp steering, smooth gearbox, eye-catching looks
Against: Some cabin materials are below par
The Veloce may sit below the supercar-rivalling Alfa Romeo Giulia Quadrifoglio in the Giulia range, but with a 276bhp 2.0-litre engine, 0-62mph takes only 5.2 seconds. It's fantastic to drive, with sharp, feelsome steering, a smooth gearbox and well judged suspension. Some of the car's mechanical components have been upgraded to carbon-fibre, demonstrating the Veloce's status as a driver's car.
The rear seats aren't the largest, although they're more spacious than the Jaguar's, but while the Alfa's driving position is good, some of the cabin materials aren't; the infotainment is also off the pace. But you may be able to overlook such shortcomings thanks to the Giulia's sense of style and occasion, and this budget nets a 67-plate, 33,000-mile Veloce.
Carbuyer's choice, as picked by Content Editor Tom Jervis
Jaguar is closely associated with speed and style, and the XE-S is perfectly in keeping with that image. While the car's striking looks don't quite match the beauty of the Alfa Romeo, the British-built saloon feels much higher quality inside and has slightly better tech. Like the Audi, the Jag's burbling six-cylinder adds drama to your drive but the XE-S is much more fun and engaging on a twisty B-road. Plus, you can pick up an example with a much lower mileage for a budget of £20k.
Like a car that's fun to drive? Check out our list of the top 10 driver's cars 2021