Vauxhall Corsa VXR hatchback (2015-2018) - Practicality & boot space
The Vauxhall Corsa VXR doesn't compromise on interior space – it remains competitive compared to hot-hatchback rivals
Despite being the high-performance model of the Corsa, the VXR has exactly the same amount of interior and boot space as the regular car, which is spacious and has plenty of cabin storage. However, the VXR is somewhat compromised by the fact that it's only available as a three-door, which means its sloping roofline cuts into the available rear headroom a bit.
Vauxhall Corsa VXR interior space & storage
The VXR's interior dimensions are the same as those of the regular three-door Corsa. There's enough room in the rear for three passengers to sit comfortably, but as mentioned above, headroom may be an issue.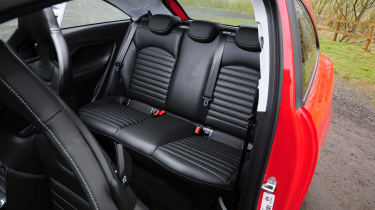 Interior storage is decent and the door bins are massive, so the VXR can carry plenty of odds, ends and knick-knacks. However, the glovebox is rather small compared to what you might be used to.
Boot space
Just like cabin space, the boot remains the same size here as in the regular Corsa. The 285-litre luggage area is larger than what you get in the Ford Fiesta ST and vastly superior to the meagre 211 litres in the MINI Cooper S.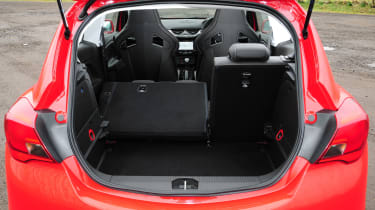 The rear seats fold forward to expand the space available, but they don't fold completely flat. There is, however, the option to include a false floor within the boot to increase total available space.