Vauxhall Mokka: old vs new
The new Vauxhall Mokka shares its name with its predecessor but little else. Should it be on your SUV shortlist?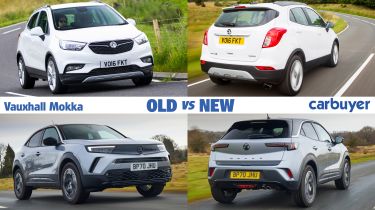 The Vauxhall Mokka was introduced almost 10 years ago, giving Vauxhall an SUV to tempt buyers away from the Nissan Juke and Skoda Yeti - as well as its own Vauxhall Corsa and Vauxhall Astra hatchbacks. Despite not excelling in any particular area, the Mokka proved reasonably popular, unlike the mechanically identical Chevrolet Trax. The facelifted car became known as the Vauxhall Mokka X and was updated inside and out.
It's all change for the second-generation Mokka. This new model introduced the brand's latest styling direction, which has since been introduced on the facelifted Vauxhall Crossland too. Underneath it's all change as well because Vauxhall found itself with a new owner before the latest one came out. As a result, the Mokka now shares underpinnings with the Peugeot 2008 and Citroen C4, and has a much better platform than the previous version. The switch also allowed Vauxhall to introduce the fully electric Vauxhall Mokka-e.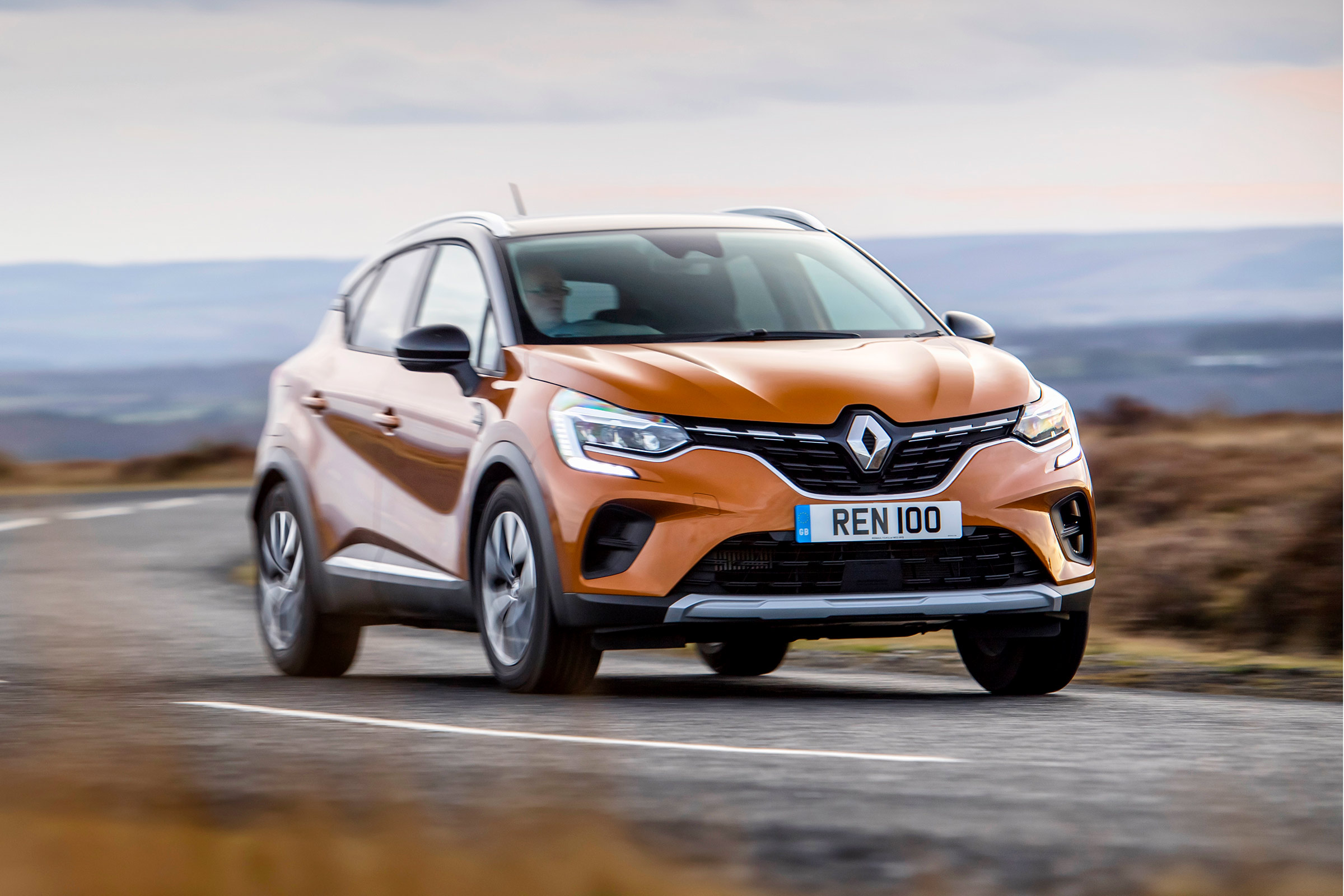 Top 10 best small SUVs 2022
Used Vauxhall Mokkas are cheap and plentiful, so should you choose one of these over one of the latest models? Read on to find out.
Styling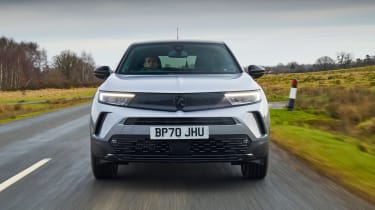 The previous Mokka looked exactly how you might expect a Vauxhall SUV to look. It resembled a bigger Corsa and its SUV styling was achieved by aping the bigger Vauxhall Antara and its black bumpers and raised ride height. It's not offensive, and the facelifted Mokka X sharpened up the styling a little, but there's little to catch the eye about the Mokka's design.
We'll leave you to decide if you like the look of the new Mokka, but it certainly looks smart. The lights and fared-in grille constitute Vauxhall's 'Vizor' design, which will feature on nearly all the brand's models going forward. There are some interesting creases and a different-coloured roof (on most trims), plus slim LED brake light clusters that look like they've come straight off a concept car.
Interior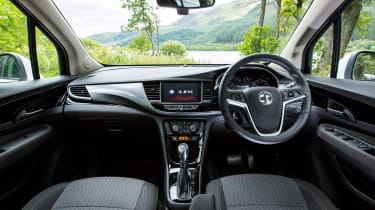 Vauxhall's interiors were quite bland a decade ago, and a few bits of chrome trim had to work very hard to overcome the button-heavy dash and widespread black plastic. There was a screen perched atop the dashboard, which had sat nav on high-spec versions, but it looks like an afterthought. The facelifted Vauxhall Mokka X, introduced in 2016, did bring a smartened-up interior, with a large touchscreen mounted right in the centre of the console. The touchscreen allowed Vauxhall to get rid of a lot of the buttons, giving a cleaner, more modern look.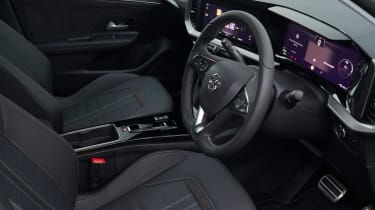 Tech has taken a step up in the new Mokka SUV, with a larger touchscreen joined by a digital instrument cluster. That was something previously reserved for quite expensive cars, just like the panoramic rear-view camera and matrix LED headlights that are fitted to top models. Apple CarPlay and Android Auto are standard again, so you can use your phone's apps on the car's screen, and we're glad there are still physical climate control buttons, which are easier to use on the move than prodding through the touchscreen. Material quality seems better than before, even if SRi has too much gloss black plastic and fake carbon fibre for our liking.
Practicality
The Vauxhall Mokka has never been the largest car on the road and that probably enhanced its appeal to people who need space and something that's easy to park. The last car had a lot of headroom but, with underpinnings shared with the Vauxhall Corsa, it was cramped if you wanted to carry three adults in the rear seats. Legroom is a little tight, and the boot floor sits quite high, so you may find yourself straining to lift heavy items into the boot. The 356-litre space is okay and the seats fold flat but a Renault Captur from the same period offers another 100 litres.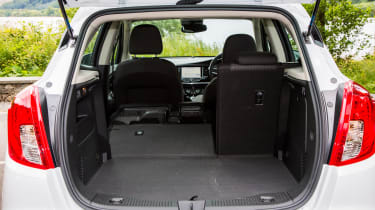 Moving to a new platform means that Vauxhall has made the wheelbase (the distance between the front and rear wheels) longer, so you'd expect the Mokka to be a little more practical than its predecessor. That's not actually the case, however, and it seems like style has proved more important than space. Again, there isn't much legroom and the roofline of the new model cuts into headroom a little too. Unusually, the new Mokka has a slightly smaller boot than the model it replaces (only six litres), and that means the Mokka has one of the smallest luggage compartments of the current crop of small SUVs - although it is more than you get in a Corsa. The mechanically identical Peugeot 2008 and Citroen C3 Aircross both offer much more space, and the latter also has a sliding rear seat bench for extra flexibility.
Engines and driving
The Mokka X offers an easy driving experience. It isn't a car that will excite but one that will get you from A to B without too much fuss. There's a decent amount of grip, it doesn't lean too much and the ride is fairly smooth, so it'll suit if you simply want a competent mode of transport. Performance will be fine for most buyers (but it's worth avoiding the naturally aspirated petrol engine), although the Mokka's fuel economy isn't as good as rivals. The petrol engine returns under 40mpg, while the punchy diesel only just scrapes 50mpg.
In the new model, even the petrol will manage 51mpg, so it might not be worth spending the £2,000 extra on the diesel engine. Even with the promise of 65mpg, it'll take a while to recover that extra cost for all but the highest-mileage drivers. The diesel is a little slower than the petrols and the more powerful petrol, which is likely to be popular, is even quite nippy. As before, the Mokka won't be something you'll drive for fun - a Mazda CX-30 or Ford Puma will be much better in this department.
Vauxhall Mokka-e electric model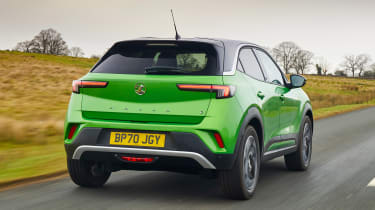 Moving to new ownership has also allowed Vauxhall to make an electric model for the first time, called the Vauxhall Mokka-e. It offers a different experience to the petrol and diesel models, with a quiet drive and a battery instead of a fuel tank.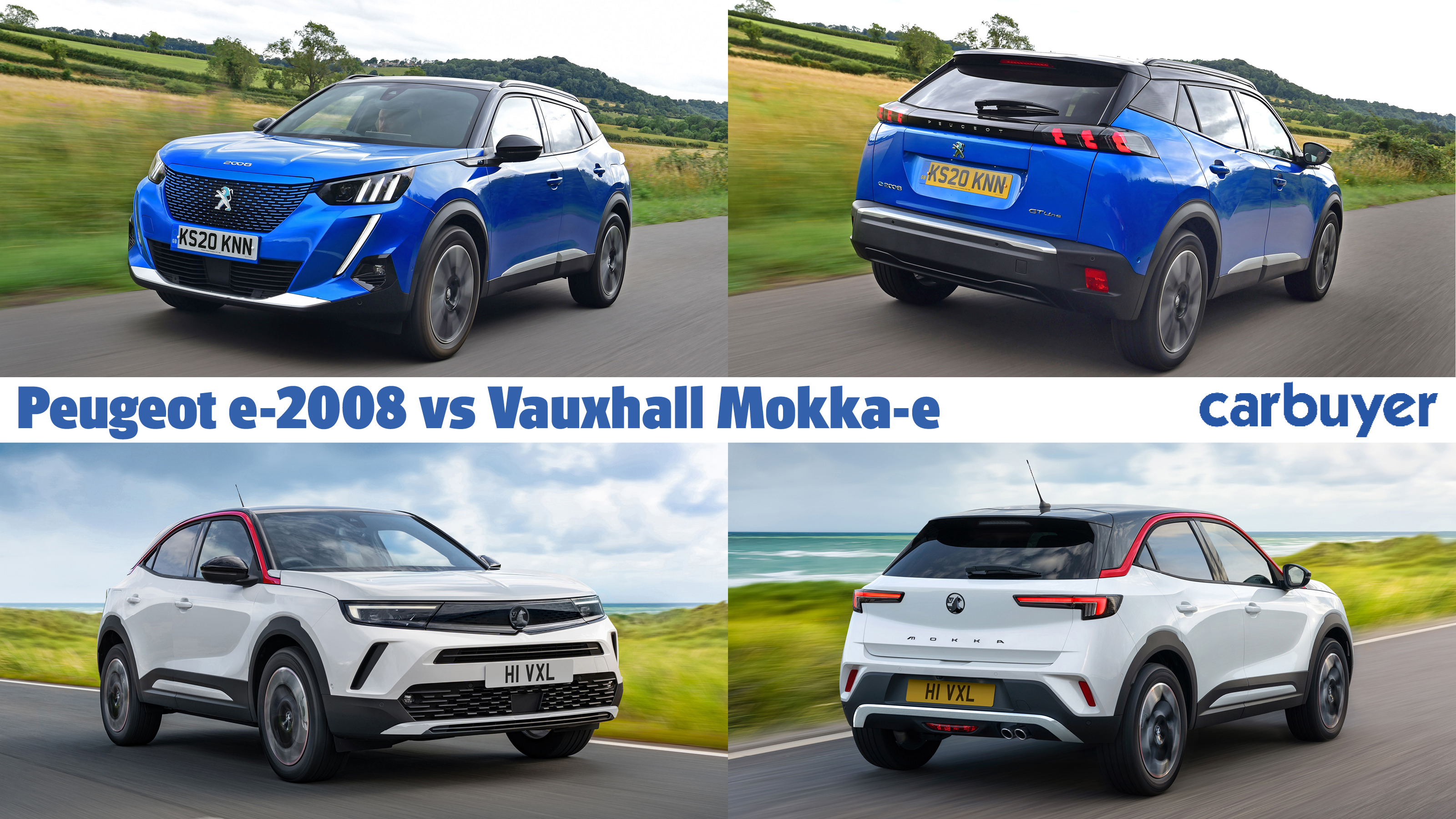 Peugeot e-2008 vs Vauxhall Mokka-e: specs comparison
You can travel up to 200 miles between charges, which will be sufficient for the vast majority of drivers, and recharging costs much less than a tank of petrol. Only a set of badges differentiate the electric model from the ones with engines, although you'll need to pay more to buy the electric one.
Which one should I buy?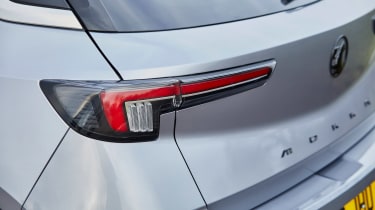 The previous Vauxhall Mokka wasn't a stylish, practical, or exciting car but the familiar badge and offers available made it something of a hit. There's a Vauxhall dealership in most large towns, so for many people the Mokka may also have been a convenient purchase.
Its successor is a much more desirable car, with style inside and out, and may sway SUV buyers back to Vauxhall dealerships. The new car is a much better product, so our recommendation is to get the latest model - even if that means waiting for well-priced nearly new examples.
Read our guides to the best used small SUVs and the best family SUVs.