2021 Audi Q5 Sportback coupe-SUV: plug-in hybrid now available
The sleek Audi Q5 Sportback 50 TFSI e boasts Audi's new battery and 37-mile range
All cars get sports suspension
PHEV starts from £53,435
10-inch touchscreen fitted
The new Audi Q5 Sportback is now on sale, with prices starting from £45,400. It's a coupe version of the Q5 SUV, and should feel a little sportier than the standard car as upgraded suspension is fitted on all versions. Like the Q5, two conventional engines and two plug-in hybrid options are available.
The arrival of the Q5 Sportback gives Audi a competitor to the BMW X4 and Mercedes GLC Coupe. It also hints at the popularity of coupe-SUVs in general, as it joins the Q3 Sportback, e-tron Sportback and the Q7-derived Audi Q8.
2021 Audi Q5 Sportback prices and specs
There are three trims available: Sport, S line and Vorsprung. The Sport model gets heated front seats, three-zone climate control, a powered tailgate, sat nav and Audi's upgraded Virtual Cockpit. S line tends to be a popular trim, and for £48,280 you get a sportier body kit, privacy glass, bigger wheels and Matrix LED headlights. Top-spec Vorsprung models are significantly more expensive at £63,430, and bring a panoramic sunroof, black exterior trim, air suspension, 21-inch wheels and extra driver assistance tech.
The 50 TFSI e plug-in hybrid starts from £53,435 and is available in the three trim levels mentioned above, plus an Edition 1 version, while the more powerful 55 TFSI e also comes in 'Competition' and 'Competition Vorsprung' trims. Competition starts from just over £59,000, while the Competition Vorsprung model comes with a very chunky £74,235 price tag.
Q5 Sportback plug-in hybrids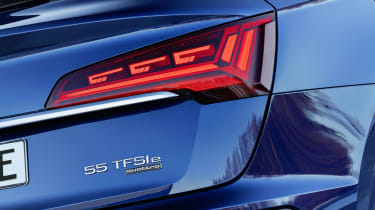 Both the Q5 Sportback 50 TFSI e and 55 TFSI e models use a 2.0-litre petrol engine and an electric motor, with power standing at 295bhp and 362bhp respectively. The 50 TFSI e accelerates from 0-62mph as quick as a hot hatch at 6.1 seconds, and the 55 TFSI e reduces that time to just 5.3 seconds. Both manage 37 miles of electric range between charges, and CO2 emissions stand at 42-45g/km so Benefit-in-Kind tax is low for business users.
As with Audi's other hybrids, you can choose how to use the two sources of power or save the electric power for later in the journey. Leave the decision up to the car and it will use sat nav route data - including speed limits and hills - to choose the best points to use electric power. It'll also decide whether to shut the engine down or use it to recharge the battery when you take your foot off the accelerator. TFSI e buyers can subscribe to one of two tariffs that allow access to 18 chargepoint providers with one card.
Styling
The new model has a similarly sloped roofline and window-line to the smaller Q3 Sportback. Compared to the Q5, the Q5 Sportback has a much steeper rear windscreen and a new tailgate, although the rear bumper closely resembles the Q5 SUV. Everything forward of the front doors should be carried over from the facelifted Q5, including a wide grille and intricate new LED headlights. At the back, new OLED technology is featured in the taillights for the first time, with three different lighting patterns to pick from. Overall, the Sportback is 7mm longer than the car it's based on.
Interior
The dashboards of the Q5 and Q5 Sportback are identical, with a 10.1-inch touchscreen sitting on top of the dash and a full-width trim accent beneath. Audi's Virtual Cockpit digital instrument cluster is standard. In terms of connectivity, you'll get Apple CarPlay and Android Auto as standard, while Car2X technology that can communicate with other cars and local infrastructure will also be available.
The car's sloping roofline will mean rear-seat space and luggage capacity are slightly less generous than the regular Q5, although the car's size means adults should still be comfortable in the rear seats on shorter journeys. The rakish shape has a minimal impact on boot space, with the Q5 Sportback offering 510 litres of cargo space compared to the 550 you get in the Q5 SUV.
Engines and performance
The launch powertrain will be a turbocharged 2.0-litre TDI diesel with 48-volt mild-hybrid assistance. It'll produce 201bhp, sending power via a seven-speed automatic gearbox to a quattro all-wheel drive system. A further diesel engine will arrive after launch, with a pair of 2.0-litre petrol engines also being added to the range.
A range-topping Audi SQ5 Sportback model is available too, with power coming from a 342bhp 3.0-litre V6 diesel engine.
Read our Audi reviews, or check out our guide to the best hybrid SUVs.