Audi Q5 vs BMW X3: rivals comparison
The Audi Q5 and BMW X3 are both excellent luxury family SUVs but which one should you buy?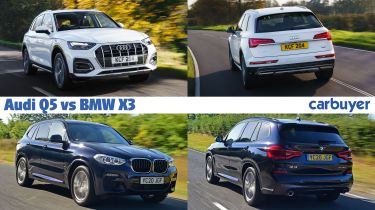 More and more family SUVs are trying to muscle in on models made by the 'premium' manufacturers because they're the most desirable.The Audi Q5 and BMW X3 are two such models, with luxurious interiors, powerful engines and, importantly, an appealing badge on the bonnet. Other rivals include the Mercedes GLC, Land Rover Discovery Sport and Alfa Romeo Stelvio.
Because most new cars are bought on PCP finance, an Audi or BMW SUV might not cost much more on monthly payments than a more 'mainstream' SUV. They're direct rivals but have slightly different focuses so, if you're dreaming of getting into the Q5 or X3, read on to find out which we think is best.
As you're here, you might also want to check out our guides to the best large SUVs and the best 4x4s. Or, find great deals on used Q5s and used X3s on BuyaCar.
Styling
Styling is often one of the main reasons buyers go for one model over another. First impressions count, and the Audi Q5 and BMW X3 both feature eye-catching styling details to gain admiring passing glances. A facelift to the Q5 in 2020 brought a spindly new grille, inspired by the bigger Audi Q7, and intricate light clusters at each end. Black wheel arches and silver skid plates hint that the Q5 is rugged and adventurous, even if the Q5 would quickly get stuck on a serious off-road course.
The BMW X3 carries a slightly simpler design, although it's no less smart. The bonnet is broad and tall, while the window line carries a kink that echoes the first-generation X3. Like many cars, the new X3 is bigger than the old one, and you could easily mistake it for the larger and more expensive BMW X5. SE and xLine trims also get all the typical SUV styling cues but M Sport gets body-coloured trim pieces - perhaps to show its sporty bent.
Interior
As part of the facelift, the Audi Q5's touchscreen has been upgraded; it now measures 10 inches and is faster to respond. It still looks a little tacked-on but it's very good to use and is paired with the standard-fit Virtual Cockpit instrument cluster. Compared to the new Audi A3, you can see it's an older dashboard design, but there's a spread of high-quality materials and switchgear. It's very quiet inside too, so refinement is good even at higher speeds.
The X3's interior isn't a million miles from the Q5's in terms of design and layout, but somehow everything seems to be directed towards the driver. The floating infotainment screen is the same size, but wider and slimmer. We expect this gives better forward visibility than the Audi's squarer screen. It's a shame the digital dials are only standard on the M Sport but the kit list is otherwise generous, with sat nav, a reversing camera and online features all available as standard. The Adaptive M Sport suspension is worth paying extra for because it soaks up bumps really impressively - even with 20-inch alloy wheels fitted.
Practicality
Neither of these cars have seven seats - you'll need to look at a Kia Sorento or SEAT Tarraco for that - but both the Audi Q5 and BMW X3 are very spacious. Four adults will be perfectly happy in either car, although the 4x4 mechanicals mean you get a large transmission tunnel that robs space from whoever's sat in the fifth seat. The two are matched for boot space too, at 550 litres (around 450 for the plug-in hybrids); the Audi's sliding rear bench frees up an extra 60 litres of storage if you need it.
Engines
Besides the quick diesel-powered Audi SQ5, there are petrol, diesel and hybrid engines to choose from. The 201bhp diesel engine is the cheapest to buy and offers reasonable fuel economy, while those after a sporty SUV will be drawn to the 261bhp '45 TFSI' engine, which reaches 0-62mph in a whisker over six seconds - meaning you'll be able to embarrass Volkswagen Golf GTI drivers, although burn quite a bit of fuel in doing so. The pair of hybrids are capable of 25 miles of electric-only driving and high MPG figures, so long as you keep the battery charged, and they offer the lowest Benefit-in-Kind rate for business users.
BMW's 20i petrol engine is slightly more efficient but takes two seconds longer to hit 0-62mph because it's 80bhp down on power compared to the 45 TFSI. The two mild-hybrid '20d' and '30d' diesel engines produce 187 and 282bhp respectively; you can expect over 45mpg from the former, while the 30d isn't far behind yet sprints to 62mph in just 5.7 seconds. Like Audi, BMW also sells an X3 with a plug-in hybrid powertrain that's said to be capable of 30 miles of zero-emission driving on a charge.
The Jaguar F-Pace is probably the best of the upmarket SUVs to drive but the BMW X3 is nipping at its heels. Often it doesn't feel like such a bulky car, and is happy to slingshot around fast corners. It'll impress keen drivers but the ride is also smooth, so long journeys won't be a problem.
Audi, meanwhile, focuses on driving modes to try and change the Q5's driving characteristics. If you're not in Dynamic mode, the Q5's acceleration is restricted, but the sportiest mode's sharpened responses also amplify road imperfections a little too much. The steering doesn't have much feel either, but we've found this is the case in nearly every Audi.
Prices and specs
Both cars start at around £42,000 at the time of writing, which means all X3s and Q5s attract the additional £325 annual tax fee for the first five times you renew. The X3 plug-in hybrid starts from around £50,000, and the fast M versions are £5,000 costlier. Audi SQ5 models cost roughly £56,500 in standard guise, while the top-spec Vorsprung model adds another £15,000 to the price. It's hard to compare like-for-like PCP finance deals but both can start under £500 per month after a £5,000 deposit.
Verdict
In this battle of premium SUVs, your choice will probably come down to which badge you prefer, or which dealership gives you the best service. The BMW X3 is the better choice if you're a really keen driver but a BMW 5 Series Touring estate might suit you even more on that basis. We really like the plushness of the Audi Q5's interior, and the technology on offer across the range, so it's the one we recommend.
Read all about Audi and BMW, or check out our comparison between the new BMW 5 Series and Mercedes E-Class.