Ford Kuga SUV - Engines, drive & performance
The Ford Kuga is one of the better family SUVs to drive
It's safe to say that previous Kugas have been a mixed bag to drive. The first-generation car was more fun than almost all of its rivals, but Ford tried to make the next one appeal to a wider audience, and it lost some of its sharpness as a result. We're happy to report that the latest car is a return to form; it's more agile than you might expect and doesn't roll too much if you take a corner quickly.
The downside of that is a slightly firm ride. You'll notice the imperfections in the road more than you would in a Volkswagen Tiguan, but we didn't find it uncomfortable and most bumps were absorbed without any fuss. The car can start to feel fidgety at higher speeds but that's mainly noticeable on rougher surfaces.
We found the steering light but it still has a lot more feel than plenty of other SUVs. The manual gearbox, standard in all but the 187bhp diesel and the plug-in hybrid, is precise and great to use.
Ford Kuga petrol engines
The two 1.5-litre EcoBoost petrol engines have been carried over from the old Kuga, but the entry-level 118bhp engine (only offered on Zetec models) is now almost a second quicker from 0-62mph. It still takes 11.6 seconds to hit that threshold, though, and we'd recommend going for the 148bhp version instead. It's both more economical and quicker, hitting 0-62mph in a much more reasonable 9.7 seconds. Both these engines come with a six-speed manual gearbox and front-wheel drive.
Diesel engines
Also carried over from the old car is a 1.5-litre diesel engine, and it's the only engine with a choice of manual or automatic gearboxes. Its 118bhp doesn't feel quite enough to power such a big car, and 0-62mph takes 11.7 seconds for the manual or 12 seconds for the automatic. It's around a second quicker than the same engine in the Mk2 Kuga, but still a bit pedestrian.
The diesel sweet spot is the 148bhp 2.0-litre engine, which now comes with mild-hybrid technology - improving fuel efficiency and giving the engine welcome extra grunt. It's the most efficient diesel and its 9.6-second 0-62mph should be sufficient for the majority of buyers. Above that, there's a 187bhp 2.0-litre engine without the mild-hybrid assistance, which reduces the acceleration time to 8.7 seconds. At present, this only comes with four-wheel drive and an automatic gearbox.
Hybrid engines
The Kuga is available as a normal hybrid (Ford labels it as FHEV) and as a plug-in hybrid (PHEV). Both use a 2.5-litre petrol engine, an electric motor and a battery. The normal hybrid uses engine power to charge the battery, whereas the PHEV can be plugged in, either at home or at a public charger.
In both models, the Kuga will move off in near-silence thanks to the electric motor. Power is instant and delivered smoothly. 
Both cars use a CVT gearbox. This is different to a normal automatic as there aren't any individual gears as such, so when you put your foot down it tends to bring revs up, causing an unpleasant droning noise.
What are Audi TFSI petrol engines?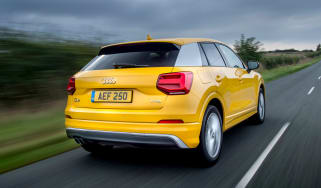 What are Audi TFSI petrol engines?
Car dashboard warning lights: the complete guide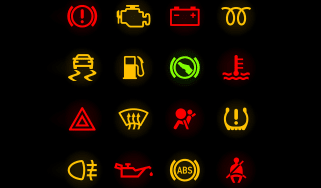 Car dashboard warning lights: the complete guide
Best new car deals 2021