Kia Sorento crowned 2021 Carbuyer Car of the Year
All-new Sorento SUV named best car in Britain by Carbuyer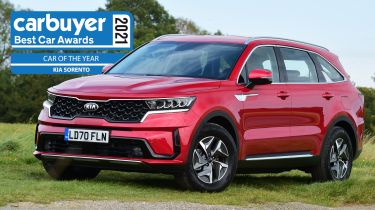 The Kia Sorento has won Carbuyer Car of the Year for 2021 as part of the UK's most buyer-focused new car awards.
Kia's newly launched seven-seat SUV impressed Carbuyer's panel of judges with a remarkable blend of space, tech and value for money, which it says combines to form "a versatile SUV that's nipping at the heels of premium rivals".
As well as winning our coveted Car of the Year award, the Sorento was named Best Large Family Car for 2021. The Sorento's double win dethrones our previous winner, the Renault Clio, which was Car of the Year and Best Small Car for 2020. 
The 2021 Carbuyer Best Car awards were announced today in an online presentation in which we also marked Carbuyer's 10th anniversary. The brand remains committed to offering in-depth, definitive and jargon-free advice to help in-market car buyers buy the right car at the right price. Carbuyer remains the only automotive title to be accredited by the Plain English Campaign.
To celebrate its 10th anniversary, Carbuyer has also announced the Ford Fiesta as the winner of its very special Car of the Decade award. Carbuyer's judges concluded that over the last 10 years, no car has better represented the needs of the real car buyer. Britain's most popular car remains as relevant today as ever.
Today's awards announcements are the culmination of a year of change and huge investment in the Carbuyer brand. Last month, carbuyer.co.uk saw the biggest overhaul in its history, with a robust new platform delivering best-in-market user experiences across desktop, tablet and mobile, as well as superior search engine optimisation. And in spite of the challenges, 2020 has seen more people than ever use the Carbuyer website. Never before has Carbuyer made it easier for in-market car buyers to research their next car.
Carbuyer has also rebooted its video offering, with new and improved video content. The team has recruited a new presenter, Nicola Hume, who fronts videos alongside recently appointed editor Richard Ingram. The video channel, at youtube.com/carbuyer, continues to go from strength to strength and is fast closing in on 600,000 subscribers. 
At the same time, Carbuyer's quarterly print title continues to provide an easy at-a-glance guide for those who prefer the look and feel of a magazine.
The 2021 Carbuyer awards are baked into the fabric of the Carbuyer website, where the Best Car section provides a clear, concise and definitive guide as to the very best cars of a given type. They reflect the real cars that real people search for and then buy, making them Britain's most buyer-focused awards.
Paul Philpott, President and CEO of Kia Motors (UK) Limited commented: "For the Sorento to win this award is an outstanding achievement, and one which fills our UK team and dealer partners with pride and encouragement. This vehicle embodies just how far we have come as a brand since entering the UK market nearly 30 years ago, offering high quality, efficient and desirable products to a growing customer base. The Sorento winning this award is high praise indeed and credit that's been duly earned."
Lisa Brankin, managing director, Ford of Britain & Ireland, said: "To elevate the Ford Fiesta to Carbuyer's car of the decade is an honour backed by car buyers. They have made Fiesta the UK's top selling car every year since 2009. Today Fiesta's mild hybrid engine and modem to connect with the Ford Pass app are serving 2020 customer needs."  
Richard Ingram, Carbuyer editor said: "This year has been the most challenging that we've faced, but we're continually impressed that car manufacturers have continued to launch models that people really want to buy. The Kia Sorento is the perfect example; a car that offers the style, space and range of engines that means it is the undisputed king of the new-car market.
"For Carbuyer's Car of the Decade, we looked for a single model that defined the automotive landscape – a car that does exactly what it says on the tin. The Ford Fiesta has been the UK's best-selling car every year since Carbuyer launched and is a byword for British motoring. It's a brilliant all-rounder and truly deserving of our coveted Car of the Decade trophy."
Carbuyer Best Car award winners 2021