New Maserati GranTurismo is a 1,200bhp electric sports car
Maserati reveals the new electric GranTurismo and confirms electric 'Folgore' versions for rest of the range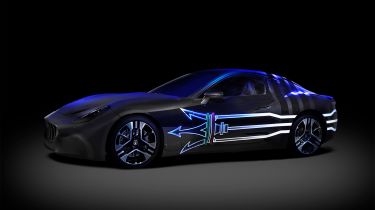 Maserati's first-ever electric car
Available with MC20 V6 or electric powertrain
Electric Quattroporte and Levante also coming
Maserati has revealed plans to re-spark its fortunes with its all-new, fully-electric GranTurismo. Revealed at the brand's annual press conference, the 2+2 coupe will replace the now 15-year-old combustion-engined model, and will be eventually joined by electrified versions of Maserati's other models, all of which will be sold under the 'Folgore' (meaning 'lightning' in Italian) sub-brand.
Due to go on sale in 2023, the Maserati GranTurismo EV will be the brand's first all-electric model and will be priced from around £100,000. That places it toe-to-toe with the top-spec Porsche Taycan Turbo S and the high-performance Audi RS e-tron GT, although unlike these cars the Maserati won't be a four-door saloon.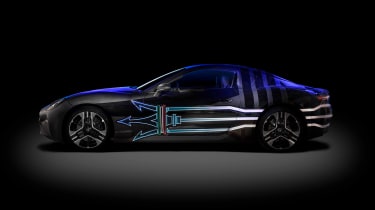 Images released of the new GranTurismo reveal a design that is actually an evolution of the old model. That means it will still have the car's trademark long, sweeping bonnet arches, although here it's likely to house various electrical components as well as a possible front boot, or 'frunk'.
The GranTurismo also retains Maserati's signature oval grille and adopts a pair of high-mounted, rhomboid headlights - similar to that seen on the new Maserati MC20 supercar. Also reminiscent of the MC20 are the GranTurismo's set of tri-spoke alloy wheels and slim LED tail lights.
Maserati has stated that the new GranTurismo EV will produce "way more than 1,200bhp installed power" from its three electric motors. These will give the electric sports car all-wheel-drive (with one electric motor powering the front axles, and two at the rear), plus a 0-62mph time of under three seconds and a top speed of over 186mph.
When asked about range figures, Maserati's head of product planning, Francesco Tonon said that the GranTurismo will provide a driving range that is "satisfying for [their] customers".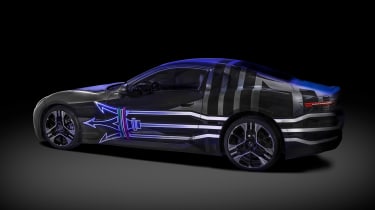 Buyers that prefer a more traditional powertrain will be able to opt for the 627bhp six-cylinder 'Nettuno' engine from the MC20. A soft-top convertible version of the GranTurismo dubbed the GranCabrio will also be available.
However, it appears that the GranTurismo EV is just beginning; Maserati has also stated that all of its current lineup will be fully-electrified by 2025. Electric versions of the Quattroporte luxury saloon, the Levante SUV and the MC20 are said to be in the works - as well as an electric variant of the upcoming Grecale SUV. These cars may use parent-brand Stellantis' STLA medium platform and boast a range of over 400 miles.
It is worth noting that Maserati has neglected to mention the Ghibli sports saloon, hinting that the model may be discontinued soon.
Want something that's low-emissions and lightning-fast? Check out our list of the Top 10 best hybrid and electric sports cars