Escape the new London Congestion Charge
Register by 28 June to qualify for three years London Congestion Charge exemption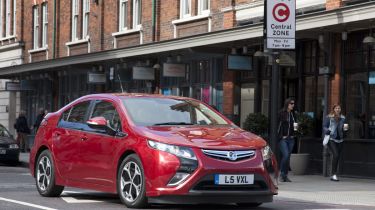 Friday 28 June is your last chance to qualify for three years' London Congestion Charge exemption by registering your car with Transport for London (TfL).
From 1 July, the rules for cars entering the London Congestion Charge zone are changing. Only cars emitting less than 75g/km of CO2 will be exempt, with every other car being subject to the £10 daily charge.
However, if your current car emits between 75g/km and 100g/km, and it's not already registered as exempt, you can still register it with TfL to qualify for a further three years of charge-free driving. If you're quick, you could even snap up a brand-new model and save up to £7,500 in charges over the next three years.
Until now, conventional low-emission petrol and diesel cars like the MINI Cooper D, Volvo V40 D2, and Ford Fiesta 1.0-litre EcoBoost were all exempt once registered with TfL. As of 1 July, only plug-in hybrid cars like the Chevrolet Volt, and all-electric vehicles like the Nissan LEAF will be able to escape the charge.
As you'd expect, this dramatically reduces your options if you live or work in London and want to avoid paying the charge or risking a fine. Not to mention the fact that pure electric cars have reduced real-world practicality as a result of their limited range.
So, if you're the owner of an economical petrol or diesel car with emissions of less than 100g/km, you need to register your car at www.tfl.gov.uk if you haven't already done so – or face the prospect of a four-figure bill over the next three years.
Check out our top 10 London Congestion Charge-exempt cars, or read our Vauxhall Ampera review – we named it best hybrid or electric car in the 2013 CarBuyer Awards.