New BMW i3 outsells rivals
The BMW i3 is set to trounce rivals in the showroom as it confirms fantastic sales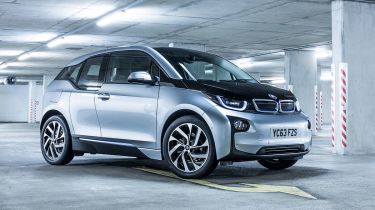 More than 500 UK orders have already been taken for the revolutionary BMW i3, which went on sale on 16 November. The company expects to reach 2,000 sales by the end of this year, with those split almost equally between the pure electric and petrol-electric range-extender versions.
To put some perspective on these figures, 141 Nissan Leaf and 26 Toyota Prius Plug-In Hybrids models were sold in November, while just 26 Peugeot iOn cars have been sold in 2013 year-to-date.
Worldwide, BMW's sales figures are even more impressive. More than 10,000 people have placed orders for an i3, while the £100,000 BMW i8 petrol-electric supercar is currently sold out.
The news comes as our sister site, Auto Express, reported that more than 100,000 people across the globe have registered to test drive the BMW i3. That's despite it getting a four-star Euro NCAP crash test rating, rather than the expected five-star award.
Priced from £25,680 (including the Government's £5,000 grant), the i3 is available either as a pure-electric car or as a petrol-electric hybrid. It has extremely cheap running costs, with the range-extender petrol version capable of an incredible 470mpg. Both are also free from road tax.
The i3 has a futuristic look inside and out, and a cabin that offers luxury unlike anything else in its class. The near-silent operation of its electric motor makes it very comfortable to travel in and the car features BMW's 'one-pedal driving' system that slows the car – to recharge the batteries – when your foot's not on the accelerator.
The BMW i3 is also fun to drive, with a turn of speed that family cars could only dream of ten years ago. The downside of decent handling in the corners is that the i3 has quite firm suspension.
For more information on the BMW range, visit the CarBuyer BMW reviews page.