February's bestselling cars revealed
Ford Fiesta still UK's most popular car but Vauxhall has a positive month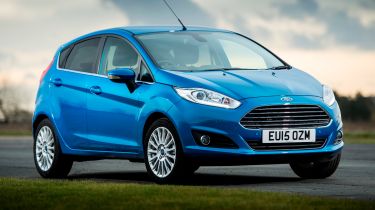 Figures released today show that February 2015 was the 36th consecutive month of growth in the UK car market.
Despite the prospect of a new number plate in March, which usually makes February a slow sales period as buyers wait for it, 76,958 new cars were registered last month. That number represents a 12% growth compared to the same period last year.
The Society of Motor Manufacturers and Traders (SMMT), the body responsible for collecting registration data, noted that fleet buyers played a significant role in the growth, with registrations up 19.9% in February.
Mike Hawes, chief executive at SMMT, said: '"Registrations of fleet and business cars have outpaced the private market in February, reflecting the increased business confidence across the UK."
The top ten bestsellers for the month looks simliar to January, though the order has changed somewhat. The Ford Fiesta remains top of the pile but the Volkswagen Golf has moved up to second in the list from fifth, while the Vauxhall Astra has climbed from 10th to fourth position.
The Astra's rise up the chart is indicative of the impact fleet buyers had on February's registration figures, as is the Vauxhall Insignia's entry to the chart. The large hatchback has replaced the Volkwagen Polo on the monthly top ten bestsellers list.
| | | |
| --- | --- | --- |
| Best sellers | February | |
| 1 | Ford Fiesta | 4,096 |
| 2 | Volkswagen Golf | 3,177 |
| 3 | Vauxhall Corsa | 2,830 |
| 4 | Vauxhall Astra | 2,396 |
| 5 | Ford Focus | 2,021 |
| 6 | Nissan Qashqai | 1,800 |
| 7 | Vauxhall Insignia | 1,797 |
| 8 | Mercedes Benz C-Class | 1,686 |
| 9 | Audi A3 | 1,609 |
| 10 | Fiat 500 | 1,436 |