New 2020 Mercedes S-Class starts from £78,705
All-new Mercedes S-Class gets vast array of new technology and enhanced luxury features
New S-Class features an all-new platform and design
Completely redesigned interior and updated technology
Six-cylinder mild-hybrid petrol and diesel engines available at launch
This is the long-awaited new Mercedes S-Class for 2020. It's the seventh generation of the brand's flagship luxury saloon, and features an all-new design, a vast array of new technology and a revised engine range. Prices start at £78,705.
The new car goes on sale in Europe this December. It'll be the first to be built at Mercedes' 'Factory 56' production facility in Sindelfingen, Germany, and will renew the model's rivalry with the latest Audi A8 and BMW 7 Series.
Best luxury cars to buy this year
2020 Mercedes S-Class prices and specs
The new Mercedes S-Class starts from £78,705 for a short-wheelbase model in AMG Line spec. All cars now come in the sporty-looking trim, and even the base model gets air suspension, metallic paint and power-closing doors. Other standard equipment includes a reversing camera, adaptive LED headlights, wireless phone charging and augmented reality sat nav.
AMG Line Premium unlocks the long-wheelbase model, and comes with a panoramic sunroof, remote parking ability and bigger wheels. The longer car also gets electric, climatised rear seats; it costs £4,000 more than the standard-length model, at £89,200.
All higher trim levels only come in long-wheelbase spec. AMG Line Premium Executive (£92,995) gets a chauffeur package, rear wireless charging and a seven-inch tablet for rear passengers. AMG Line Premium Plus (£95,695) adds a heated windscreen, steering wheel and armrests, plus a head-up display and 'ultra range' headlights.
Top-spec AMG Line Premium Plus Executive gets a kit list even longer than its name, and starts from £99,490. Choosing the S 400 d diesel or the S 500 petrol adds around £5,000 or £10,000 to each trim level respectively.
Design and dimensions
The design of the seventh-generation S-Class has been entirely reworked using the firm's latest design language, one we've already seen applied to the new Mercedes E-Class and CLS models. The front end features a slimmer LED headlight design, and a prominent front grille with three horizontal slats gives the car a flatter and more imposing look.
According to Mercedes, the optional digital light system adds powerful LEDs to the headlights that are capable of projecting warning symbols and lane markings onto the road ahead.
The sides of the car are broadly similar to those of the old model but with a slightly smoother roofline. Flush-fitting door handles are available as an option. The back features a new triangular light design, linked by a contrasting chrome strip. The new S-Class is more aerodynamic than the old one, which aids fuel efficiency and emissions, and should make it slightly quieter on the move because of reduced air resistance.
In standard form, the S-Class has grown by 54mm, so now measures 5,179mm in length. Opt for the long-wheelbase model and the car's size increases to 5,289mm. Thanks to increased dimensions, both versions offer more rear legroom and headroom over the old car. Boot space has also been increased across the range by 20 litres to 550 litres in total.
Chassis and technology
The new car sits on the firm's second-generation MRA platform, which features the latest version of the brand's 'E-Active' body control system. This includes adaptive dampers that work in tandem with processors and sensors located around the car. The system can monitor the road surface 1,000 times a second and continually adapt the Airmatic air suspension to maintain a smooth ride. It can even lean the car into corners to help minimise body roll.
As part of Mercedes' Pre-Safe safety suite, the E-Active body control system can also monitor for potential side collisions. If it detects an impending side collision, it can raise the body of the car by up to 80mm to help absorb the impact via the car's frame, rather than the doors, thereby offering extra protection to occupants. There's also a new central airbag that deploys to reduce the risk of a clash of heads in an accident.
Rear-wheel steering is also offered. It's not new - cars like the Renault Megane RS offer it for increased agility and stability - but the S-Class' rear wheels can turn much more. The system allows the rear wheels to swivel between 4.5 and 10 degrees depending on the chosen configuration, and makes the S-Class more maneuverable on tighter roads. It also makes it easier to park, with the long-wheelbase model boasting a turning circle of under 11 metres.
Other driver assistance tech includes blind-spot monitoring, steering assistance and an improved active parking assist with a 360-degree view camera. Owners will also be able to use remote parking functionality, meaning the car can park itself or be summoned from a short distance via a smartphone.
In the second half of 2021, Mercedes says the new S-Class will get 'level 3' semi-autonomous driving capability, meaning it will be capable of 'hands-off' autonomous driving on motorways and in traffic where legally permitted.
Interior and infotainment
The latest information reveals the high level of comfort buyers can expect, as the S-Class takes inspirations from upmarket home interior design and luxury yachts.
It provides a "lounge-type ambience", with vast swathes of wooden trim and an upgraded 'energising' system with six modes. This is capable of adjusting the lighting, seating, air conditioning and even the smell of the air in the cabin. It's compatible with some smartwatches and phones, and the two can combine to measure your stress levels and adjust settings accordingly.
There's a new digital instrument cluster with 3D graphics and augmented reality sat nav directions (so the directions appear to be on the road in front of you). It also features Interior Assist, which can recognise physical movements and enable selected vehicle functions - such as the passenger seat light illuminating if you reach over to pick something up from the seat. A new steering wheel is shared with the facelifted Mercedes E-Class.
Mercedes' flagship saloon introduces the next-generation MBUX infotainment system, which is powerful enough to operate up to five screens. The main one is a 12.8-inch portrait screen on the centre console, with haptic touch feedback and changeable OLED technology. It's where you'll access the majority of controls and functions, so 27 buttons have been removed as a result, and adds over-the-air update functionality to the S-Class for the first time.
This new S-Class introduces the second-generation MBUX infotainment technology, and is capable of storing up to seven user profiles, so it'll remember different users' seating positions, radio stations, plus climate and ambient lighting settings. Every seat gets its own microphone, so rear-seat passengers can use the voice control functions.
A total of five rear seating layouts can be specified, with up to three displays for rear passengers consisting of a pair of 11.6-inch touchscreens, and a centrally mounted removable tablet. Mercedes says rear passengers get all the same features as those sitting in the front, including heating, ventilation and seating controls.
Engines and performance
At launch the new S-Class will only be available with a range of turbocharged straight-six 3.0-litre engines, with two 48-volt mild-hybrid petrols and three diesels. Every S-Class gets a nine-speed automatic gearbox.
The diesel S 350 d kicks off the range, and is available in both rear-wheel drive or with Mercedes' 4MATIC four-wheel-drive system. It produces 282bhp and is capable of 0-62mph in 6.4 seconds in rear-wheel-drive form, with the 4MATIC version taking 6.2 seconds. Claimed fuel economy is 44.1mpg. The more powerful S 400 d produces 325bhp and manages 0-62mph in 5.4 seconds.
The petrol engine range starts with the S 450 4MATIC, which produces 362bhp. It manages 0-62mph in 5.1 seconds. The flagship model at launch is the S 500 4 MATIC, which gets 429bhp and sprints from 0-62mph in 4.9 seconds.
Mercedes has already confirmed that a V8 engine will return to the S-Class lineup next year, and that it will boast mild-hybrid assistance. It will be followed by a plug-in hybrid version that will be capable of pure-electric running for over 60 miles. While flagship AMG performance versions have yet to be announced, it is likely that they will join the range in late 2021.
See where the Mercedes S-Class ranks on our list of most innovative cars, or read our reviews of its rivals, the Audi A8 and BMW 7 Series.
Best luxury cars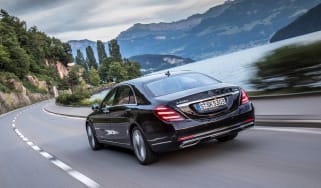 New 2020 Kia Stonic SUV: prices and specs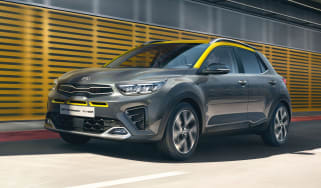 New 2020 Kia Stonic SUV: prices and specs
Updated Peugeot 5008 starts at £29,585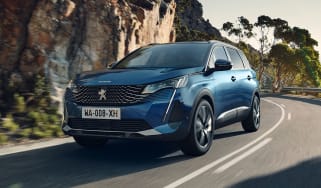 Updated Peugeot 5008 starts at £29,585
Cupra Formentor SUV review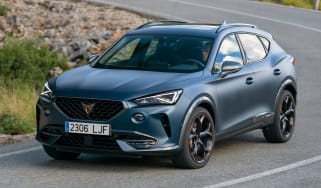 Cupra Formentor SUV review