New 2021 Vauxhall Astra previewed with coupe styling
The new Vauxhall Astra will share much with the Peugeot 308, and a fast VXR model is expected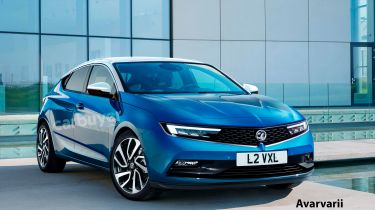 • Next-gen Astra to get eye-catching coupe looks
• A 296bhp plug-in hybrid model will use the VXR badge
• Latest technology and connectivity to be included
The next Vauxhall Astra is expected to go on sale in 2021 with underpinnings borrowed from Peugeot and Citroen models. Previewed by our exclusive images, the 2021 Astra is set to get rakish styling to make it stand out against its rivals, which will include the Volkswagen Golf, Ford Focus and Honda Civic.
When the next-generation Astra appears in around two years' time, it will arrive with a swooping roofline and coupe-esque design features. Unlike many new cars, it won't try to look like a pseudo-SUV with higher ground clearance and plastic body cladding. LED headlights are expected to be standard, and you should be able to personalise the car with options like a contrasting roof.
The best family hatchback currently on sale
While it will share a platform and engines with the Peugeot 308, Vauxhall boss Stephen Norman told our sister site Auto Express that the new Astra will be "something much more" than just a rebadged 308. Engines will be mostly carried over from the recently facelifted current model, including a 1.2-litre petrol engine and a low-emission 1.5-litre diesel.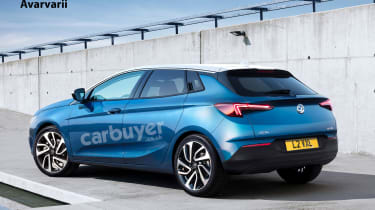 Just like the Vauxhall Grandland X SUV, a plug-in hybrid version of the new Astra will be offered. Called the Hybrid4, it'll have a 196bhp petrol engine and two electric motors, with a total output of 296bhp and all-wheel drive. The Hybrid4 will be badged as a VXR model, Vauxhall's performance moniker, and it'll have the acceleration and handling to suit the VXR badge. Zero-to-62mph will take around six seconds, which is similar to the Honda Civic Type R, Renault Megane RS and Hyundai i30 N. With a fully topped up battery, you'll be able to travel around 30 miles on electric power.
Inside, the Astra will be stuffed with the latest technology in an attempt to take on the latest Golf. A host of online features will be offered, probably wrapped up in a Vauxhall smartphone app, while some models will also get wireless phone charging, adaptive cruise control and lane keep assist. It's likely that all cars will get a digital instrument cluster, with different graphics to the Peugeot, Citroen and DS versions.
Despite the coupe-like styling, the new Vauxhall Astra will still need to be practical if it's going to be a real rival to the many other competent family hatchbacks. The rear seats are likely to be mounted low to ensure there's still plenty of headroom, and the boot will have a capacity of at least 380 litres.
Read more about the current Astra, and see where it features on our list of best used cars and best automatic cars to buy now.