Best car videos: our top 9 greatest hits
We've compiled a list of our best car review videos for your viewing pleasure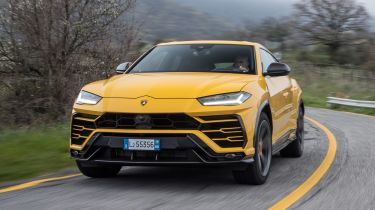 Video streaming sites like YouTube have become part of our daily lives, and the videos they host provide all kinds of informative and entertaining content. That content includes car reviews, and the best ones should make the process of buying a car much easier.
Instead of walking into a dealership and buying a car that's not quite what you wanted, we hope that you can go in armed with facts and knowledge gained from watching our reviews. You'll know which cars have the most easy-to-use infotainment systems, and whether the car you're interested in has enough boot space for holidays or your dog.
The best cars in Britain in 2020
We're proud to be one of the UK's biggest car review sites, and we're equally delighted to be the only British automotive content producer approved by the Plain English campaign. Watching Carbuyer car videos means you skip over all the confusing jargon; we just tell you about the car in a straight-forward way so that you can decide which is the very best one to buy. As you'll see, we also make it interesting and fun, so you can enjoy our videos even if you're not looking for a new car.
With lots of us spending much more time at home during the UK's coronavirus lockdown, now's the perfect time to sit back and enjoy some of the best car videos we've made so far.
Hyundai Kona Iron Man
You might think the Hyundai Kona Iron Man would have special powers or at least some armour to prevent car park scrapes. In reality it's a special-edition Kona with a few Marvel badges and a tenuous link to a Hollywood blockbuster, but we decided to find out whether this really would be Iron Man's perfect car. Batch donned the famous Iron Man suit and, while he could fit into the car, getting out against wasn't quite so easy. He was glad it didn't come with a manual gearbox too. We suspect buyers wouldn't be quite so committed to the character, so the Kona remains a pretty practical small SUV with good standard equipment levels and a relaxed driving experience.
Tesla Model 3 vs Jaguar I-Pace vs Audi e-tron
Not long ago, a 'premium' electric car might've meant a gold-wrapped Nissan Leaf but now there are plenty of luxury EVs to pick. We compared the Jaguar I-Pace and the Audi e-tron - both companies' first electric cars - with the Tesla Model 3, which isn't strictly a rival but could well be on your shortlist. All are fast, stylish and packed to the rafters with hi-tech gadgetry, but we'd say that all appeal in different ways. The Tesla Model 3 has also been one of the best-selling electric cars in recent months but does that mean Elon Musk's most affordable EV is the best?
Renault Clio
At one point it was starting to look like the Ford Fiesta would take our coveted Car Of The Year award every year it was on sale, but the fabulous Renault Clio knocked it off its perch in 2020. The previous car's chic styling was part of the reason why the Clio is now Europe's best-selling car, so the new car looks broadly the same as the old one. But the interior is a revelation; there are lovely soft-touch materials, the option of a massive portrait infotainment touchscreen and (at last!) the cruise control buttons are on the steering wheel, where you'd expect them to be. Our video shows you why you might just be better off buying a Clio over a Polo or a Fiesta.
BMW 3 Series
Need a saloon or an estate? The BMW 3 Series has been the default choice for four decades, and the latest one is sharper than ever, both in design and in driving experience. In many respects it's like a mini version of the more expensive BMW 5 Series, while the M Sport models can almost make you forget you're driving a sensible saloon. There's much more tech than you might be used to. The Audi A4 and Mercedes C-Class have improved too - is the 3 Series still the best saloon to buy?
Skoda Kamiq
Small SUVs are everywhere nowadays and you'll barely find a manufacturer that doesn't make one. The Skoda Kamiq was undoubtedly a latecomer, given it's more than a decade since the first Nissan Juke was launched, but with Skoda's renowned focus on practicality and the backing of the VW Group, it's a promising recipe. Much of it is shared with the Skoda Scala, so the choice between the two cars might come down to preference or whether you need the Scala's bigger boot. It feels more upmarket than the Skoda badge might suggest but is it the small SUV you should have on your driveway?
Lamborghini Urus
We'll park sensible practicality to one side for now, as this review concerns a much more outlandish SUV. A Lamborghini SUV seemed a ridiculous notion for a long time but now the Urus is here to give Lambo drivers the performance they're used to but in taller, more practical shape. The styling is just as evocative as you'd expect from a supercar company and VW Group mechanicals mean it should be reliable too. Don't think your Urus will have bits nicked from the Skoda Kamiq, though - everything's taken from higher-end models like the Volkswagen Touareg and Audi Q7. The performance matches the styling, as the Urus is one of the very fastest SUVs in the world!
Alpine A110
It may have a seemingly small 1.8-litre engine from a Renault Megane (Renault owns Alpine), but the lightweight Alpine A110 is a tempting alternative to the Audi TT and Porsche Cayman 718. The styling evokes the classic Alpine A110 model of the 1960s but the interior is brought up to date with upmarket materials and a touchscreen infotainment system. Impressively, the low kerbweight doesn't mean a bouncy ride or fragile feel - it's sophisticated and rides really well. Just don't expect many places to store your things. Here's how it competes with the Cayman.
Ford Fiesta ST
The fastest hot hatchbacks now come with over 400bhp and eye-watering price tags but our favourite hot hatch has about half this amount of power. A three-cylinder 1.5-litre engine (that can run on two cylinders to save fuel) doesn't sound like a good basis for a sporty car - especially as it's smaller than the engine in the previous Fiesta ST - but the latest small fast Ford is nothing short of fantastic. Given that the ST was developed by the same team that oversaw the latest Ford GT, it shouldn't be a surprise! But what's the rest of it like?
Alfa Romeo Stelvio
Alfa Romeo is a brand that perennially seems to be on the edge of financial ruin but the current SUV boom meant that the Stelvio had the potential to be a sales success. The Stelvio is the company's first SUV (soon to be joined by the smaller Tonale), and you might consider one if you're also looking at the Jaguar F-Pace and Audi Q5. A lot of the car's parts are shared with the Alfa Romeo Giulia, which is no bad thing. Some foibles are to be expected from the brand; it's whether you can live with them as to whether you choose the Stelvio over all its established rivals.
New 2022 Toyota RAV4 Adventure revealed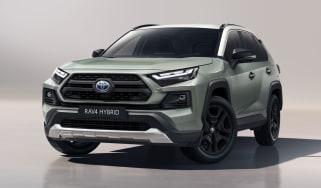 New 2022 Toyota RAV4 Adventure revealed
Best new car deals 2021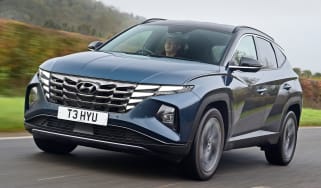 MINI Countryman Plug-in Hybrid SUV review
MINI Countryman Plug-in Hybrid SUV review