Toyota Highlander hybrid SUV coming to the UK in 2021
Toyota will launch the seven-seat Highlander early next year
Highlander will only be offered as a hybrid
Features will include all-wheel drive and a large boot
Prices to be revealed
The Toyota Highlander SUV will soon be launched in the UK. It'll be a seven-seater and will be the largest SUV sold by the Japanese manufacturer, sitting above the Toyota RAV4, Toyota C-HR and the recently revealed Toyota Yaris Cross. Prices and full specifications will be announced closer to when the car goes on sale in early 2021.
As these pictures show, the Highlander will look similar to the RAV4 but will have reshaped headlights and an even bigger grille. At nearly five metres in length, the Highlander is almost 40cm longer than the RAV4, and that shows in the larger window behind the rear doors. The rear end gets RAV4-like tail-lights and a panel designed to look like a skid plate across the rear bumper. The car's alloy wheels come in a 20-inch size as standard but bigger ones are likely to be available as an option.
Inside, the Highlander shares some parts with the company's smaller SUVs and has an infotainment screen embedded in a panel that forms part of the dashboard. Buyers are set to enjoy plenty of tech, including sat nav, wireless phone charging, a head-up display (HUD), Apple CarPlay and Android Auto, plus a digital rear mirror like the one in a top-spec Land Rover Defender. It provides an uninterrupted view behind, even if you're travelling with rear-seat passengers or bulky cargo.
A range of safety features will be present, including active steering assist, lane-keeping tech, adaptive cruise control, road sign assist, and pedestrian and cyclist detection.
We're told the Highlander features a high level of noise insulation, including in the windscreen, roof and wheel arch liners. Combined with the hybrid powertrain, this should mean it's a quiet and relaxing car for long journeys.
Like the RAV4, the Highlander uses a 2.5-litre petrol engine and electrification, but the new car offers slightly more power at 241bhp. Performance stats have yet to be revealed, but with the RAV4 taking a whisker over eight seconds to cover 0-62mph, the Highlander shouldn't be too far behind. The Highlander uses two electric motors - one on each axle - to give all-wheel drive.
Despite its hybrid powertrain, the Highlander's bulk results in CO2 emissions of 146g/km and fuel consumption of 42.8mpg. VED (road tax) will be ever-so-slightly lower than a petrol or diesel car, but company-car drivers will still pay 33% Benefit-in-Kind (BiK) tax from April 2021. There's an electric-only mode, although it's unlikely you'll be able to travel too far on it as the Highlander isn't a plug-in hybrid. Eco, Normal, Sport and Trail make up the other driving modes.
Toyota says the third row of seats can easily accommodate two adults, while there's a 658-litre boot if you drop the rearmost seats. There's also underfloor storage, and folding the middle row frees up a van-like 1,909 litres of luggage space.
What does it mean for car buyers?
Few seven-seat hybrid SUVs are on sale and those that are, such as the Lexus RX L and Volvo XC90 T8, are very expensive. The Toyota Highlander should be more affordable than these models, providing a reasonably efficient alternative to diesel-engined rivals. With the amount of technology set to be fitted, it's likely that the Highlander will be priced similarly to high-spec versions of the Peugeot 5008, Nissan X-Trail, SEAT Tarraco and Hyundai Santa Fe.
Read our Toyota reviews here, or see what the most reliable SUVs are.
2020 Toyota RAV4 Plug-in Hybrid: more details revealed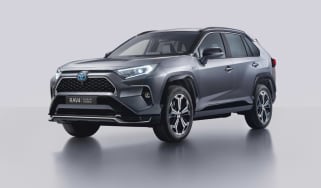 2020 Toyota RAV4 Plug-in Hybrid: more details revealed
Hybrid Suzuki Swace estate launched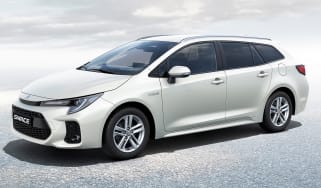 Hybrid Suzuki Swace estate launched
Cupra Formentor SUV review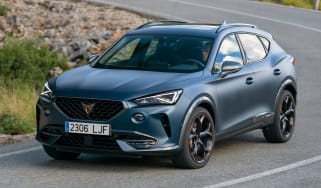 Cupra Formentor SUV review
2020 Volkswagen ID.3 hatchback: base model starts at under £30k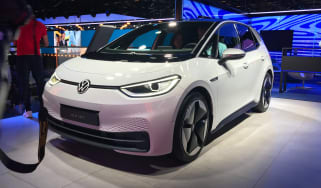 2020 Volkswagen ID.3 hatchback: base model starts at under £30k
Audi Q8 gains plug-in hybrid versions with 28-mile electric range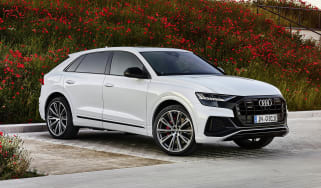 Audi Q8 gains plug-in hybrid versions with 28-mile electric range