Peugeot e-Rifter MPV review
"The Peugeot e-Rifter is an unpretentious family workhorse that takes everyday tasks in its stride"
Pros
Low running costs
Comfortable ride
Colossal boot
Cons
Wayward handling
Try-hard styling
Plasticky interior
In an age in which it seems a car isn't allowed to be merely a car but must also exist as an extension of your lifestyle and personality, the Peugeot e-Rifter is a breath of fresh air. The e-Rifter, along with its sister models the Citroen e-Berlingo and Vauxhall Combo-e Life, make no apologies for their simple, utilitarian nature. They're based on small vans, designed to suit the needs of independent traders, delivery companies and other businesses.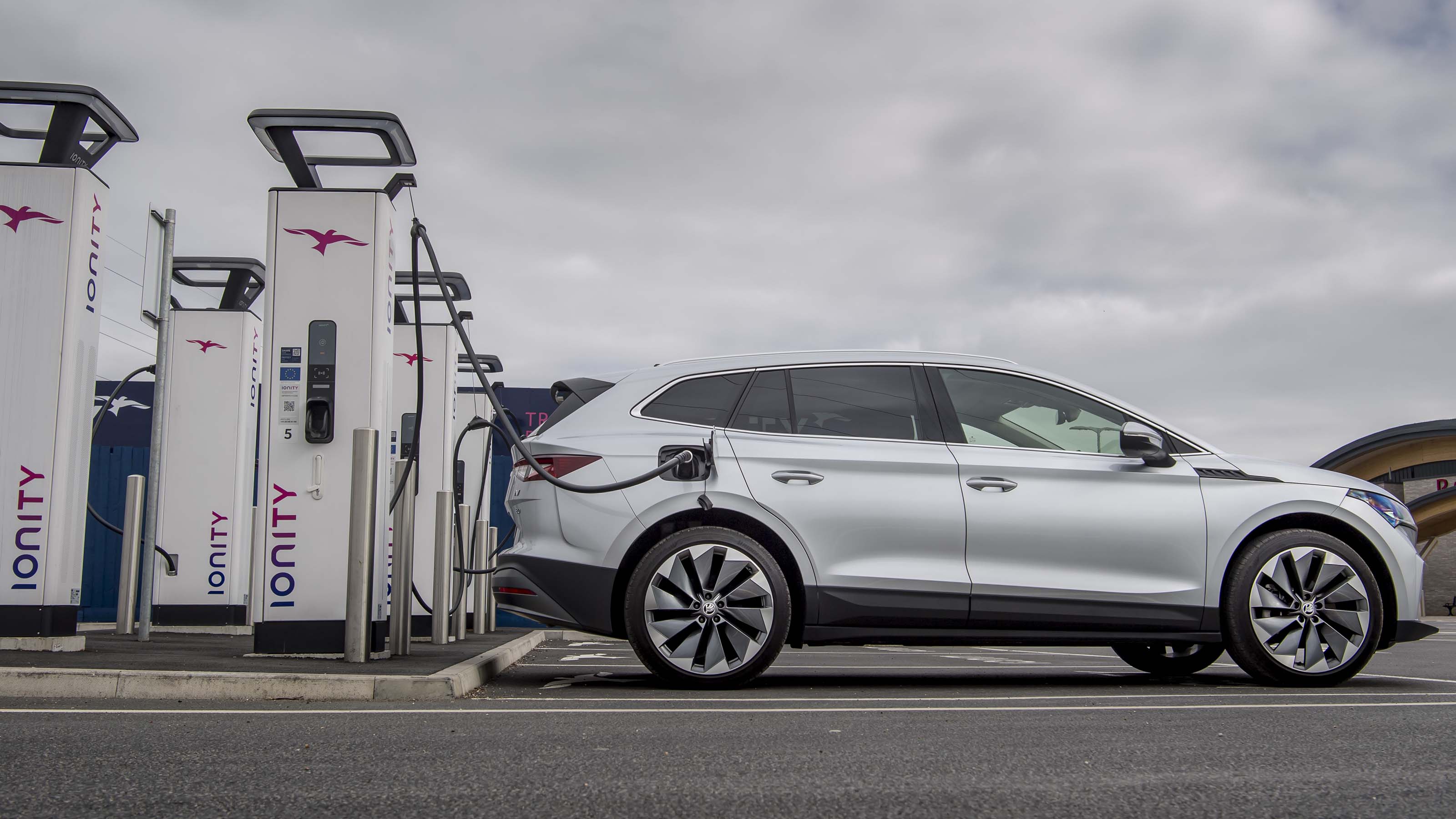 Top 10 best electric SUVs 2022
For these buyers, practicality is a must, with durability, value and low running costs similarly important. These factors are appealing to families, too, and the Rifter – which replaced the Peugeot Partner Tepee – adds a welcome touch of style to that mix. There's more than a hint of SUV muscle to its stance, with grey cladding to its sills and wheelarch surrounds, as well as a metallic section to the lower front bumper in the style of a rock-guard.
In truth, it was always going to be a bit of a stretch to apply SUV style to what's essentially a van, but the Rifter is a handsome enough machine to be accepted in its own right. Its body surfaces are nicely sculpted, with feature contours above each wheel arch, and a side window treatment that could have been more forgettable than it actually is. Peugeot's latest corporate nose treatment looks at home, too, and hangs together well with the Rifter's 'smiling' bumper intake and slatted lower grille.
The Rifter is nominally front-wheel drive, but that SUV-style garnish isn't just for show – in fact, it could well prove one of this practical family car's greatest assets in taking on the rough-and-tumble of urban life. The grey plastic parts should shrug off dings from car doors and errant shopping trolleys and its impressive ground clearance means city potholes and kerbs shouldn't cause any scrapes. Both the standard and long-wheelbase versions can be specified with five or seven seats; we'd only recommend the longer car if you frequently have bulky cargo to shift.
From early 2022, the all-electric e-Rifter became the only version available, with a 171-mile range and fast-charging. This should make it ideal for anyone making shorter trips or who doesn't mind stopping at a public charger on longer jaunts. Before this, Rifter buyers could choose a petrol or diesel engine, each with two power outputs, that were familiar from other models in the Peugeot and Citroen ranges. 
With its commercial-vehicle origins, safety will be a higher priority than active driver assistance – so don't expect semi-autonomous technology. Euro NCAP awarded the Rifter four stars out of five.
Range, charging & running costs
The Peugeot e-Rifter's commercial origins bode well for running costs
Before this, the petrol options were also worth considering, especially if the annual mileage requirement wasn't too high. The 108bhp petrol manages 45.8mpg and the more powerful version is barely any less economical.
Peugeot e-Rifter range & charging 
The Peugeot e-Rifter is the cheapest to run if you can regularly plug it in at home, although it's also the most expensive to buy than petrol rivals Thanks to a 50kWh battery, the standard e-Rifter has a range of up to 172 miles, while the long-wheelbase version sees this drop slightly to 166 miles. A 7.4kWh on-board charger and home wallbox can fill the battery in 7.5 hours. The e-Rifter is also compatible with public fast charging at up to 100kW DC, replenishing the battery to around 80% in 30 minutes. The e-Rifter qualifies for VED (road tax) exemption and the lowest Benefit-in-Kind rate for business users. City dwellers will be able to enter low-emissions zones without facing tariffs, which could result in big cost savings if these form part of a regular commute.
Other running costs are unlikely to be ruinous, either – Peugeot offers service packages that make it easy to keep track of your car's annual maintenance needs. Tyres, brakes and other consumables need to be affordable to please small businesses, too – pricey parts erode profits, which is the last thing a Rifter's commercial operators want. Peugeot's UK warranty runs for three years or 60,000 miles and can be extended as long as that mileage limit isn't exceeded.
Insurance groups for petrol and diesel versions were very similar to the Partner Tepee's – the Rifter starts in group 10 for the entry-level diesel, rising to 16 for the most powerful petrol in top-spec GT form. However, insurance groups for the electric e-Rifter haven't yet been confirmed.
Electric motor, drive & performance
It wallows and rolls when driven hard, but sedate e-Rifter driving is comfy and smooth
​You can probably get a reasonable idea of how the Peugeot e-Rifter drives simply by looking at it – it's clearly not going to respond in corners like a sports car. Maintain realistic expectations, though, and the e-Rifter is thoroughly enjoyable to drive. It may be a beast of burden designed with commercial drivers in mind, but it certainly isn't all work, no play.
With a body that leans noticeably in corners, there's little point in pushing the e-Rifter too hard on country lanes anyway. Refrain from mischief, though, and you'll find the steering to be rewardingly accurate and with a real sense of connection to the road; the overall roadholding is just as sound as any other model that shares the e-Rifter's chassis – the EMP2 platform that can be found under the Citroen C4 SpaceTourer and impressive Peugeot 508 hatchback.
Peugeot e-Rifter electric motor
While we haven't driven the e-Rifter yet, we were impressed by the near-identical Citroen e-Berlingo. This bodes well for the e-Rifter because its single forward gear and smooth electric motor are likely to give buyers exactly the fuss-free driving experience they want. 
With 136bhp and 260NM of torque, the e-Rifter's 11.2-second 0-62mph time doesn't appear particularly rapid, but we've found other MPVs with this motor feel far nippier than the petrol or diesel in most situations, thanks to the instant response when you press the accelerator. In fact, we've preferred driving them in the less powerful of the three driving modes offered, because when unladen the full 136bhp can feel rather flighty.
Diesel engines
When still offered, only the most powerful of Rifter engines – the 128bhp BlueHDi 130 diesel or PureTech petrol of the same power – offered enough grunt to really expose its handling limits. If you do overcook things, the front end will run wide a little untidily, but all drama evaporates if you simply lift off the accelerator. Full power is best reserved for when it's really needed, such as when joining fast-moving motorway traffic or overtaking tractors on a country road.
Petrol engines
Compared to the BlueHDi 130 diesel, the 109bhp PureTech petrol engine feels rather less happy under the weight of the Rifter, although the 128bhp version might be different. The latter comes with an eight-speed automatic gearbox in place of the six-speed manual offered on others.
Of all the versions we've driven, the diesel automatic impressed us the most, so it's a bit of a shame it's no longer available. Picking an auto avoids the rather vague gearshift of the manual cars, while the 128bhp diesel pulls more convincingly than the ponderous 99bhp version. The heavier engine also seems to improve the Rifter's ride quality – the diesel is less prone to bobbing up and down on uneven surfaces. The battery pack fitted beneath the e-Rifter should also help smooth out its ride.
Interior & comfort
Well designed Rifter interior is built for durability more than aesthetics
Considering its 'van-with-windows' origins, the e-Rifter is remarkably comfortable inside. Cruising at motorway speeds is surprisingly quiet, with a roar of wind all that reminds you of just how slab-sided and tall this car is. The ride is comfortable, too – both on motorways and on slower urban roads.
It's also plush enough inside to have you considering a career driving vans. Although the e-Rifter is better-equipped than its commercial stablemate, the dashboard and interior design are shared between the two and prove comfortable and easy to use. Taking pride of place in the dashboard is Peugeot's i-Cockpit digital instrument panel, and we reckon the e-Rifter's iteration is the most successful yet – particularly as it seems tailored to suit a high driving position and tall dashboard design, which gives you a clear view over the steering wheel.
It's also pleasing to see physical controls for the heating and air-conditioning, rather than having to navigate through infotainment sub-menus in order to control the interior climate. The only disappointment is a choice of interior plastics that are clearly designed with commercial use in mind – the shiny, hard materials seem durable, but you won't enjoy touching or looking at them. Still, they might be just the ticket for dealing with the abuse that active family life can bring.
Now the base-spec Active has been dropped, the range consists of Allure, Allure Premium and GT trim levels. Even the cheapest model gets air conditioning, rear parking sensors, fog lights and an eight-inch touchscreen with DAB radio and smartphone mirroring. Allure Premium adds electric and tinted rear windows, a reversing camera, alloy wheels and the ability to open the rear windscreen. Top-spec GT brings keyless entry and start, multi-zone air con and more flexible rear seats.
Practicality & boot space
Peugeot e-Rifter offers bags of space and one of the most versatile interiors out there
The SUV-style garnish that adorns the e-Rifter's exterior isn't the most convincing, but Peugeot's bulky MPV does actually offer certain features that are beloved of 'Chelsea Tractor' drivers. The high driving position is one and the panoramic view of the road is another. This comes thanks to a big windscreen and narrow pillars, which make it easy to judge the e-Rifter's width on narrow roads. And, thanks to having a far shorter nose than most SUVs, the front end's easy to keep track of, too. Indeed, even the long-wheelbase version only becomes a challenge when reversing into an awkward space.
It's clear that the e-Rifter was designed with long periods behind the wheel in mind – there's no shortage of places for drinks bottles – in fact, the door pockets can handle several at any one time. There's also a huge box in the dashboard, which can be cooled in some models and has ample room for a laptop computer, while rear-seat passengers get an airline-style locker that drops down from the ceiling. In total, there's 180 litres of interior storage for odds and ends.
Both lengths of e-Rifter have five seats in standard form, with an optional third row to bring total capacity to seven. The extra space of the long-wheelbase model is all aft of the third row, so it has little bearing on passenger room. It has a colossal effect on load space, though – in five-seat mode, the standard e-Rifter has a 775-litre boot, but the long-wheelbase version extends this to a huge 1,050 litres. Drop the second row and a truly van-like 3,500 litres of load volume is unlocked, compared to a still-enormous 3,000 litres for the standard model.
Reliability & safety
Only a modest level of safety equipment, and e-Rifter reliability remains to be seen
Standard safety equipment is generous, with all cars getting several driver assistance packs. Autonomous emergency braking is included, alongside lane-keeping assist, traffic sign recognition and a system that spots when you're not paying attention.
The Rifter's predecessor, the Peugeot Partner, and its near-identical Citroen Berlingo sister, could only manage a three-star rating when tested by independent crash experts Euro NCAP. However, the Rifter was given a four-star rating in tough 2018 tests. A score of 91% for adult occupant protection is impressive, but it missed out on a five-star result because its performance in the vulnerable road users category was held back by a tall bonnet and stiff windscreen pillars, while the autonomous emergency braking system is unable to detect cyclists.
It's tricky to make a judgement on owner satisfaction. Too few Partner TePee owners have participated in our annual Driver Power survey for the Rifter's predecessor to have been scrutinised, but results for that car might have been different to the latest model, anyway. Peugeot's performance as a brand, though, was decent – it took 11th place out of 29 brands in the latest survey. Of the Peugeot owners who responded, 18.6% reported faults in the first year of ownership, while the Peugeot 3008, which uses the same platform as the Rifter, came 50th out of all the cars in the survey.