Should I buy an insurance write-off? Cat C, Cat D, Cat S and Cat N cars explained
We explain the pros and cons of buying an insurance written-off car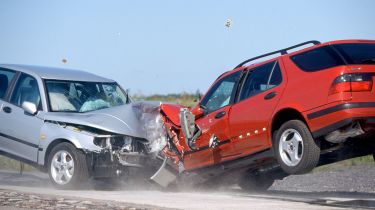 When you're searching for a used car, it's common to come across options that are advertised at lower-than-average prices, sometimes listed as, 'Cat N', 'Cat S', 'Cat C' or 'Cat D'. They could also be put under the umbrella term 'Vcar', and indicate cars that have been written off by insurance companies for various reasons – but what exactly does this mean?
Essentially, an insurance write-off is a car that has been in an accident or incident and the insurer deems the repair costs too expensive to carry out in relation to the car's value. This is then further subcategorised depending on the severity of the damage.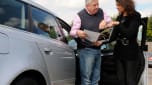 Questions to ask when buying a used car
Buying an insurance write-off isn't always a bad idea, but there are some important things to consider before handing over your cash. The most significant of these is to remember that the 'write-off' status will have a noticeable impact on the car's resale value. We discuss the other key factors in the guide below.
What is an insurance write off?
When a car is involved in an accident car insurers have a choice to repair a vehicle and return it to the road using one of their approved and trusted repairers, or to not repair the vehicle.
Usually, an insurer will write off a vehicle if the cost of repair exceeds 50% of the market value of the car, meaning even minor damage can result in a write-off. When this happens, the owner receives the market value of the car but doesn't get the car back.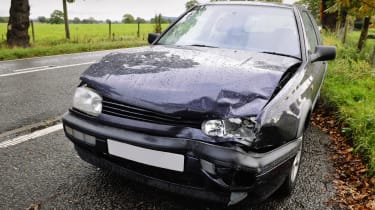 When the insurer decides not to repair a vehicle, it categorises the damage so anyone who purchases the vehicle in future can understand the extent of repair needed. If it is deemed the vehicle is a Category S or N (previously known as C or D) the vehicle can be purchased on the open market. When the car is subsequently repaired and returned to the road it will carry a categorisation of damage until it is permanently removed from the road.
Those wanting to prove their vehicle has been repaired to such a high standard that the car is not discernible from one without a record of damage also have this option. Successfully passing an advanced inspection can remove the vehicle from the 'condition alert register' to the 'condition inspected' register. It should be noted that the history of the accident does not override the previous category and it will still have a record of its previous insurance write-off, albeit not as an alert. An HPI report can show three different categories under a vehicle accident history:
Clear - The vehicle has no history of ever being written off
Condition alert register (VCAR) - The vehicle is written off with an unknown quality of repair
Condition inspected - The vehicle is written off with high quality repair
It is important to note that a condition inspected does not entirely remove the past accident status of the vehicle. Also, this will only update the HPI report, and is not guaranteed to update other reports such as Experian.
What is a Cat A and Cat B car?
Neither Category A nor B cars (Cat A and Cat B) can ever be returned to the road. A condition inspection will not be carried out on this type of car for this reason, so repairs should not be undertaken for this type of salvage title.
Partnership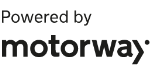 Need to sell your car?
Find your best offer from over 5,000+ dealers. It's that easy.
A Category A car is judged as having such severe damage that they are not only beyond repair, but no parts can be salvaged either. These cars are condemned to being crushed and destroyed so no component can be used again.
Category B cars are beyond repair, but the B stands for 'break', meaning that some of the parts may be taken from the car to be reused on other cars. Though these parts may be usable, the car itself as an entire unit may never return to the road. Often, if it doesn't make financial sense to break the car down for parts, the car may be treated in much the same way as a Cat A car and recycled in its entirety.
What is a Cat C or Cat D car?
The older salvage titles known as Cat C and Cat D are equivalent to the Cat S and Cat N classifications under the revamped categories. These cars can be returned to the road if adequately repaired, and such write-offs relate to "repairable total-loss vehicles where repair costs including VAT do not exceed the vehicle's pre-accident value", according to the Association of British Insurers (ABI).
Category C was replaced by Category S (Cat S) as of 1 October 2017. Category S is assigned to cars that have suffered structural damage which is significant enough to mean a repair shouldn't be attempted on a DIY basis. The difference is that the focus is now on whether a repair is even feasible, rather than simply financially viable. But in most cases, insurers would still rather pay out for a claim than spend the money to repair the car.
Category D refers to cars that, although may not have suffered structural damage, require the replacement of safety-critical components related to the steering, braking or suspension. This was replaced by Category N in the new system – such cars can be legally returned to the road if repaired to a satisfactory standard.
Even cars with minor damage can be declared a Cat S or N – something that's particularly common if it's a much older car of lower value. This is because the cost of processing the insurance claim is more likely to exceed the car's value.
The amended system is intended to help inform used-car buyers if a car has previously suffered significant structural damage that they must be made aware of. This is becoming increasingly important as the complexity of modern cars means they may be written off because of electronic issues rather than structural damage that is considered beyond economical repair.
Some vehicles, including classic cars or niche models of special interest, can be allowed to be repaired 'irrespective of extent of damage', as long as it's safe for them to return to the road.
Buying a Cat N or Cat S car
Whether it makes sense to buy a Cat N or Cat S car comes down to cold economics. The insurer has made a decision that the necessary repairs are not financially viable based on profitability. After writing it off, the insurer will sell the car as salvage, usually at auction.
Cat S and Cat N cars are generally cheaper than a non-write-off, so they can look like good value. Just make sure that any accident damage has been fully repaired to the required standards. Once a car is written off as a Cat S or Cat N, this marker is permanent and cannot be changed. Additionally, Category S and Category N cars are also worth less than an equivalent car that has not been written off, meaning you'll get less when you decide to resell it.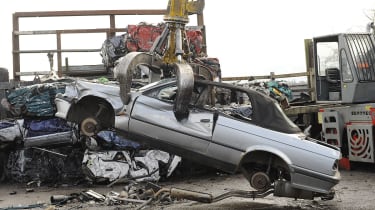 Cat B cars are usually bought for their parts and scrap metal. Cat S and Cat N cars can be bought by car repairers, dealers or private individuals for repair and return to the road. If you're thinking of buying a damaged car to repair it, you'll need to have a good idea of the costs involved - and there might be additional unseen damage which could lead to higher costs.
If you're buying for personal use, resale profit probably isn't a factor. If a salvage vehicle holds particular interest – perhaps it's a model or specification that you've long been searching for – a repairable Cat N or Cat S car could make sense even if the cost of repair means it ends up saving you only a little money compared to an undamaged car.
Buying or selling a Cat N car or Cat S car
It's legal to sell a Cat N or Cat S car as long as its status is declared. This declaration must be clear, even if the car has been repaired to its pre-accident condition. A car bearing any write-off marker will be worth far less than one with a 'clean' history, even if the damage was minor and fully repaired to a high standard. Many buyers simply aren't comfortable with a history of damage.
Declaring a car's Cat N or Cat S status is essential, whether selling it or part-exchanging it. If you don't, the new owner could sue you for damages.
Can I buy a Cat N or Cat S car knowing it's safe?
When buying a categorised car, there is a risk of ending up with something that has been poorly repaired, potentially making it less safe. However, finding a well-repaired example can prove to be good value. Thorough research and inspection of a potential purchase is absolutely essential if you want to buy a categorised car, so while it could come with its rewards, it's advised to always know exactly how much work will be required.
Write-off engineer reports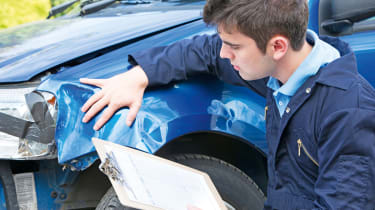 We recommend having a third party inspect any vehicle that you are looking to buy no matter its former condition. For a car that has been previously written off this is even more important. Repairs carried out may have been done by an insurer-recognised garage or may have been 'condition inspected', but it is still better to have a respected organisation have a look. After all, a vehicle may have been damaged five years ago and repaired impeccably, only to have been poorly treated or further damaged since.
Will I have to pay more to insure a Cat N or Cat S car?
You should also be aware that some insurers may insist on an engineer's report or inspection prior to offering cover for a vehicle. This is not a rule throughout the industry and insurers understand the marketplace for repairs well. It is even possible that the company you insure your car with may have previously written it off.
If you find a seller referring to their car as 'condition inspected' with the certificate and HPI report to back this claim then it is unlikely an insurance company will require further inspection. Though, it's always best practice to contact them and be sure.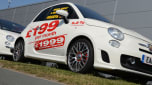 How to negotiate a car price: top tips
What the law says
It is important to understand your rights when purchasing any vehicle and avoid any grey areas that may appear. If you are buying from a motor trader they must inform you of any and all information that is pertinent to the vehicle. This includes its previous status as a write-off. However, we should stress that records used across the motor trade industry are not always 100% accurate. If you find that you've purchased a vehicle and it is not as it was initially described, you should contact the seller immediately and flag your concerns.
Motor traders
We advise you to always do your own checks as the Consumer Rights Act 2015 is clear to protect you, but whereas some honest traders may immediately try and rectify any problems, others may be less willing. To avoid the potential headache and cost of pursuing a dodgy dealer, a third-party check and doing your own condition report using a company like HPI could be integral to making sure you get your money's worth.
Private sales
Private sellers have no law stopping them from selling a previously recorded, or presently written-off vehicle without informing a buyer. You could buy a Cat N or Cat S car without realising it, and sellers may claim they were unaware, essentially acting without complete knowledge. However, knowingly selling a car that is not roadworthy and not informing a buyer could lead to further action against a seller, especially if it were to cause death or injury. A buyer may also choose to take civil action against a seller resulting in a court case.
Cat N and S cars previously had to undergo a Vehicle Identity Check, or VIC, before being allowed back on the road. This was intended to stop criminals from selling disguised write-offs to unaware buyers.
Frequently asked questions about Cat N or Cat S cars
How much damage does it take to write off a car?
The answer to this can vary depending on what has been damaged. For instance, major electrical damage could be seen as a write-off, while some minor structural damage could equally be seen as a write-off – it depends entirely on how safe it is to take it back on the road. According to Nsure Insurance, if a vehicle's repair costs exceed anywhere from 50 and 70% of its total value, it could be written off.
Can you drive a car if it's a write-off?
If a vehicle has been written off it will not be insured, so it's not possible to drive it on the road. In fact, as you'll see below, you won't normally even have access to your vehicle if it's declared a write-off as it will usually be retained by the insurance company.
What happens if insurance writes off my car?
Once a car has been written off, your insurer will pay you a compensation amount and the ownership is switched to them. In the instance that you choose to raise a dispute and intend to remain as the vehicle's owner, you must discuss this with your insurance company as this could be an option if it was stated in your insurance policy. However, the window of time you have to do this tends to be quite short, so it's best to have this discussion sooner rather than later to assess your options.
Do written-off cars cost more to insure?
Cars that have been declared a write-off, repaired and put back on the road typically cost more to insure. Insurance providers tend to see them as more likely to cause issues in the future, regardless of how well they've been fixed.
Do I need to let DVLA know if my car has been written off?
If you've written off your own car, it's mandatory to tell the DVLA about what has happened and the status of the vehicle. Failure to do so could yield a fine of as much as £1,000. Equally, you are expected to make sure that the name and address on the log book remain correct. 
What is a total loss vehicle?
Total loss claim is, in essence, another way of saying 'write-off'. It means when a car has damages equivalent to more than its current market value, and is the less common way of referring to a vehicle that's written off.
Advantages of buying a Cat N or Cat S car
Potentially big savings – If you choose to buy a Cat N or Cat S car that has been repaired to a high standard by a reputable firm, you may have saved yourself a lot of money rather than opting to buy a perfect example.
Disadvantages of buying a Cat N or Cat S car
Lower resale value – A Cat N or S car will always have that label, which buyers can see if they carry out an HPI check or look into a vehicle's past, and it will always have a lower resale value than a car that's never been in a serious accident.
Insurance could cost more than usual – If a car has been damaged and repaired, insurance companies may see it as being a higher risk, resulting in a bigger bill. Always get an insurance quote before doing the deal.
Warranty may no longer be valid – any warranty on a car that's been written off is likely to be void due to the damage it's sustained, so if it goes wrong, you'll be responsible for covering the costs.
Should you buy a Cat N or Cat S car?
In theory, there's no reason why you shouldn't consider a Cat S, Cat N, Cat D or Cat C car if it's been properly repaired, but there are hundreds of thousands of cars on sale that haven't been written off. Unless you're really drawn by the lower price and can put up with potentially higher insurance and lower resale costs, we'd recommend you avoid buying a written-off car if you can.
Looking to make big savings on the used car market? Read our guide on the best used cars for under £2,000 or find out all you need to know about the best way to finance a used car and how to check if a car has outstanding finance.