Car options: making the right choices
Choosing the right options when buying a new car can make it better to own and slow down depreciation
Choosing the right car is a big decision for anyone, but the calls you make on the options list can be almost as complex. Configuring your new car isn't just about what you want in a car – it pays to think about residual values as well. Leather seats in a supermini are an expensive option, yet will recoup only a fraction of their cost on resale.
Conversely, fail to add sat nav to your executive saloon and you may find it's worth less when you trade it in. We're not suggesting you ignore your own preferences and buy a new car purely as a commodity, but it's sensible to think carefully about what options to go for. Also remember, if adding an optional extra tips a car's price over the £40,000 threshold, the car will be liable for a £310 road tax surcharge in years two to six of ownership.
Most car manufacturers will offer you an extensive list of add-ons for your vehicle, and it's possible to almost double many cars' original price if you tick too many of the expensive boxes on the configurator. Choosing the right ones, however, will ensure your ownership experience is significantly improved and your car will be easier to sell on or trade in when it's time to replace it.
Optional extras and trim levels explained
As standard equipment has increased, so have expectations as to what features a car should come equipped with. Many manufacturers offer only a handful of paint colour options as standard, and they may not be the most appealing shades. Colours outside of this will be optional extras you have to pay more for. Equally, you may find you need to pay above the entry-level price to get alloy wheels.
Manufacturers usually offer their cars in different 'trim levels'. These can generally be split into three main categories: basic, mid-range and premium. They won't be named so obviously, and there may be more than three levels offered (maybe two mid-range trim levels, one geared towards comfort and another towards sport), but it's sensible to think of the trim levels in this way. Ask the salesman to explain them to you clearly so you have an idea of what the basic and premium trim levels cost and include.
Each trim level will be offered with a certain set of features included in the price. This generally makes it cheaper to go for the trim level that comes closest to matching all your kit requirements. If, for example, you must have sports seats, satellite navigation and Bluetooth and you find a trim level with all of these bar one, it can be cost-effective to go for that trim level and add on the one extra it doesn't come with as an option. A car in a higher trim level will also be more desirable on the used-car market, meaning you're likely to get more money for it.
In addition to trim levels, options are often grouped together in packages. For example a 'technology pack' may comprise satellite navigation and Bluetooth, while a 'winter driving pack' might have a heated windscreen and heated seats. Assuming you want all the features included in the pack, this is usually a cheaper way of getting them than specifying them individually.
Optional extras – combination restrictions
You should be aware that not every option offered on a car is available in every combination. You may find, for instance, that an automatic gearbox is only available with certain engines, or that if you want a premium trim level, you can't choose the smallest diesel engine. If there are options that are a must for you, be sure you're aware of any limitations surrounding them.
How to configure your car
It's still possible to request a brochure from a car manufacturer and go through the options list with a dealer, and many people prefer to specify their car in this manner.
The majority of manufacturers, however, now offer an online 'car configurator' tool, which allows you to choose your options and displays an image of the car as you've specified it.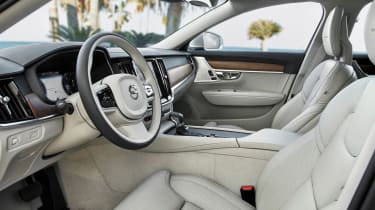 This is particularly useful, as it lets you try different wheel, paint and interior colour combinations, as well as providing you with a sense of how much the car will cost when specified to your requirements. It may well be at this stage that you recognise how expensive options can quickly become if chosen carelessly.
If you have your heart set on an unusual or rare combination of options, the manufacturer may have to build the car tailored to your tastes. If you know precisely what you want and aren't willing to waiver, the dealer will be happy to accommodate your wishes, but it's likely your car will be built to order; this could add weeks or even months to the process. Most buyers purchase a car already in stock that fulfils the majority of their requirements. Delivery time is significantly reduced if a car is ordered in this way.
Carbuyer's Ford car configurator guide: specifications, options and trim levels explained
It's worth trying out some options with the dealer before you choose them. Can you really hear the difference with the premium sound system? Is the navigation system antiquated compared to the one on your phone? Are the 'premium' leather seats essential, or would you be happy with the standard fare? Despite the usefulness of car brochures and configurators, sometimes there's no substitute for seeing options 'in the metal' – and this can save you thousands of pounds when it comes to paying if you ultimately decide not to buy them.
Sportier versions of cars – such as Audi S line and BMW M Sport models – often come with the option of switching from the harder, sporty suspension to a more comfortable standard setup at no charge. Given the state of most UK roads, this is something we generally recommend.
The long-term cost of car options
Around three-quarters of new-car purchasers use finance when buying a new car, which can make expensive options seem cheap when you're looking at monthly repayments. It's always worth keeping the total price of a car in mind when specifying options though, particularly as after three years you may not feel their benefit when it comes to selling on. If you're unwise enough to tick all the option boxes on a MINI Cooper, its cost rises from around £17,000 to an eye-watering £30,000. Whatever your monthly repayments may be, come trade-in time, you'll find that all those options have depreciated significantly more that than the car itself.
A note for company-car users
Those on company-car plans need to consider their options with particular care, as company-car tax is calculated on the car's total cost, including options. If you're in the market for a company-car, keep an eye out for 'business edition' trim levels – these come with many popular optional extras, such as satellite navigation and leather seats, as standard.
Carbuyer's Audi car configurator guide: specifications, options and trim levels explained
The best new car options
As mentioned earlier, choosing new car options wisely requires a combination of thinking about your needs as well as residual values. Generally speaking, small cars come with cloth seats and manual gearboxes, while larger executive cars have automatic gearboxes and leather trim. Air-conditioning is thought of as an essential, and metallic paint is more frequently ordered than not.
Looking at what second-hand models of your car are worth on used-car websites can be invaluable. Is there a vast price difference between diesel and petrol engines? Do the majority of cars have satellite navigation? Ultimately, you're the one choosing the car, so if you find leather seats uncomfortably hot in the summer, go for cloth – just be prepared for the car to be worth a little less in a few years' time if this is an unusual specification.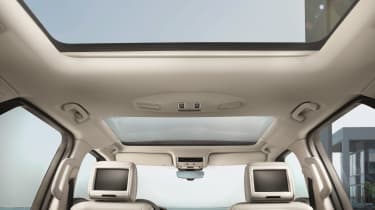 When it comes to other options, try to think about what you'll use frequently. Many once considered parking sensors a luxury, but they're now seen as a near-essential. If your car has parking sensors as standard, do you really need it to have a self-parking feature as well, bearing in mind some of these systems are not quite yet perfected? If you prefer to listen to talk radio, do you need the extra speakers of an upgraded stereo? Bluetooth connectivity may seem pointless if you don't make a lot of phone calls, but if it's a low-cost option and provides music connectivity and a stereo upgrade as well, it may be worth considering. Prospective buyers may also see Bluetooth as essential for their needs when it comes time to sell.
Try not to get too bogged down in decisions, but keep in mind the practical applications of options and how you use your car on a day-to-day basis. One we'd always go for if possible is a full-sized spare wheel, as it's much less likely to let you down than the puncture repair kits most cars come with these days.
New car options to avoid
The variety of options available when buying a new car has increased significantly over the years, but there are still some adages that hold true. As mentioned above, you won't recoup the cost of leather seats if you order them in a small car such as a Ford Fiesta or Volkswagen Polo, yet fail to add leather when specifying your BMW 5 Series and you may be penalised when you sell it or trade it in. Happily, a lot of executive cars and SUVs now come with leather (or a synthetic equivalent) as standard.
Carbuyer's BMW car configurator guide: specifications, options and trim levels explained
Outside of the rarefied world of supercars, unusual colours make cars less appealing to buyers. A silver Ford Focus will almost always be easier to sell and be worth more than a yellow one on the second-hand market.
Some small cars, such as the MINI and Fiat 500, make a point of being highly customisable and offer a host of small detail options, such as interior trim colour flashes and roof colours, allowing buyers to create cars that are almost unique to them.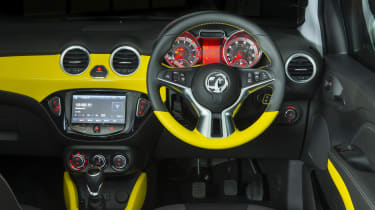 This is wonderful for those after variety and choice, but get it wrong and you could be left with a highly individual car that doesn't appeal to the majority of buyers and is therefore difficult to sell. Secondhand car values are driven by car dealers, and they're generally a conservative bunch when it comes to colours, as Rupert Pontin, head of valuations at used-car price guide Glass's, explains:
"The mauve supermini with a tartan roof and yellow wing mirrors running on 13-inch white alloys might look horrendous to a middle-aged man like me but great to a 17-year-old who's just passed their test. The trade will tend to price cars like this down in order to minimise the financial risk."
If you're buying second hand
When purchasing a car second hand, your options are limited when it comes to extras, as the vast majority must be fitted at the factory. You may, however, be able to talk the dealer into giving you a full tank of fuel, a new set of car mats or reducing the price of an aftermarket warranty if they're keen for your business.
It can also be extremely useful to know about what options are considered essential for the car you're buying. All of the above advice is relevant if you're buying second-hand: if the dealer hasn't discounted an omission made when the previous owner specified the car, being armed with knowledge of your car's typical features can give you negotiating power.
Sounds complicated? It's meant to
Choosing car options can be a confusing business and manufacturers know this. In the same way that it can sometimes be cheaper to buy two single rail fares than one return ticket, you can save a significant amount of money by looking closely at trim and option package combinations. It's worth sitting down with a sheet of paper and a calculator at home and working out what you want and how to get it for the least amount of money.
Top 10 best cheap-to-run cars 2022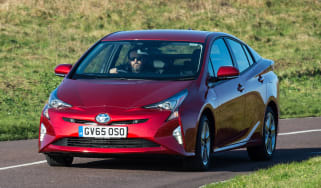 Top 10 best cheap-to-run cars 2022
UK road tax 2022: VED tax rates and bands explained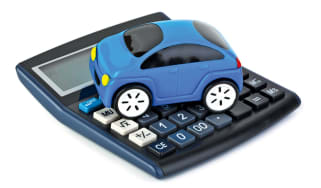 UK road tax 2022: VED tax rates and bands explained
Top 10 best economical 4x4s, SUVs and crossovers 2022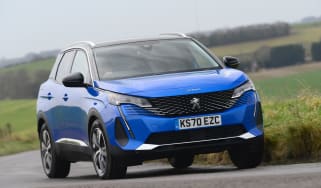 Top 10 best economical 4x4s, SUVs and crossovers 2022